Tech is moving fast! Remember when you were a kid and older people asked you to fix their electronics and computers?
Well, at the current innovation rate of the industry, it may be time to befriend the younglings next door to be sure we won't yell at our TVs when the next gen of super high-end thin OLED TVs hits the market!
The Thunderbolt interface is one of the most remarkable things that the computer industry came out with. It's a USB-like technology that has revolutionized peripheral connectivity by consolidating several functionalities onto a single port.
What is Thunderbolt? In the article below, we'll everything you need to know about Thunderbolt and why it is a game-changer for laptops.
What is Thunderbolt?
Thunderbolt is a hardware interface developed by Intel as an alternative to USB. Unlike all USB versions (except USB4), Thunderbolt uses your computer's PCIe data bus to deliver a significantly faster data transfer rate and combine more functionality on a single cable.
Intel released the earliest version of Thunderbolt, Thunderbolt 1, in 2011 and followed that up with three newer versions. Over the years, several manufacturers have moved away from Thunderbolt 1 and 2 devices and their mini-DisplayPort connectors. Now, you'll find manufacturers exclusively focusing on Thunderbolt 3 and 4 devices that use the more versatile USB-C connector.
While older generations of Thunderbolt offered a data transfer speed of 10Gbps and 20Gbps (with Thunderbolt 1 and 2), Thunderbolt 3 doubled that speed to 40Gbps, but it was optional. So manufacturers could claim a Thunderbolt 3 label without offering 40Gbps data transfer speeds.
Thunderbolt's current generation, Thunderbolt 4, compulsorily delivers data transfer speeds of 40 Gbps. What's more, Intel claims the next generation of Thunderbolt, Thunderbolt 5, will offer speeds of 80Gbps.
To put things in perspective, USB 3 has a bandwidth of 5 Gbps. The more common USB version, USB 3.2 Gen 2, offers 10Gbps, which means Thunderbolt 4 is still four times faster.
Interestingly, USB4 offers speeds "up to" 40 Gbps because it's based on a Thunderbolt (specifically Thunderbolt 3). This essentially means that, like Thunderbolt, USB4 now uses PCIe data lanes and offers similar specifications as its parent technology, Thunderbolt.
High-speed data transfers aside, Thunderbolt has a lot more to offer than USB. The most significant features of Thunderbolt are Power Delivery, support for 8K video, and PCIe tunneling. Moreover, you can optimize and extract more from one Thunderbolt port by daisy-chaining several devices, thereby efficiently expanding your workstation setup.
Daisy Chaining
Daisy chaining enables you to connect Thunderbolt devices sequentially, connecting device-1 to device-2, device-2 to device-3, and up to six devices. So, even if your notebook has only one Thunderbolt port, you can daisy-chain and connect six devices.
This is a significant feature as it allows manufacturers to reduce the number of ports and replace bigger ones, like DisplayPort and HDMI ports, with the neater Thunderbolt port. As a result, manufacturers can now offer sleeker and lighter laptops that are super convenient to carry.
Daisy chains are a quick and efficient way to connect your Thunderbolt device, including dual monitors, docking stations, and external GPUs, by plugging in the laptop with just one cable.
Charging
In addition to data and video signals, Thunderbolt cables also feature Power Delivery, enabling you to charge your laptop or other portable devices. While earlier versions of Thunderbolt restricted Power Delivery to up to 10W, newer iterations made it possible for Thunderbolt to provide up to 100W of power.
Most notebooks require 65W of power, which is no problem for Thunderbolt. Even though Intel states 15W as the minimum requirement for Thunderbolt 4, it's common for devices to offer between 60W and 90W Power Delivery, enough to charge even power-hungry devices.
Moreover, the ability to deliver power and data reduces the number of cables you have to plug into your laptop, removing some of the clutter on the desk and making for some good-looking setups.

Two Vs. Four PCI-Express Lanes
One of the main reasons Thunderbolt offers significantly higher data transfer speed is the use of PCIe data lanes. While Thunderbolt 4 exclusively uses four PCIe lanes, Thunderbolt 3 comes in two variations, depending on whether it uses two or four PCIe lanes.
If you plan on squeezing every bit of bandwidth from your Thunderbolt port, get one with four lanes. This is especially recommended if you intend on hooking an eGPU (external graphics card) to it. We'll address eGPU optimizations later in this post.
USB vs. USB-C vs. Thunderbolt
First things first, no connectivity protocol goes by the USB-C name. Simply put, think of USB-C or USB Type-C as the name given to a particular type of connector/port. Thunderbolt and USB are connectivity protocols that use this connector/port to implement their brand of connectivity mediums.
Since the 3rd generation, Thunderbolt has used a USB-C connector, which you can insert regardless of its orientation. No more than three attempts to connect the regular USB cable! This truly feels like we live in the future!
Similarly, newer versions of USB, especially USB 3.2 Gen 2 and later, use the USB-C connector and port. Unfortunately, the USB naming conventions are confusing, and people often mistakenly use the term "USB-C" to refer to USB 3.2 Gen 2. To add to the confusion, manufacturers can implement a USB 3.2 Gen 2 port using either a USB-C or a conventional USB-A connector.
Nevertheless, Thunderbolt 3 and USB may share the same connector type (USB-C) but are different technologies. Moreover, Thunderbolt is backward compatible with all previous USB versions, so if the Thunderbolt cable is plugged into a USB 3.2 Gen 2 Type-C port, it will function as a USB connection rather than Thunderbolt.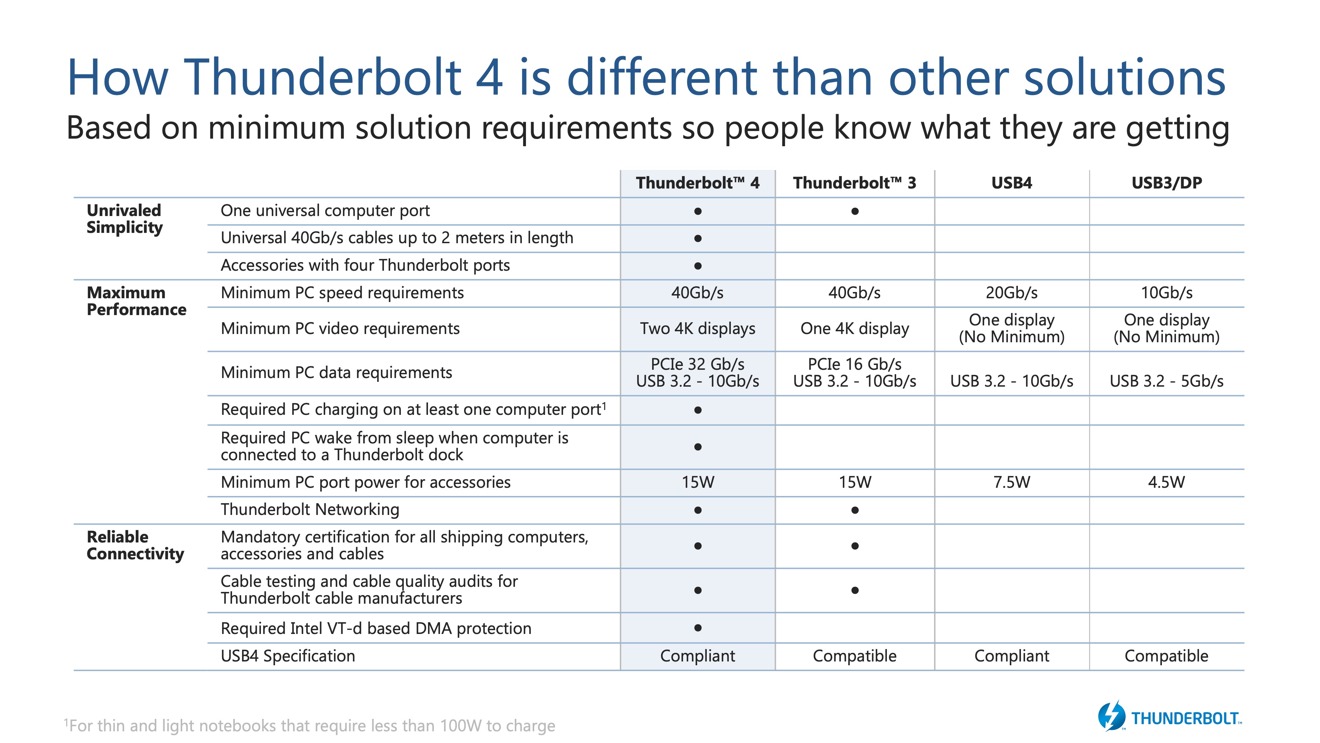 USB-C is a new design for the familiar Universal Serial Bus interface. It provides a solution to the many USB connector types that clog your drawers only to be used a few times throughout their lifespan: USB-A, USB-B, micro-USB, micro-USB-B, etc.
USB-C is rated for 10,000 connect-disconnect cycles, compared to the USB-A connector, rated for only 1,500 cycles. Interestingly, the mini-USB fares better at 5,000 cycles, which is why you'll find this connector on several older portable devices. However, USB-C is growing in popularity, with governments and institutions like the European Union mandating the use of USB-C connectors on portable devices, including mobile phones.
Its purpose is to bring some uniformity across the USB world. With USB-C, devices like computers, laptops, printers, and chargers can share the same connector and cable—one cable to rule them all.
Now, it's pertinent to ask how one can differentiate between a USB and a Thunderbolt port.
Thunderbolt ports are marked with a lightning symbol to differentiate them from a USB port, as shown in the picture below.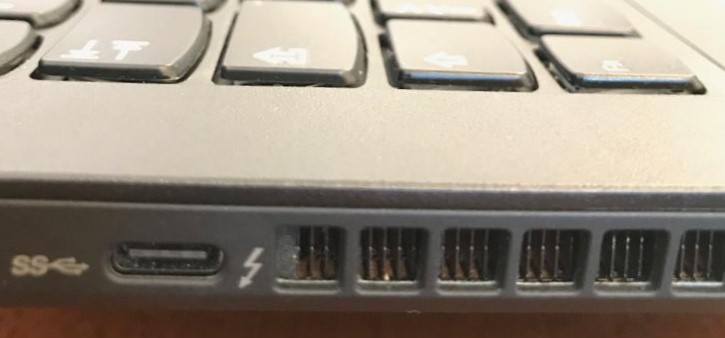 Lenovo T470 two-lane Thunderbolt 3 Port
Now, let's explore some Thunderbolt use cases!
External GPU for your Laptop
Earlier, you'd have to buy a gaming laptop featuring a dedicated GPU if you wanted a portable computer for high-performance gaming. However, the introduction of Thunderbolt 3 and PCIe Tunneling changed this.
Thunderbolt enables you to attach a desktop-class GPU to any laptop with a Thunderbolt 3 port that offers 40Gbps data transfer speeds. It uses PCIe Tunneling, a feature that allows you to use an eGPU enclosure equipped with a PCIe slot to accommodate a desktop-class GPU. It was challenging, if not impossible, to upgrade your laptop's GPU for a long time.
At least, this was the case until Thunderbolt eGPU (external GPU) enclosures appeared on the market. Now, you can hook the latest generation desktop graphics card to your notebook and enjoy a significant performance boost in your favorite games or reduce the rendering time for your video projects.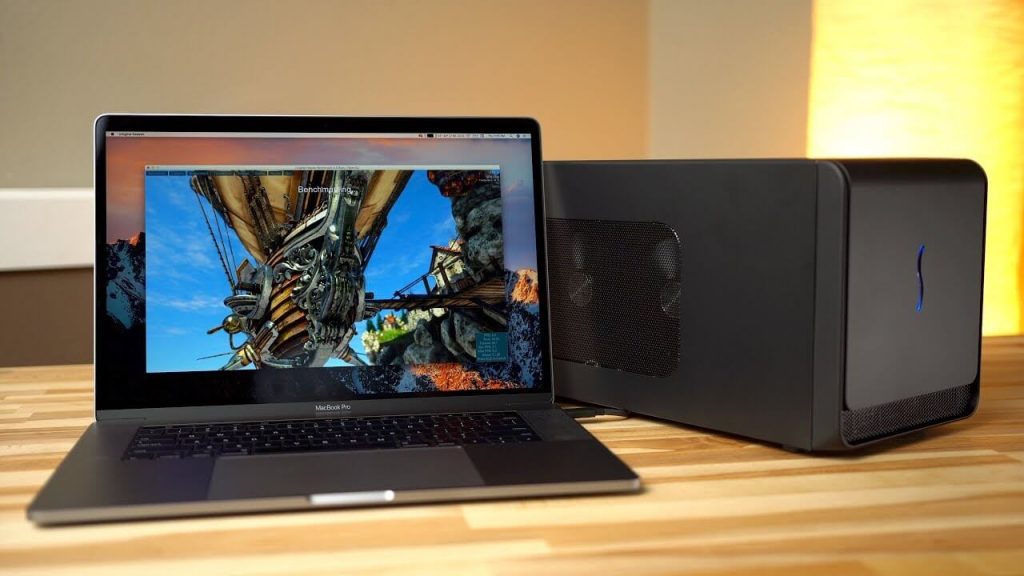 Due to overheads, an eGPU underperforms compared to a GPU mounted directly into a PCIe slot of the motherboard. This performance loss can be as high as 20%, depending on specific use cases. Nevertheless, you can enjoy an immersive (and competitive) gaming experience without noticing image distortions.
It's imperative to note that because an eGPU delivers the output image back to the laptop's screen, it consumes a lot of the bandwidth of the Thunderbolt port. So, using an external monitor is the best way to reduce overheads. In this way, the GPU doesn't have to push back display signals to the laptop and frees a significant chunk of bandwidth.
At this point, you may ask why use an eGPU when you can use a gaming laptop.
It depends on you; an eGPU provides a good solution if you want a laptop for work or school but would also like gaming at home. Gaming laptops are bulky, so carrying one around all day is highly impractical. They also have over-the-top gaming aesthetics like RGB lighting, colorful badges, and whatnot, which attract unnecessary attention and cause distractions.
A better solution is to purchase a laptop with a Thunderbolt port with 40Gbps data transfer speed (i.e., a Thunderbolt 4 or a four PCIe lane Thunderbolt 3) and use an eGPU. Yes, two PCI-Express lanes are slower than four. The math checks out.
Thunderbolt Compatible Monitor
The cool thing about Thunderbolt monitors is that you can use them as a docking station or as a power adapter for your laptop, as most such monitors offer Power Delivery and plenty of I/O ports, including additional Thunderbolt and USB ports.
So it's easy to daisy chain and set up a multi-monitor display or hook up your latest Ultrabook, ensuring it remains charged while you work. And because these monitors have multiple USB ports, you can easily mitigate the problem of too few ports on your Ultrabook.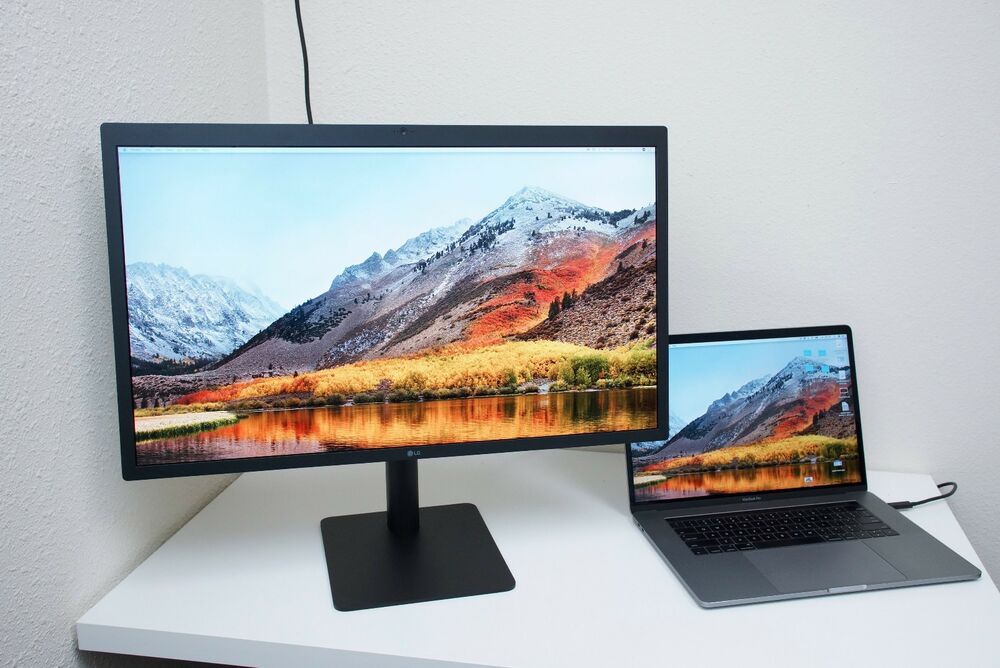 Fast Data Transfer
Besides Thunderbolt's support for eGPUs and high-resolution displays, the most significant advantage is its high data transfer rate.
The high bandwidth of the Thunderbolt protocol makes it the fastest interface for external data storage. While IT managers at a commercial setup may prefer a Thunderbolt RAID array, modest home users can consider external NVMe drives that reach speeds up to 2,800MB/s and a write rate of 2,300MB/s.
Several such applications can make life easier for anyone. Professionals in the video production industry require storage for vast amounts of raw footage, and Thunderbolt-enabled storage allows them to transfer large volumes of data faster than any other medium. But Thunderbolt storage devices are not just limited to commercial use. These storage devices are also suitable for home use as you can use a RAID array to create a library for all your media files and share them with family and friends.
Laptop Docking Station
Modern Ultrabooks, while thin and light, offer fewer I/O ports than one would need. Popular Ultrabooks like the MacBook Air only offer two Thunderbolt ports, making it impossible to connect legacy devices like printers, scanners, and USB flash drives and forcing you to look for an alternate solution.
Fortunately, the docking station manufacturers identified this problem; as a result, it's easy to find a suitable Thunderbolt docking station. You can connect all your USB devices, keyboard, and speakers to a Thunderbolt docking station and streamline your workstation for efficient expansion.
And because you can daisy chain Thunderbolt devices, including docking stations, you can use it as a port multiplier for Thunderbolt ports or connect non-Thunderbolt monitors using the dock's DisplayPort or HDMI port. Moreover, using a Thunderbolt dock is a cost-effective solution to expand your workstation's capabilities and any legacy devices, avoiding expensive (and unnecessary) upgrades.
Conclusion
Since its release in 2011, Thunderbolt and its subsequent iterations have revolutionized the computing world. From high-capacity, superfast storage devices to external graphic cards, the computing world increasingly embraces Thunderbolt-based solutions for their unmatched utility and simplicity.
For decades, technological innovations were a result of ever-expanding needs. But with Thunderbolt, and more specifically, the giant leap provided by Thunderbolt 4, it would be fair to say that the market is playing catch-up with innovation for the first time.
It's opened a new era for mobility and performance, allowing you to take your work anywhere. On the other hand, Thunderbolt is also suitable for home-office setups as it helps transform your humble Ultrabook into a high-performance workstation or gaming center.
Thunderbolt devices are expensive, but as more manufacturers and users adopt this technology and Intel foregoing royalties on Thunderbolt 3, you'll increasingly find more pocket-friendly devices.