Intel announced the next Thunderbolt 4 standard, it will have the same speeds as Thunderbolt 3 but now with tighter specifications and expanded capabilities. Here is everything you need to know from the universal USB-C standard and when to expect Thunderbolt 4-powered laptops and devices.
Here is what Thunderbolt 4 will change at a glance:
40Gbps minimum bandwidth, capable of dual 4K or single 8K display.
Support for 32Gbps PCIe bandwidth for faster storage speeds.
Compact docking stations with up to four Thunderbolt 4 ports.
PC wake from sleep and at least one Thunderbolt charging port
Thunderbolt 4 security with Intel VT-d-based direct memory access (DMA) protection.
Thunderbolt 4 comes as an upgrade to the current Thunderbolt 3 standard. We have reviewed many products with Thunderbolt 3 over the past, including laptops, monitors, docking stations, audio interfaces, external storage, and motherboards. It is the best connectivity standard available on a computer today, but there are some caveats with its implementation.
The supported Thunderbolt 3 specs differ across different manufacturers. For instance, some monitors and laptops have Tb3 ports that support video but no charging or data. The same applies to cables. While Thunderbolt can reach speeds up to 40Gbps, there are cables and docks on the market that only support 20Gbps.
The relaxed Thunderbolt 3 minimum requirements allow manufacturers to compromise on some specs to keep prices to a minimum or not implement some features at all. While this may be good in some circumstances, it diverts from Thunderbolt's significant purpose to provide a single-cable solution for all. Or as they say, one cable to rule them all.
With Thunderbolt 4, Intel cleans the mess created by Thunderbolt 3 to provide a truly universal connection with more stringent minimum requirements. Here are the changes brought by the new specification:
Thunderbolt 4 Specification
The new Thunderbolt 4 comes barely a year after Intel donated the Thunderbolt 3 specification to the USB-IF group. Thunderbolt 4 will use the same USB Type-C connector like Thunderbolt 3 and USB4. It will be backward compatible with Thunderbolt 3 and compliant with USB3/DP and the yet to be released USB4.
What comes as a surprise to many is that Thunderbolt 4 won't be faster than its predecessor, Thunderbolt 3. Both will support 40Gbps speeds, but the trick relies on the minimum requirements. Thunderbolt 4 is the most advanced and complete Thunderbolt specification in the industry, and here is why:
Dual 4K and 8K Displays
Intel doubles the minimum bandwidth to 40Gbps in the Thunderbolt 4 specification. That contrasts with the 20Gbps on Thunderbolt 3, which allows manufacturers to cut corners during implementation, failing to take advantage of the full 40Gbps bandwidth. But now, each certified Thunderbolt 4 device must support 40Gbps speeds, so there are no compromises here.
Doubling the bandwidth allows Thunderbolt 4 to support two 4K60 displays or one 8K60 display, compared to the single 4K display minimum requirement of Thunderbolt 3.
Along with the high-resolution display, Thunderbolt 4 also requires PCs to support PCIe bandwidth of up to 32Gbps, which can boost storage speeds up to 3,000MBps. The new Thunderbolt standard may not be faster than its predecessor, but it will provide a significant performance boost to your devices.
Compact Thunderbolt Docking Stations
During the three-minute Thunderbolt 4 preview video, Lyle Warnke showcased new docking stations powered by Thunderbolt 4. The key features of the new Thunderbolt 4 docks include multiport architecture and a smaller design footprint.
For the first time, Thunderbolt docking stations will support four Thunderbolt ports to connect the host PC and other accessories. That is a lot of ports for an average user as you can connect your ultrabook, dual displays, and external Thunderbolt 3 hard drive. With daisy-chaining, you can connect even more TB devices to expand your workspace.
If you have used Lenovo Thunderbolt 3 docks or even the CalDigit TS3 Plus, you know docking stations can be massive and bulky. When watching the preview video, you'll appreciate the compact design of the new docking stations. Having four Thunderbolt 4 ports, supporting 40Gbps speeds, dual 4K displays, and 100W charging, in such a small device, is a huge win for most users. No more power and video cables, just a single connection, and you're ready to go.
Talking of cables, Thunderbolt 4 supports full 40Gbps speeds with 2 meters long Thunderbolt cables, compared to 20Gbps on Thunderbolt 3. Since Intel requires all Tb4 devices to be certified, you'll have peace of mind when buying new cables, knowing you won't fall prey to cables supporting 20Gbps bandwidth.
Thunderbolt Charging and Wake from Sleep
Intel requires all laptops with Thunderbolt 4 connectivity to support 100W power charging in at least one port. That will let you create a clean and clutter-free working space as you can charge your ultrabook off a Thunderbolt monitor or docking station. As you can see, Intel is pushing for a truly universal connection and addresses manufacturers who leave USB-C Power Delivery in their implementation.
Wake your computer from sleep with a simple tap of a mouse or keyboard when connected to a Thunderbolt 4 docking station. This feature wasn't available on the previous Thunderbolt 3 specification, making it a dealbreaker to some users.
Thunderbolt 4 Security
If you've ever wondered why Microsoft Surface devices don't support Thunderbolt yet, it has to do with security. In a Microsoft presentation leaked on Twitter by WalkingCat and verified by The Verge, an employee affirms that Surface devices don't support Thunderbolt because it is a direct memory access port.
Direct Memory Access (DMA) port gives external PCIe peripherals access to the system memory and hence, access to all data stored in memory.
Intel solves the DMA loopholes in the latest Thunderbolt specification by requiring Virtualization Technology for Directed I/O (VT-d). Intel VT-d helps prevent physical DMA attacks by blocking peripherals from unauthorized access to system memory.
Previously recommended to PCs with Thunderbolt 3 ports, VT-d is now a requirement in Thunderbolt 4. You, and Microsoft, can rest assured that Thunderbolt 4 is safe and secure from direct memory access attacks.
Thunderbolt 4 Vs. USB4 and Thunderbolt 3
While Thunderbolt 4 seems an exciting update, the question remains; do you need it? Thunderbolt 3 is currently the advanced port on a laptop. Some of the latest laptops, especially MacBook, have Thunderbolt 3 as the only connectivity ports. The USB-IF group earlier this year announced the USB4 Specification, based on Thunderbolt 3, but it is yet to be released.
With all these technologies, including the standard USB Type-C, do you think you need Thunderbolt 4? Here is how the new specification compares with the other protocols to help you make an informed decision on whether to upgrade to Thunderbolt 4 once it arrives or not.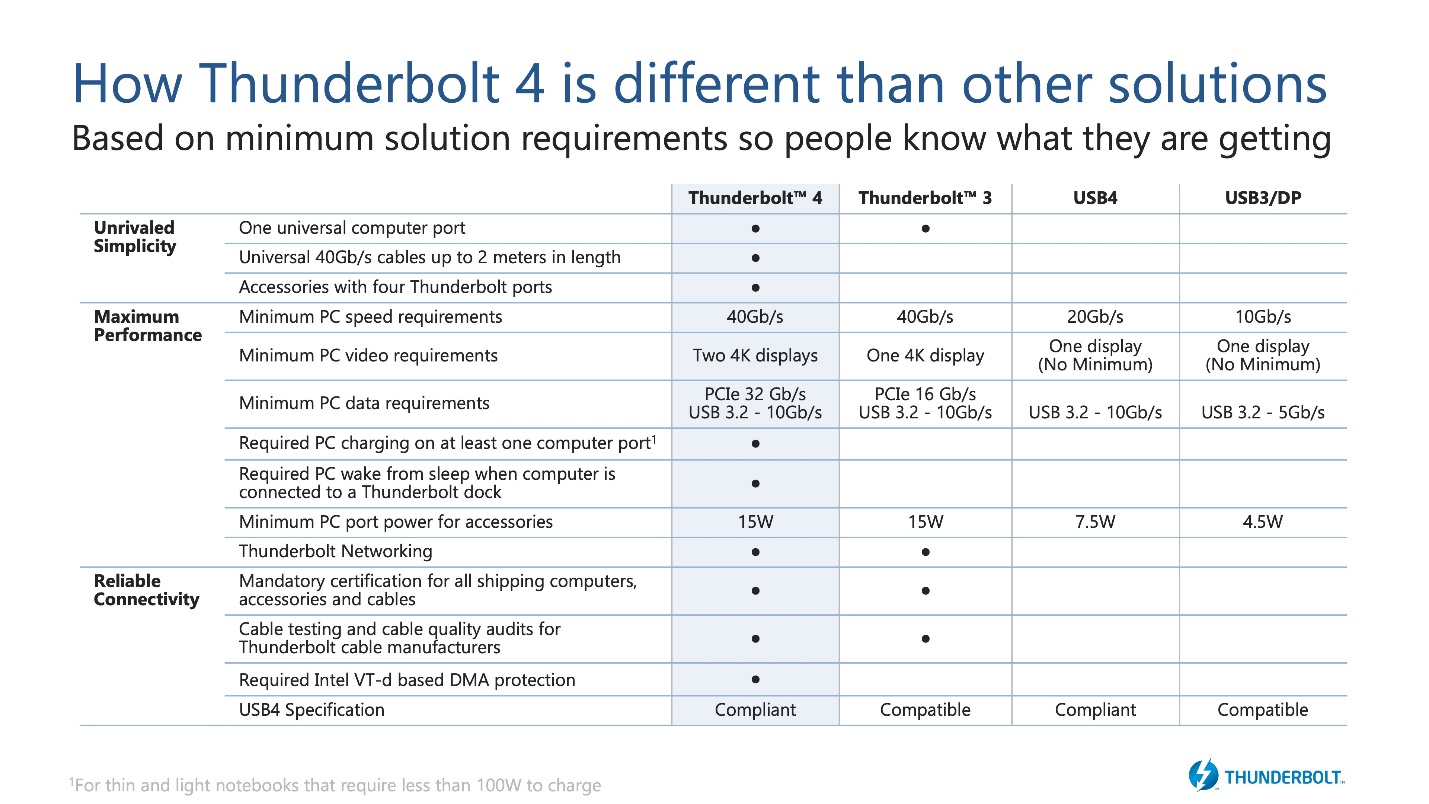 Thunderbolt 4 comparison chart by Intel.
USB-C
USB-C debuted the reversible, flippable Type-C connector, which has since been adopted by Thunderbolt 3, USB4, and the latest Thunderbolt 4. The port prevents the hassles of USB-A, where you plug in a cable almost three times before finally getting it right.
USB-C supports 10Gbps speeds, a single 4K60 display, and up to 100W power delivery. A USB-C port on a computer outputs 4.5 watts of power or higher for charging peripherals such as phones.
Thunderbolt 3
Thunderbolt 4 uses the same Type-C connector but has more capabilities than USB-C. It supports faster 40Gbps speeds, two 4K60 display or one 5K60, and up to 100W power delivery. Intel requires Thunderbolt 3 ports to provide in a PC to offer 15W power for accessories.
However, not all Thunderbolt 3 products are the same; that's why you see some docks or laptops not supporting charging over Thunderbolt. Intel only requires one 4K60 display and 40Gbps. Also, Thunderbolt 3 supports 20Gbps speeds on cables longer than 1m in length, meaning you can't get 40Gbps bandwidth on a 2m cable.
Other specs include two Thunderbolt 3 ports in accessories, 10 GbE networking, and daisy-chaining six devices from a single Thunderbolt 3 port. Intel VT-d is recommended but not required in Thunderbolt 3. There is no wake from sleep feature when connected to a docking station.
USB4
USB4 is another protocol with the reversible Type-C connector. Built on the Thunderbolt 3 Specification, USB4 will support everything that Thunderbolt 3 supports. With Intel requiring USB4 to support 20Gbps, a single 4K60 display, and 7.5W power delivery, not all USB4 ports with be the same. Like Thunderbolt 3, you need to be careful when buying aftermarket USB4 cables.
Thunderbolt 4 will have advanced performance than the yet to be released USB4 standard. But the lack of certification and the rigorous testing process from Intel will make the rate of USB4 adoption faster than Tb3 and Tb4.
Thunderbolt 4 Release Date
Thunderbolt 4 will be integrated into the upcoming Intel Tiger Lake mobile processors, which will be available later this year. We expect Thunderbolt 4 to become mainstream in 2021, along with USB4.
The developer kits and certification testing for Thunderbolt 4 are already available. Intel also announces the Thunderbolt 4 controller 8000 series consisting of JHL8540 and JHL8340 for PCs and JHL8440 for accessories such as docking stations. The controllers are fully compatible with existing Thunderbolt 3 PCs and peripherals.
Will Apple Silicon Support Thunderbolt?
During this year's keynote, WWDC 2020 Special Event Keynote, Apple announced its plans to transition the Mac from Intel to its custom silicon. The move raised a lot of speculations, and among them is whether Apple Silicon will support Thunderbolt.
Apple partnered with Intel to develop Thunderbolt and has since included the ports in its Mac lineups. The latest Mac notebooks only feature Thunderbolt 3 ports. Leaving out the universal ports in their new chip would be a considerable downside to MacBook users and the Apple ecosystem.
However, speaking to Apple Insider shortly after the announcement of Thunderbolt 4, Apple affirmed that it will support Thunderbolt in their upcoming Macs with Apple silicon. Therefore, expect to see Thunderbolt 4 in your next MacBook and Mac Pro.
Thunderbolt 4 FAQ
When will Thunderbolt 4 be released
Thunderbolt 4 will be available on PCs and accessories later this year, along with laptops based on Intel's "Project Athena." The kits and certification testing are available for developers and manufacturers.
What does a Thunderbolt 4 port look like?
Thunderbolt 4 has the same Type-C port as Thunderbolt 3 and USB-C. The only way to know the difference is through the manufacturer's product page and specs.
How does Intel VT-d-based direct memory access prevent DMA attacks?
Intel VT-d uses DMA remapping (DMA-r), which helps protect the system memory by creating an isolated memory region for each peripheral connected to the system. With this, a device can only access the assigned memory and not the entire system memory.
Will the new Apple Silicon Support Thunderbolt 4?
Yes. Apple confirmed it remains committed to Thunderbolt's future, and it will include it in the upcoming Macs with Apple silicon. Therefore, Apple will support Thunderbolt 4 Specification and future generations.