This post includes affiliate links, for which we may earn a commission at no extra cost to you should you make a purchase using our links. As an Amazon Associate, we can earn from qualifying purchases. Learn more.
The CalDigit TS3 Plus has all the bells and whistles to transform your thin and light laptop into a desktop powerhouse.
Great aesthetics

15 ports for extra connectivity

Wide range of ports

87W laptop charging power

Supports dual 4K monitors, a single 5K monitor

Great features for the price

CalDigit TS3 Plus is the ultimate laptop docking station. With a single Thunderbolt 3 cable, you can transform a single Thunderbolt port on your thin and light laptop into a whopping 15 ports of connectivity. This solves the main problem that comes with most of the ultraportable Thunderbolt 3 laptops.
There are a lot of benefits that come with Thunderbolt 3. Most importantly, it allows makers to design thinner and lightweight laptops, great for portability. However, this comes at a cost. Most makers have now stripped away the ports that we actually need. It's almost becoming the new normal buying a laptop without USB Type-A ports, HDMI, DisplayPort, and other legacy ports.
It is understandable. Thunderbolt 3 supports data, power, and video at the same time, so literally, it is the only port that you need on your laptop. But Thunderbolt 3 is not mainstream yet. Many users still rely on legacy devices like USB hard drives, audio interfaces, HDMI and DP monitors, SD cards, and more in their workflow. That means you'll need a laptop docking station to expand the functionality of your slim laptop. This CalDigit TS3 Plus review will help you find just the right laptop docking station for your needs.
CalDigit TS3 Plus is the best Thunderbolt 3 docking station that you can buy. Apple recommends it for Mac, and it is one of the few docking stations that they directly sell in their store. The TS3 Plus has almost every port that you'd ever need, including multiple USB-A ports, USB-C, LAN, and SD card slot. In addition, this docking station has enough power delivery to charge most laptops in the market.

Image
Product Name
Features
Check Price

CalDigit TS3 Plus
Ports:15
Thunderbolt 3 Ports: 2
USB Ports: 7 (2 Type-C)
External Display: Dual 4K60, Single 5K60Hz
Power Delivery: 87W
Dimensions: 5.15 x 1.57 x 3.87 inches
Weight: 1.04 lbs.
Check on Amazon
CalDigit TS3 Plus: Design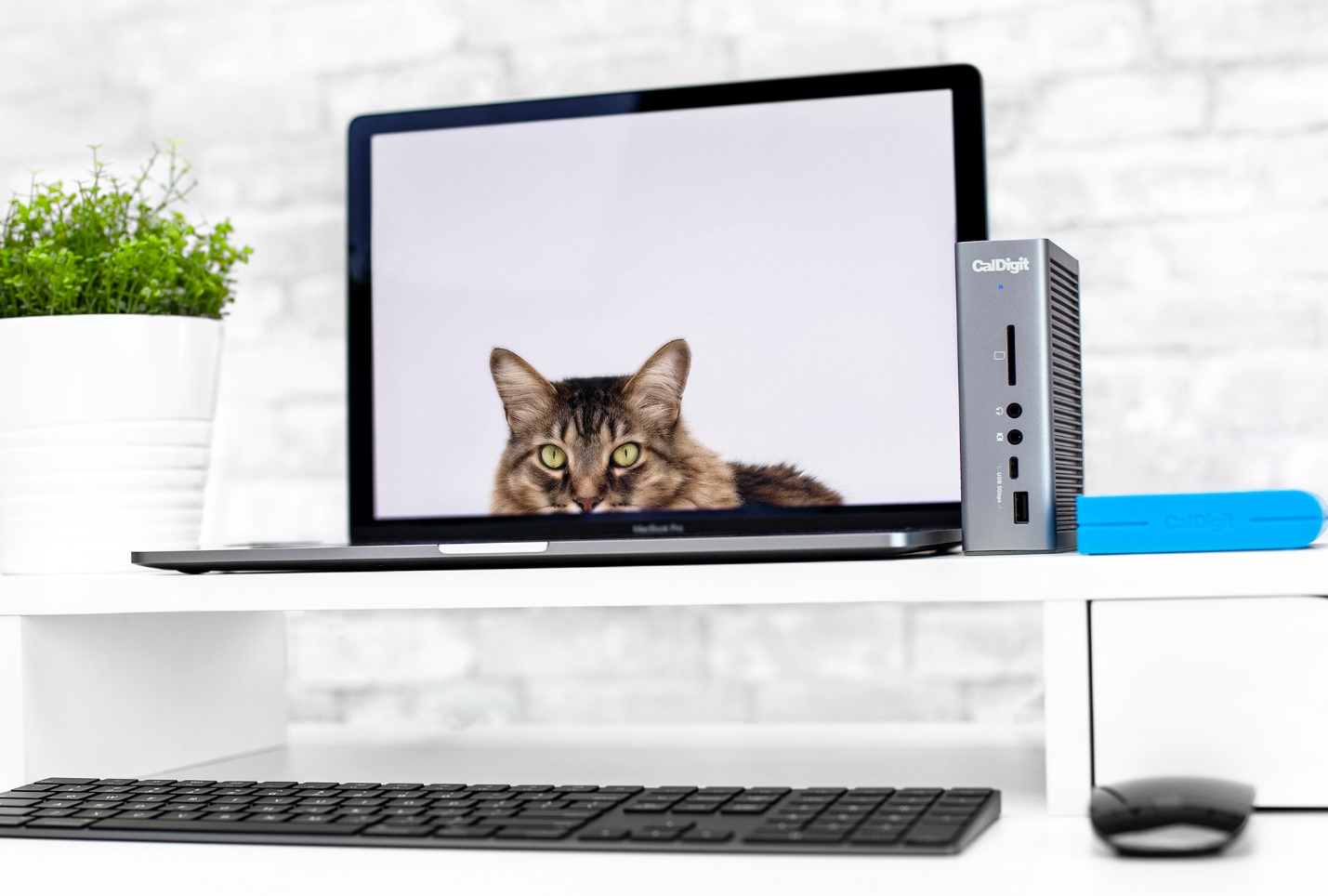 CalDigit designed the TS3 Plus with MacBooks in mind. The finish on the docking station is the same as the finish in the Mac notebooks. You can either choose a space gray or silver finish to match the aesthetics of your setup. The whole unit is made of metal and has fins on the sides for better heat dissipation and cooling efficiency.
CalDigit did a great job of fitting all the ports in an incredibly smaller chassis. The TS3 Plus measures 5.15 x 1.57 x 3.87inches and around one pound in weight, making it great for portability should you want to take it on the road. You should, however, find a place for the beefy 180W power adapter. The dock is primarily designed to be used vertically, but two rubber pads are included in the box that allows you to place it horizontally on your desk.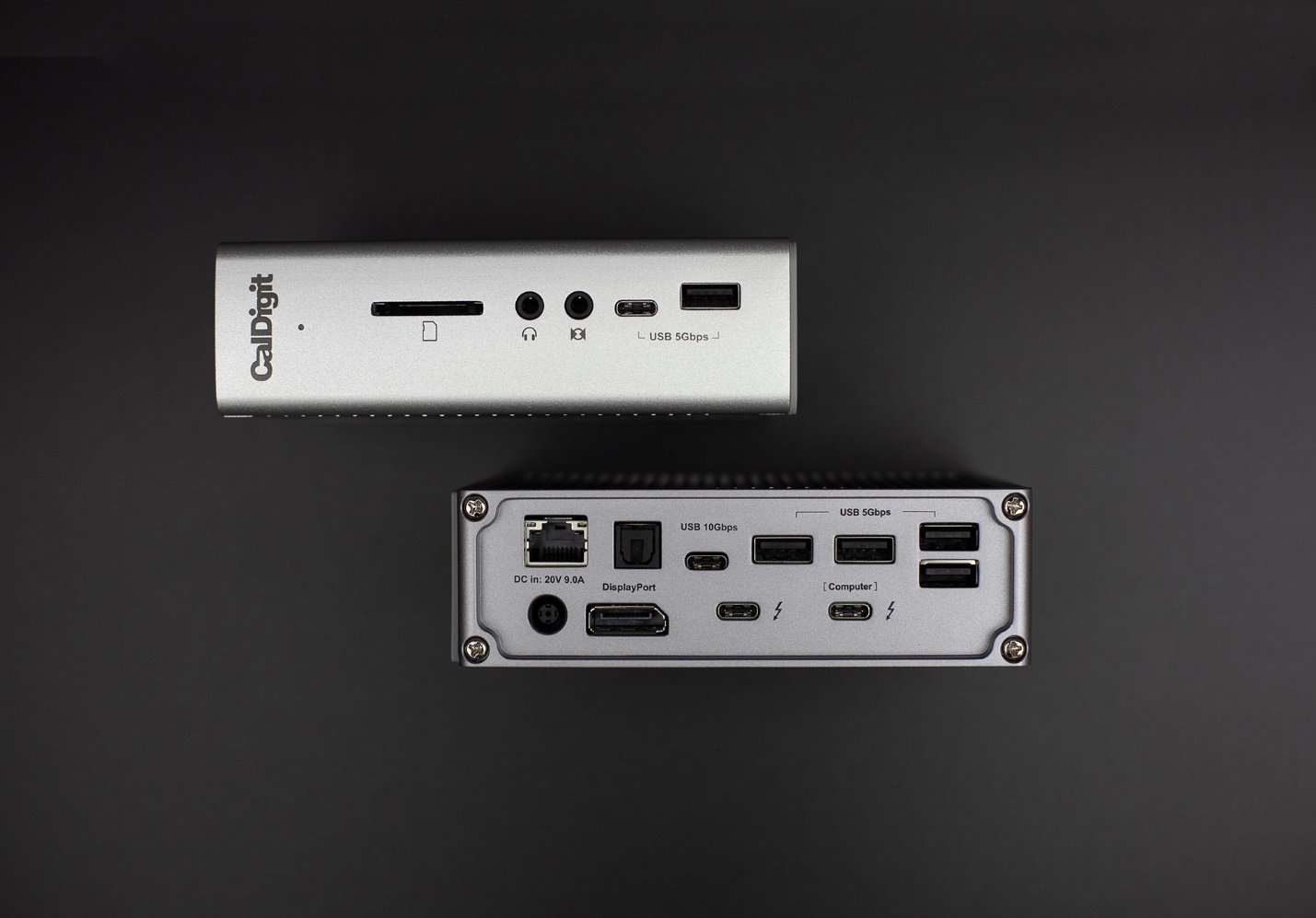 In the front fascia, there is a white CalDigit logo, a status LED, SD card reader, analog audio I/O, a 5Gbps USB-C port, and a USB Type-A port (limited to 5Gbps also). More ports are available at the back, including another 10Gbps USB-C port, four additional 5Gbps USB-A ports, a DisplayPort 1.2, Gigabit Ethernet, a SPDIF port, and two Thunderbolt 3 ports with up to 87W power delivery.
That's 15 ports, making the CalDigit TS3 Plus the perfect solution to solve your limited-ports problem on your thin and light laptop. Included in the box are the dock, external power adapter, and a certified Thunderbolt 3 cable.
CalDigit TS3 Plus: Thunderbolt 4 and USB 4 Support
Is the CalDigit TS3 Plus compatible with the new Thunderbolt 4 laptops? Yes. While the TS3 Plus is based on the Thunderbolt 3 specification, it will be fully compatible with computers that have either Thunderbolt 4 or USB4 ports. According to CalDigit, the TS3 Plus "will provide the majority of features a Thunderbolt 4 dock does and be compatible with Thunderbolt 4 and USB 4 laptops."
Thunderbolt 4 is the next generation of the Thunderbolt Specification that was announced a while back. Devices, such as laptops and docks, have started to appear in the market featuring the new Thunderbolt specification. However, Thunderbolt 4 didn't bring significant upgrades to the current specification compared to the previous versions.
Intel was keen to patch the flaws in the Thunderbolt 3 specification by making previously optional features mandatory in Thunderbolt 4. That means if your device already supports the maxed-out Thunderbolt 3 requirements, like this docking station, then you don't really need Thunderbolt 4. Besides, Thunderbolt 4 is backward compatible, so it should work with most Tb3 devices.
If you buy a Thunderbolt 4 or USB4 laptop, rest assured it will work well with the CalDigit TS3 Plus.
CalDigit TS3 Plus: Performance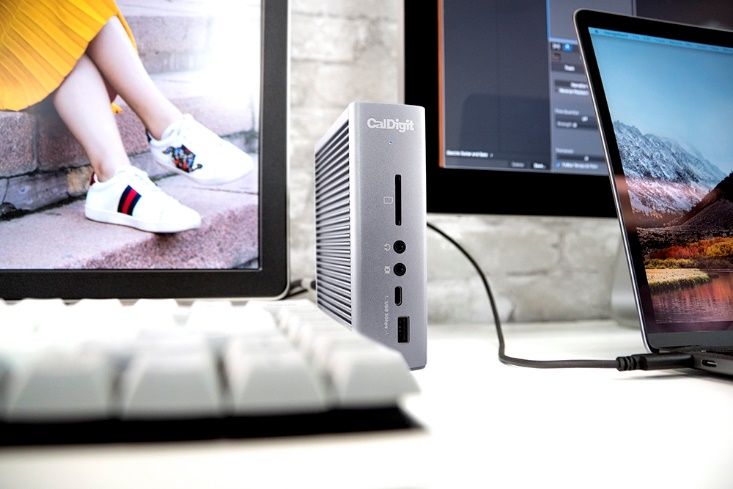 There is a reason the CalDigit TS3 Plus won our best Thunderbolt 3 docking station award. This docking station is a beast in terms of performance. It has the best combination of ports and features that you won't find in other docking stations. With five USB-A ports and two USB-C ports, you can easily connect your old USB devices and newer Type-C peripherals to do more on your laptop that was otherwise limited.
It gets better. The CalDigit TS3 Plus supports daisy-chaining via its second Thunderbolt 3 port, allowing you to connect up to six more Thunderbolt 3 devices.
Connect your work laptop to stable and high-speed Gigabit Ethernet and avoid the problems of Wi-Fi drop-outs in the middle of a video call. It is also a great addition when working with shared projects or using NAS devices in your organization. The benefits of connecting all these devices and connections through a single cable to your laptop cannot be overstated.
The CalDigit TS3 Plus can easily transform any setup and workflow. From multi-taskers to creatives and audiophiles, the TS3 Plus meets the needs of most pros and power users in the industry. You can now safely buy a thin and light laptop that you can carry with you everywhere you go and turn it into a desktop powerhouse once in the office with the CalDigit TS3 Plus.
SD Card Reader. Nice Addition for Creatives
It's nice to see a card reader on the CalDigit TS3 Plus. Most ultraportable laptops like the MacBook Pro don't have it these days. It is an excellent addition, especially for professional photographers and creatives. You can spend the day taking photos and recording videos on the jungle and come back to transfer all the files to your laptop via the dock for retouching and editing.
The SD card reader on the TS3 Plus supports SD 4.0 and UHS-II interface, with theoretical speeds of 312MBps. Transferring day photos or 4K video footage shouldn't take long. However, you must use a compatible SD card to reap the most benefits.
Audiophiles will like the Analog and Digital Audio Options.
The CalDigit is rich in audio I/O. First, you have separate analog input and output audio ports for connecting headphones and microphones. Great for general use, including video calls and gaming. For the best part, there is a professional-level S/PDIF digital optical audio port, something you don't get very often in most docking stations.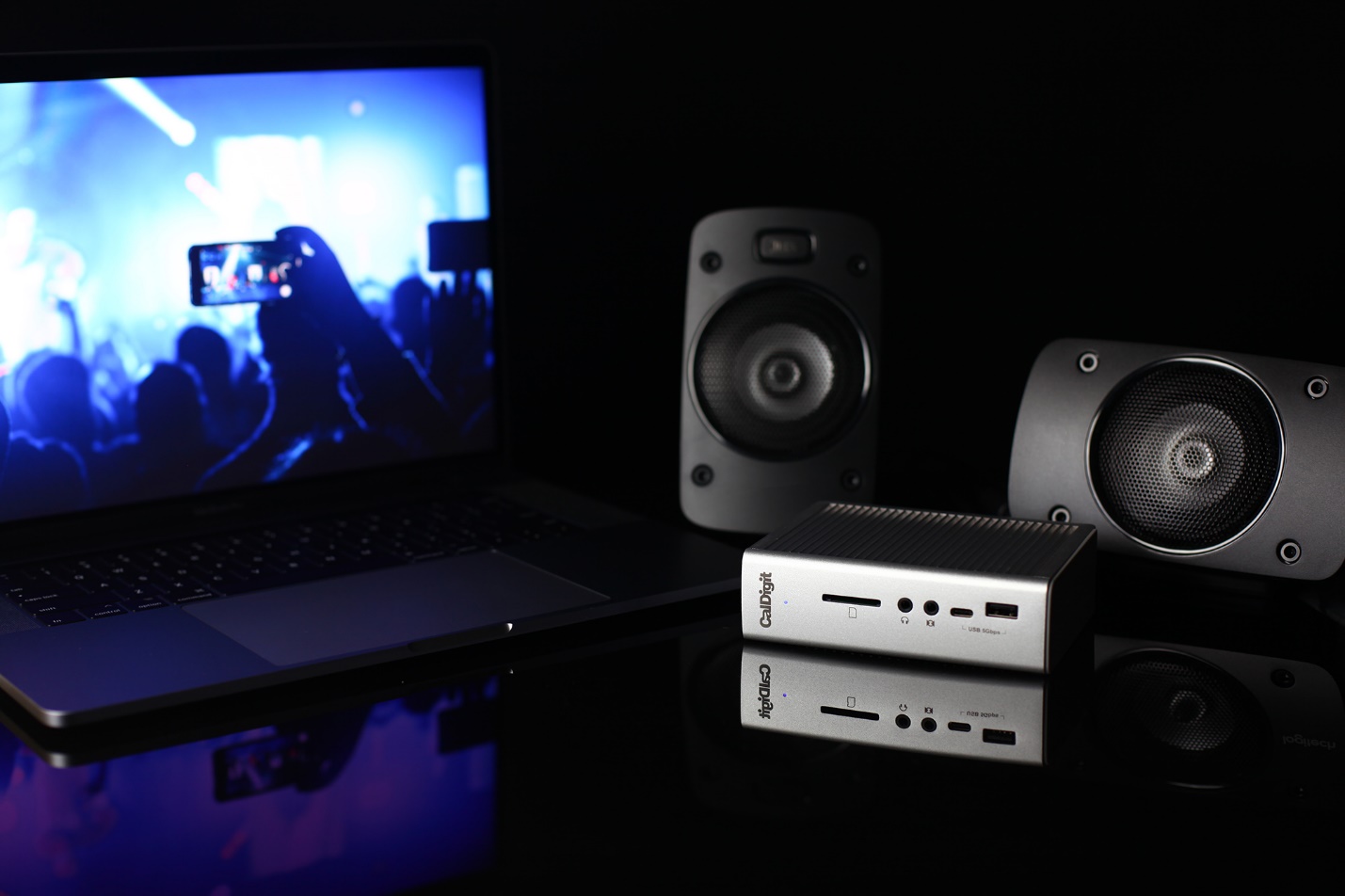 With a SPDIF port, you can connect your PC directly to a soundbar, home theatre receiver, or amplifier to enjoy pristine and high fidelity sound. This is especially good for epic gaming and entertainment setups with surround sound systems. You can conceal all the cables at the edge of the table and run a single Thunderbolt 3 cable to your laptop. Better sound, less cable clutter.
Dual Displays for Multi-taskers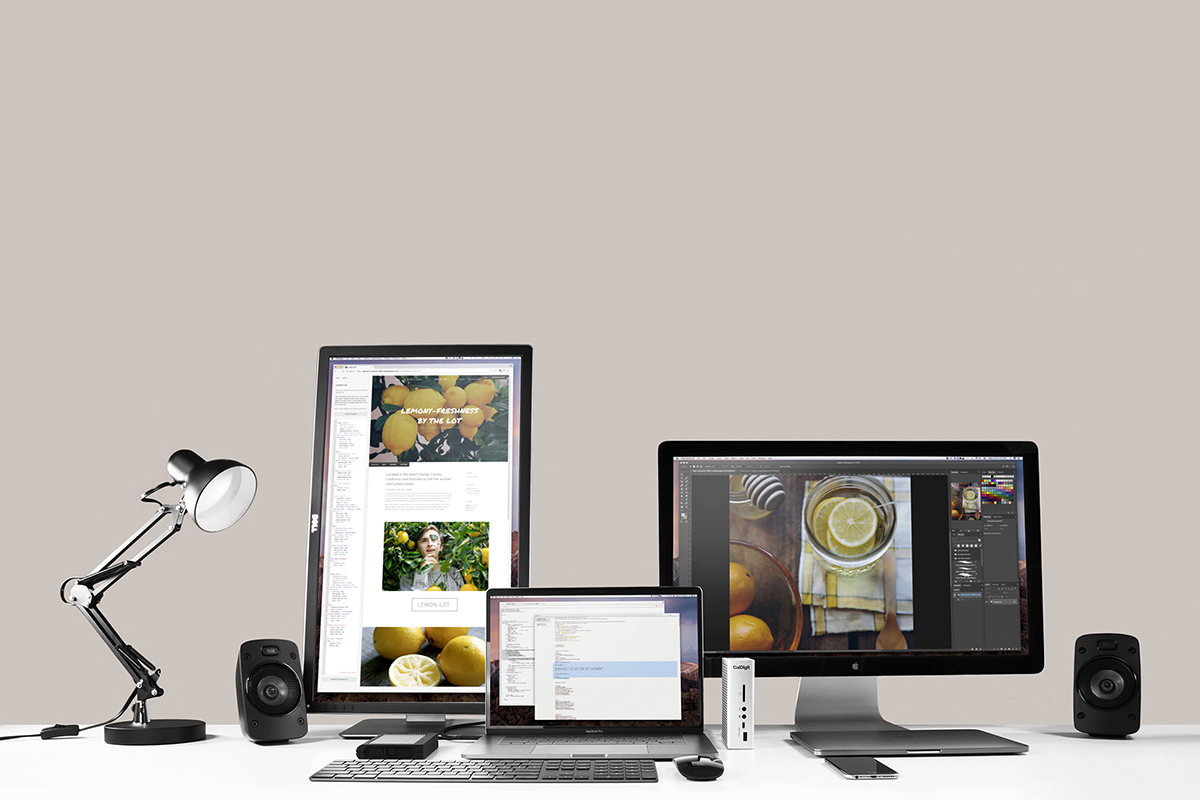 One of the reasons Thunderbolt 3 has been widely adopted is the support for dual 4K displays or a single 5K display. The TS3 Plus lets you connect two external 4K60 monitors via the second Thunderbolt 3 port and DisplayPort to add more screen real estate for better multitasking. When connecting external monitors, don't use the USB-C ports as they only support data passthrough.
If your monitor has two Thunderbolt 3 ports, such as the
BenQ PD3220U (Amazon Link)
, you easily daisy-chain another 4K monitor to the monitor's second Thunderbolt 3 port. You don't need to use the DisplayPort.
For non-DisplayPort and non-Thunderbolt 3 monitors, you can still connect them to the TS3 Plus using a dongle such as Thunderbolt 3 to HDMI/VGA/DVI or DP to HDMI/VGA/DVI. CalDigit recommends using an ACTIVE DisplayPort adapter if converting the DisplayPort signal. It would have been more convenient if CalDigit tossed an HDMI port there.
If using the latest M1-based Macs (including the Mac-mini), you'll be limited to one external display through the dock. It has nothing to do with the docking station but rather the limitations of the Apple silicon chip. Users with Intel-based Macs and Windows PCs will be able to connect up to dual 4K displays via the TS3 Plus for more screen space with a higher level of detail.
Power Delivery & Charging
The CalDigit TS3 Plus with 87W power delivery makes it easy to charge your laptop without requiring extra power adapters or cables. Most thin and light laptops require 60W of power, making the TS3 Plus powerful enough for most laptops. It can also charge the 96W-rated 16-inch MacBook Pro, though slower, without damaging your Mac.
Make sure to connect your PC to the Thunderbolt 3 port labeled computer and update your laptop to the latest Thunderbolt 3 firmware. Computers with old Thunderbolt firmware will only charge up to 85W.
The other USB (including USB-C) ports deliver up to 7.5W, which is excellent for charging peripherals, including cell phones and smartwatches. You can connect bus-powered USB devices to these ports, and they will work just fine, including Apple's SuperDrive CD/DVD player. Not many docks can power this thing. SuperDrive drivers are required.
Final Verdict
The CalDigit TS3 Plus has all the bells and whistles to transform your thin and light laptop into a desktop powerhouse. It transforms a single Thunderbolt 3 port on your notebook into a whopping 15 ports, which can significantly expand the functionality of your laptop. Onboard, 87W power delivery makes it easy to connect your work laptop without the annoying cable clutter.
There is just no better alternative in the market that can replace the CalDigit TS3 Plus in the market. Although I would have appreciated an HDMI port for broader compatibility, I can make do with an adapter. Overall this is a powerful laptop docking station that meets the needs of professionals and power users who still want to buy a light and portable laptop.