This post includes affiliate links, for which we may earn a commission at no extra cost to you should you make a purchase using our links. As an Amazon Associate, we can earn from qualifying purchases. Learn more.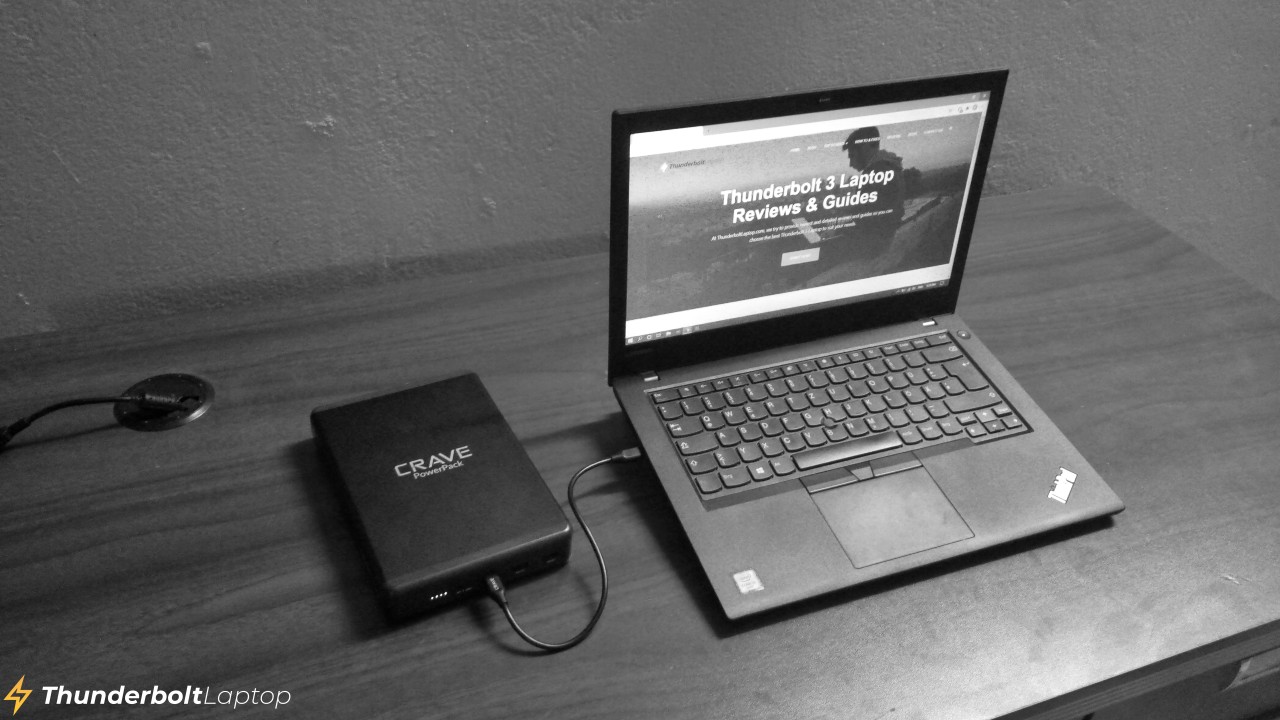 The Crave PowerPack 2 is a powerful external battery charger, with a 50,000mAh capacity capable of charging up to four devices simultaneously, including two laptops. It's the best power bank for charging laptops and outdoor adventures. But, the fact that you can't fly with it may turn some folks off.
Whopping 50,000 mAh high capacity

Can charge two laptops simultaneously

Two USB-C ports and dual Quick Charge USB-A ports

Solid, elegant design

PD wall charger included

Exceeds TSA limits for air travel

No pass-through charging

Bulky and heavy

Having a power bank is a great way to keep your phone fully-charged and stay connected to the outside world when out on vacations, hiking, camping, or during power outages. But what if you want to jump on that due excel sheet in the middle of nowhere and your laptop is dead?
Today we will be reviewing the Crave PowerPack 2, a 50,000 mAh power bank capable of charging laptops and other mobile devices, including smartphones, tablets, watches, and more. It's a great portable battery charger that ensures you don't run out of power when traveling or camping in extreme places with no power coverage.
Why the Crave PowerPack 2?
A simple "power bank" query on Amazon returns hundreds of products. Most of them have 10,000-20,000 mAh capacities designed to be used with smartphones and small devices that don't consume much power. The Crave PowerPack 2, on the other hand, packs an incredibly 50,000 mAh capacity, enough to charge four devices, including two laptops at the same time.
If you're out in the woods or on top of a mountain, this power bank can power your devices for days. It's not just about cell phones. You can now recharge your laptops and stay productive just about anywhere. Let's dive into the review.

Image
Product
Details
Check Price

Crave PowerPack 27
Capacity:

50,000 mAh, 185 Wh


Charging Ports:

USB-C 60W, USB-C 18W, 2x USB QC3.0


Included cables:

USB-C to USB-C


TSA Approved:

No


Dimensions:

8.2 x 5.4 x 1.3 inches


Weight:

4.15 lbs



Check on Amazon
Unboxing and Impressions
The power bank comes excellently packed in a white, hard box with some sponge inside to prevent any damages in transit. Opening the box reveals the black, shiny PowerPack 2 itself and a few useful accessories. There is an 18-inch USB-C to USB-C charging cable, a 45W PD wall charger, a carrying sleeve, and some documentations.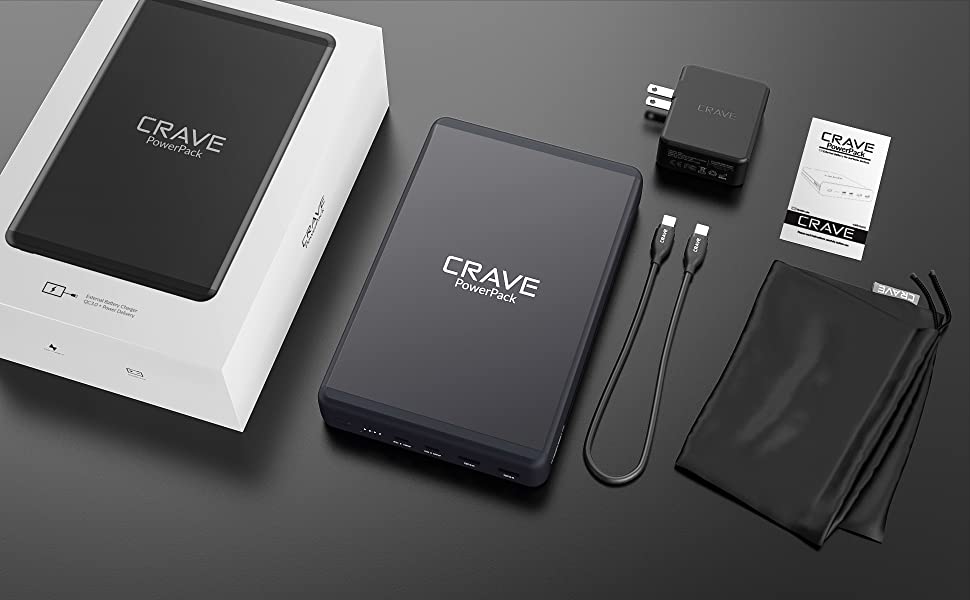 The carrying sleeve is an excellent addition here if you're always on the go. It does a great job of preventing scratches and dents on transit, but there is no way this pouch will protect the power bank from damages when you accidentally drop it. It's just a simple, light cloth pouch. Make sure to handle it with care, just like your laptop.
One of the things you'll notice when you hold the PowerPack 2 for the first time is the weight. This bad boy is large and bulky than most power banks in the market, heavier than some 13-inch laptops like the MacBook Pro. If you combine the power bank with a laptop on your backpack, definitely you'll feel the weight. It is also not pocket-sized either, so you'll need a laptop bag or backpack if not using the included pouch.
Crave PowerPack 2 Design
The PowerPack 2 measures 8.2 x 5.4 x 1.3 inches and weighs 4.15 pounds. For a power bank that holds 50,000 mAh capacity, this shouldn't come as a surprise. It's well built with rugged anodized aluminum and black satin finish giving it a clean, professional look. On both ends, you will find plastic padding to reduce impact and damage should you accidentally drop it on the floor.
Below is a side by side comparison of the power bank with 14-inch ThinkPad T470 to get an idea of the how large it is.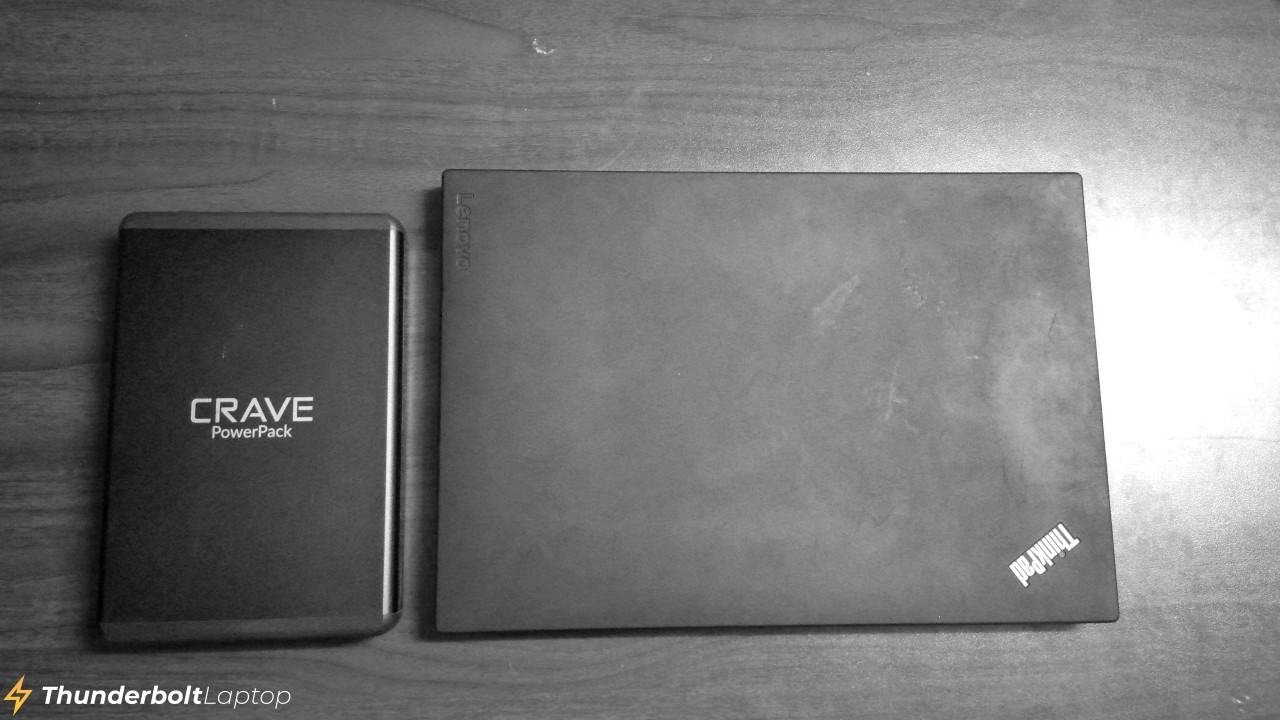 For a power bank that makes the perfect choice for camping and hiking, the lack of water resistance comes as a surprise. During your outdoor adventures and road trips, make sure not to spill water on it.
The top surface of the PowerPack 2 includes "CRAVE PowerPack" branded in white. You'll also get the same branding on the side along with the model number. The sides have a shiny black material in the middle that brings some beautiful aesthetics.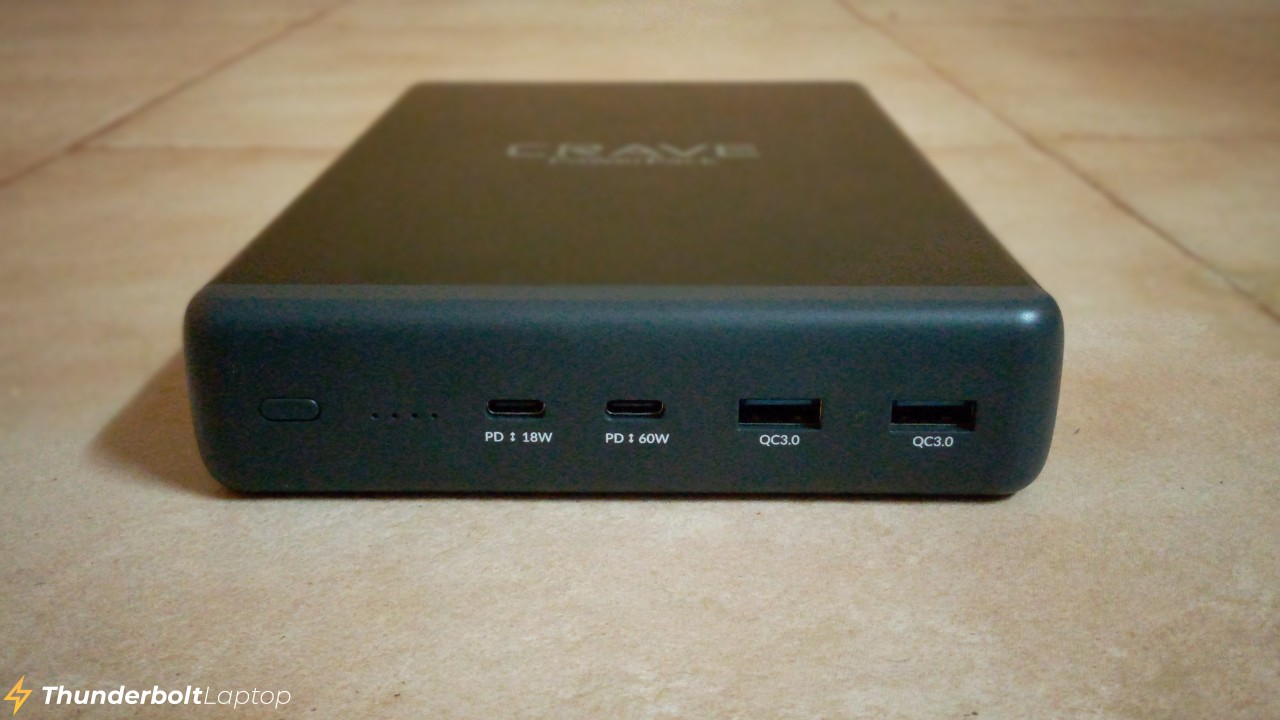 The PowerPack 2 has four ports, all available on the front end of the case. There are two PD USB-C ports and two USB 3.0 Type-A ports, more on them later. Next, you'll find four LEDs, which show the charge left, and a power button to activate the LED lights and enable charging. The LEDs blink when charging the power bank or when there is no charge left.
Honestly, I don't know when you'll use the power button because the LEDs automatically light up and begin charging when you connect a laptop or any device. Check the amount of charge left? Maybe.
Overall, it's a great design and build quality that can withstand the bumps and bangs of everyday use, but the lack of water resistance can be a concern for some users, especially the adventurers.
Battery Capacity
The PowerPack 2 has a battery capacity of 50,000 mAh, rated at 185 watt-hours (Wh). That's a lot of power, considering most power banks in the market offer up 30,000mAh. Sure, you can get a few alternatives with 50,000 mAh capacity, but the chances are minimal, and you must make some compromises.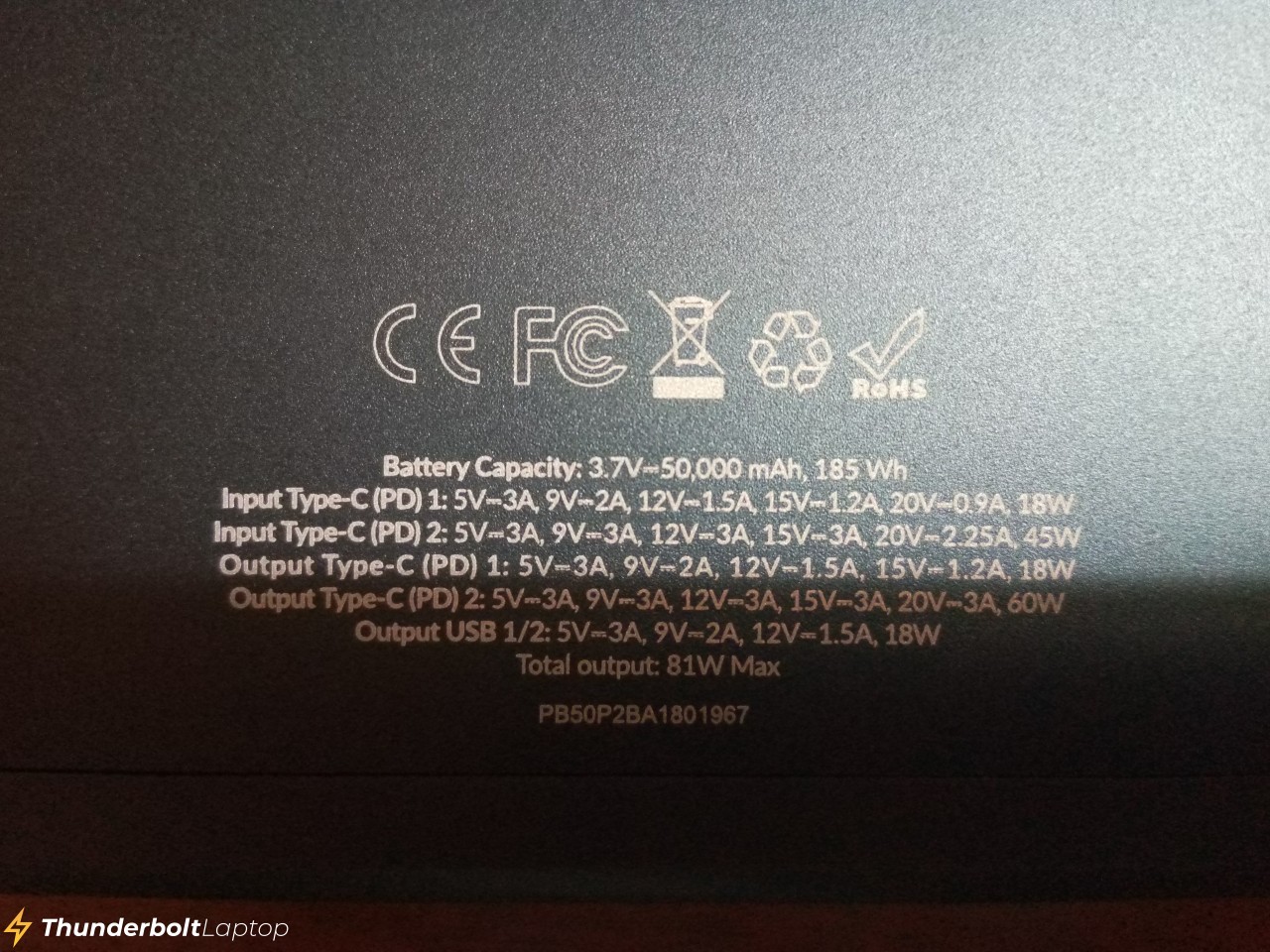 The Crave PowerPack 2 is the best high capacity power bank that you can buy right now. With this capacity, you can get multiple charges on your phone and even laptops, so you can stay productive on your road trips and vacations and never miss that important business call. It's like having an AC outlet on the go.
However, the downside of having this much capacity is the TSA restrictions regarding portable chargers. You cannot fly with the PowerPack 2 because it exceeds the 160 Wh limit put by TSA. TSA limits the capacity of power banks that you can bring on planes to 100 Wh or 160 Wh with airline approval. Anything above 160 Wh, like the 185 Wh PowerPack 2, is prohibited.
Now that you know the bits and bytes of the Crave PowerPack 2 let's talk of the main reason for buying such a high capacity power bank. And that's the performance and charging.
Performance and Output Charging
The PowerPack 2 has four charging ports capable of simultaneously providing power to four devices. Each port has a different capacity, and we're going to run through them pretty quickly.
First, there is an 18W USB-C port on the far left next to the LEDs. This port is great for charging smartphones, tablets, and smaller laptops. You can charge and use your notebook while connected, but the laptop will charge slower than usual.
Then there is the 60W USB-C port that can charge just about any laptop in the market. It's the port I use mostly to power my ThinkPad T470. My T470 has a Thunderbolt 3 port, so it easy to charge using the included PD USB-C cable. Crave sells the PowerPack Laptop Adapter Kit (Amazon Link) if your laptop does not have a USB-C port, making the power bank compatible with almost every notebook in the market.
One of the reasons I love Crave PowerPack 2 is that I can charge two laptops simultaneously while using them. It's a lifesaver during power outages.
Last you get a pair of USB Type-A ports on the right that deliver up to 18W with Qualcomm Quick Charge 3.0 support. They are capable of charging compatible cell phones for up to 80 percent in just 35 minutes. The USB-A ports are great for charging phones, smartwatches, cameras, and more.
With all four ports, the power bank offers 81W maximum capacity at a go, so you can simultaneously charge up to four devices, including two laptops. No other power bank can match the PowerPack 2.
Another downside here is the lack of wireless charging. It would have been great if the PowerPack 2 supported wireless charging since most of the latest smartphones and devices are now equipped with this technology, but it is not a bigger deal. You still got USB-C and quick charge.
One of the most frequently asked questions when buying a power bank is how many times it can charge devices before the next recharge. The Crave PowerPack 2 with 50,000 mAh capacity guarantees multiple charges on both laptops and phones. But this depends on a few factors, including the number of devices plugged in and whether or not you're using the devices at the same time.
You can get anywhere from two to four full charges on most ultraportable laptops like the MacBook Pro and Dell XPS if the computer isn't used. Charging and using the laptop simultaneously drains the battery quicker. You can get a day of continuous use, which also depends on how many devices are plugged in.
When testing the power bank, I got three full charges on my ThinkPad T470 when not using it, which is impressive considering the T470 has two 3-cell 24 Wh batteries onboard.
For smartphones, the PowerPack 2 can fully charge an iPhone or other similar mobile devices up to 15 times. You can go for a week or more without exhausting power. It's the best option if you're planning to go off the grid for days.
Charging the Crave PowerPack 2
The PowerPack 2 comes with a 45W USB-C wall charger for charging the power bank. Now you can use either USB-C ports for charging, but we recommend using the 60W port. Using the 60W port fully charges the power bank in about 5 hours, while the 18W port might take up to 14 hours.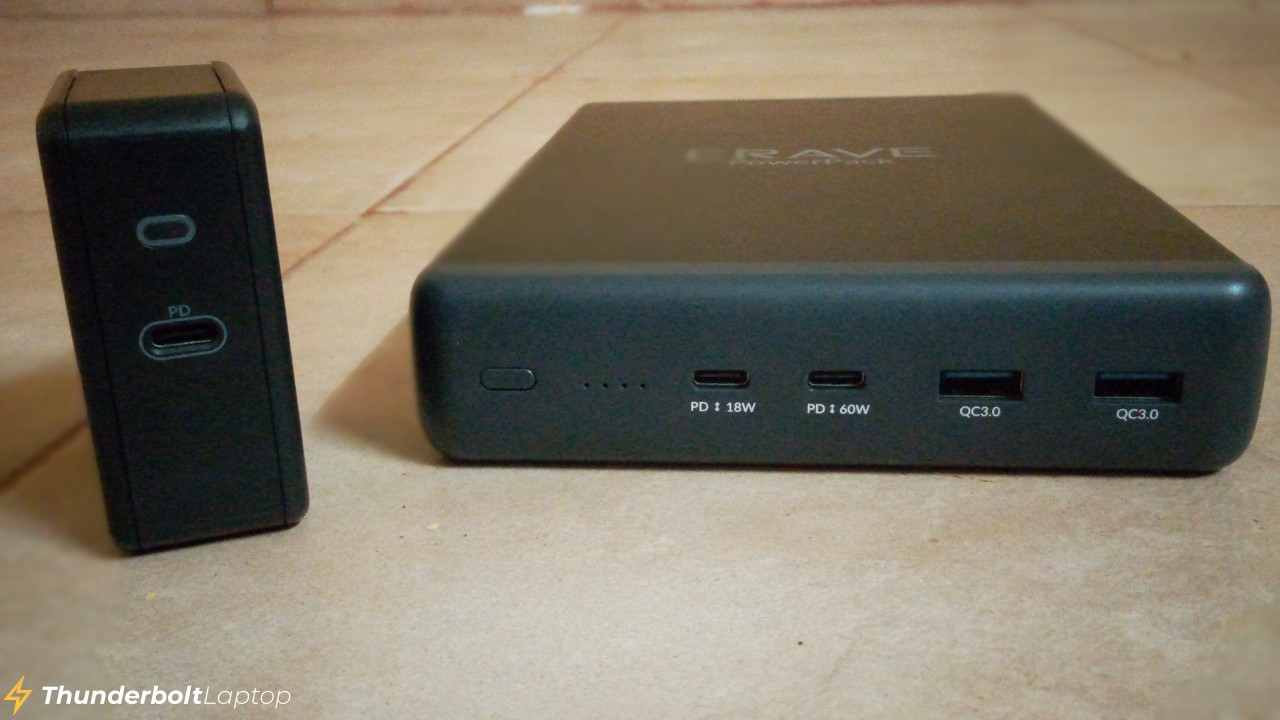 It also makes sense to use the 60W port since this power bank does not support pass-through charging. It cannot charge while being charged. So the best way is to wait until it's fully charged to resume powering your devices. Good luck waiting for 14 hours when using the 18W port.
Compatibility
The Crave PowerPack 2 is compatible with laptops that have a Type-C port. Basically, all USB-C, Thunderbolt 3, Thunderbolt 4, and future USB4 laptops. It can also charge tablets and other USB-C accessories that support Power Delivery. You can use this power bank with older laptops with no Type-C ports using the sold-separately PowerPack Laptop Adapter Kit (Amazon Link).
While the PowerPack 2 is primarily designed for charging laptops, it actually performs better when charging smartphones, offering up to 15 charges on a single charge. Unlike laptops, you can easily charge all smartphones with this power bank using the 18W USB-C and the dual USB-A ports.
Alternatives
Is there a better high capacity power bank than the Crave PowerPack 2? Not really. The MAXOAK Laptop Power Bank (Amazon Link) is another 50,000 mAh power bank designed for laptops. It's a cheaper alternative, but it does not support USB-C or Thunderbolt 3 only laptops like the MacBook Pro and Dell XPS.
If you're looking for a TSA-approved power bank, the Crave Plus PRO (Amazon Link) is an excellent option. It meets the TSA limits, has a PD USB-C port for charging laptops, and features a much smaller footprint. However, the 20,000 mAh capacity is just not enough for charging laptops and multiple devices.
Crave PowerPack 2 Review: Verdict
Do you need the monstrous 50,000 mAh PowerPack 2? If you need a portable battery charger to power your laptop and multiple devices, there is no better option than the Crave PowerPack 2 right now. This power bank can power your laptops and cell phones multiple times a day for days, making it the perfect choice for outdoor adventures and during power outages.
If you want to stay productive while traveling, the PowerPack will provide your laptop power multiple times. But if you're just looking for an external charger for your smartphones, there are cheaper and more portable alternatives out there.
Purchasing this power bank means you have to keep up with its downsides. It's a bulky power bank, that's for sure, and it is not allowed on planes because it exceeds TSA's 160 Wh limit. You cannot fly with it.
Overall, this is a unique and reliable portable battery charger that ensures you never run out of power when outdoors or during power outages.