The Eve Spectrum 4K 144Hz takes us back to the drawing board. You can play games at night and connect your Mac during the day for productivity and office work. There aren't that many other monitors in this class that can cater to the Mac/Gamer user base. You can buy a fully-fledged gaming monitor for the first time without the over gamery design and a ton of branding.
The Eve Spectrum is super minimal and includes additional features not found in other gaming monitors. This is a monitor you can use for both work and play, and it hits all the boxes for the modern-day gamer.
PROS
Beautiful, minimalistic design
Sharp and colorful
Powerful gaming features
USB-C port with charging
USB Hub via USB-C or USB-A
Optional stand to save money
CONS
Poor HDR and local dimming
You probably have no idea what an Eve Spectrum is, but if you own a PS5, Xbox Series X, or the latest generation gaming PC, this is a brand you should take notice.
The Eve Spectrum 4K 144Hz is a gaming monitor birthed from a crowd-developed and crowd-funded Kickstarter project, and it takes on some of the big names in the market, including LG and Acer.
It's the first gaming monitor announced with HDMI 2.1 inputs, which enable 4K gaming at up to 120Hz refresh rate on the latest gaming consoles and PCs.
While there have been a few ups and downs regarding shipping and uncertainty due to Eve's sketchy history, the Eve Spectrum 4K 144Hz is here and has begun shipping to early backers.
Is this a monitor to consider if you're in the market for a new 4K gaming monitor? We spent a couple of days with the Eve Spectrum 4K 144Hz (ES07D03), and here's everything you should know about this crowd-developed 4K 144Hz HDMI 2.1 monitor.
Specifications
Screen Size: 27-inch
Resolution: 3840×2160
Pixel Density: 163PPI
Panel Type: IPS
Brightness: 450 nits typical, 750 nits peak
HDR: HDR10, VESA DisplayHDR600
Color Gamut: 98% DCI-P3, 100% sRGB
Color Depth: 10 bit (8 bit + FRC)
Refresh Rate: 144Hz
Response Time: 5ms (GtG) typical, 1ms (GtG) overdrive
VRR: G-SYNC Compatible, FreeSync Premium Pro
Ports: 2x HDMI 2.1, 1x DisplayPort 1.4, 1x USB Type-C (DisplayPort 1.4 Alt Mode, USB 3.1 Gen 2, 100W), 1x USB Type-C (USB 3.1 Gen 2, 15W), 2x USB Type-A (USB 3.1 Gen 2, 10W), 1x USB Type-B (USB 3.1 Gen 2, Upstream), 1x 3.5mm audio jack
Unboxing
The promise of Eve was to design something that users really want and care about, and by the look of things, Eve nailed it.
Right from the packaging, the Eve Spectrum 4K 144Hz is well thought out and neatly packaged, which is impressive for a brand shipping its first monitor. The accessories are in separate, clearly labeled compartments, and if you're lucky enough, you'll find your name on the early backers' list at the back of the box.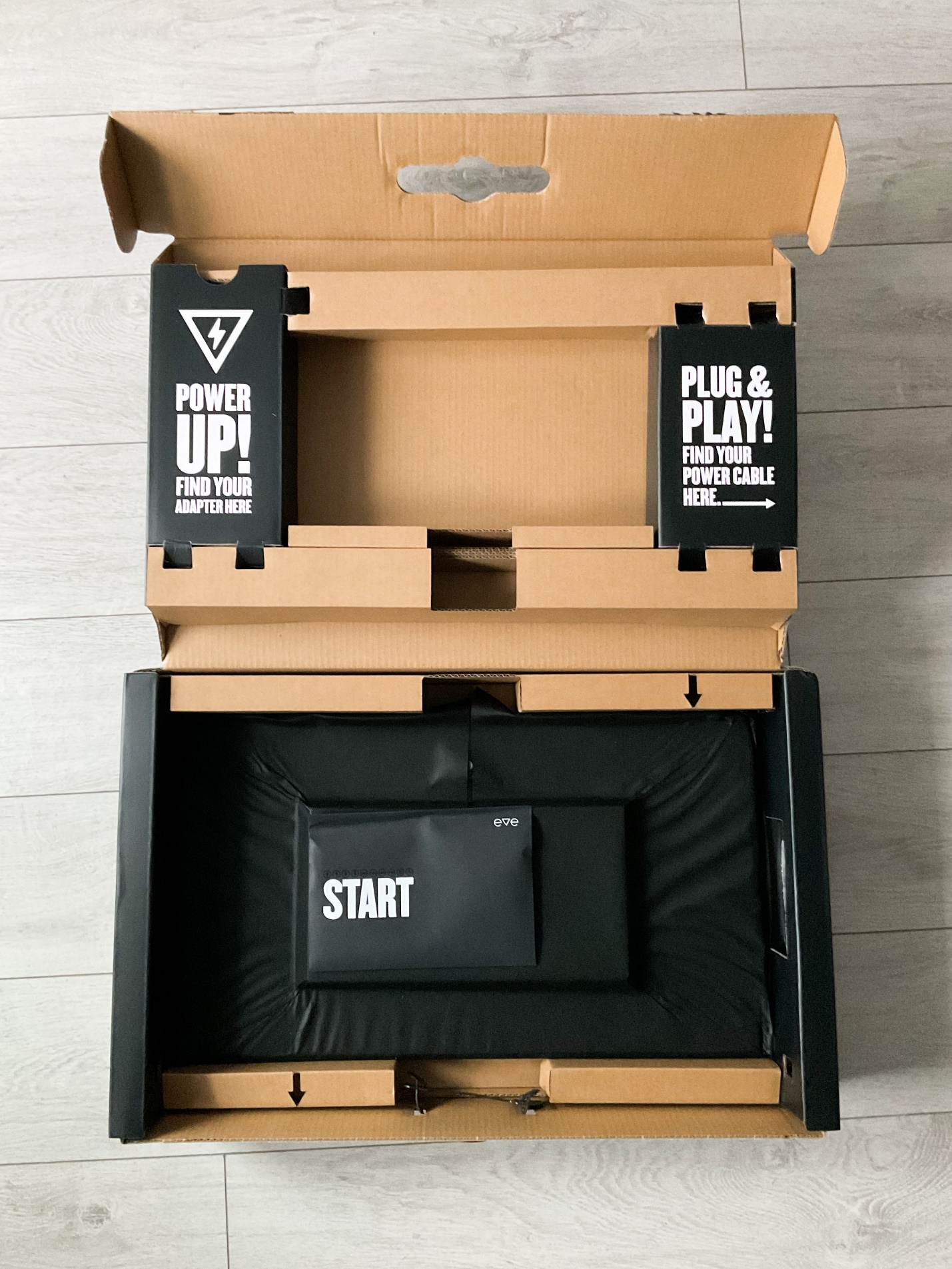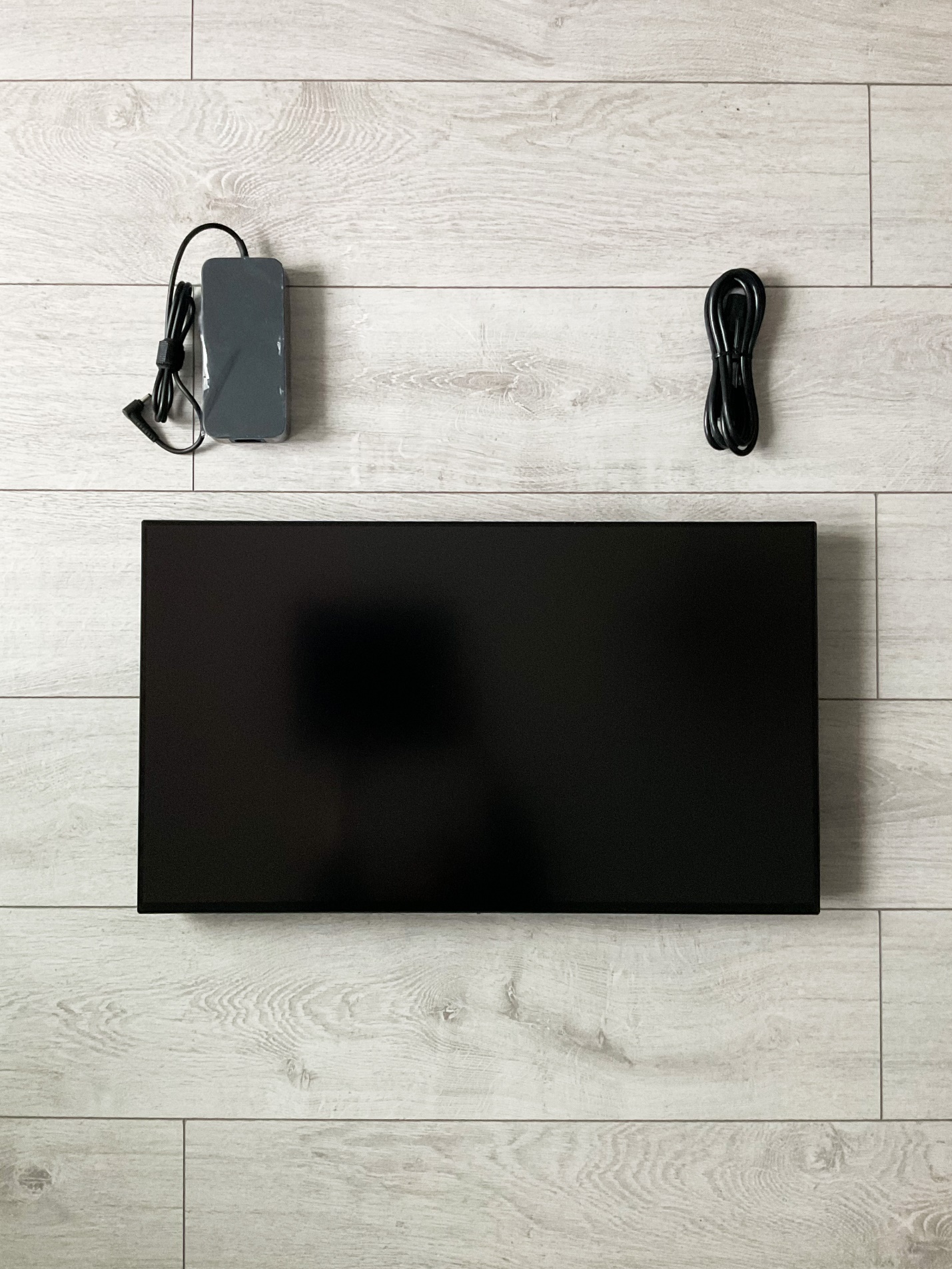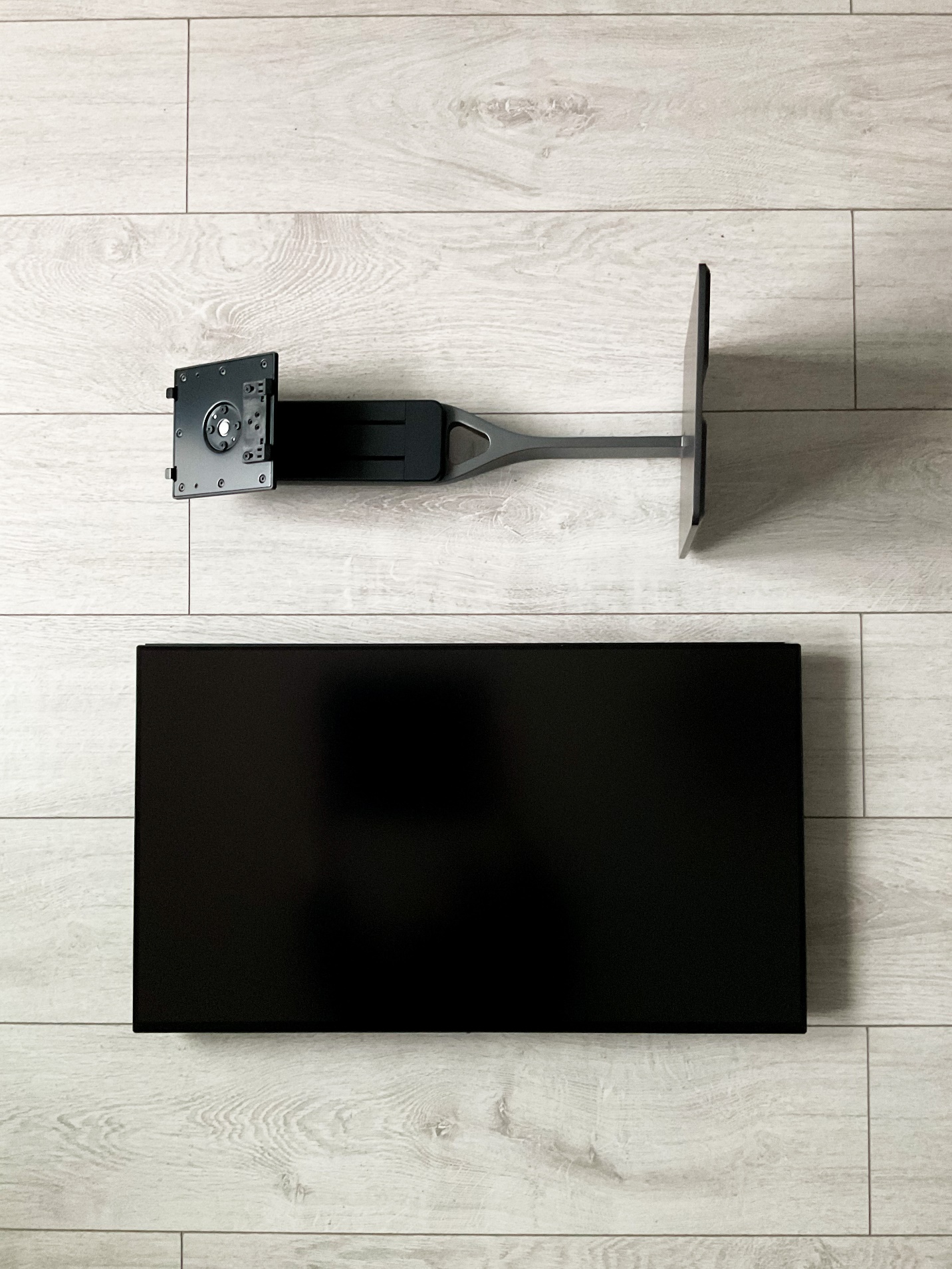 The panel and stand come packaged separately. That's because the stand is actually optional. You can buy the Eve Spectrum without the stand, which is what 46 percent of the Eve community wanted.
It makes sense. Most people use VESA monitor arms or wall mounts to save desk space or for other reasons like improved ergonomics. Plus, the stand costs an additional $99. If you want to stay on a budget, you can save some money by getting a $20 monitor arm.
It took about five minutes to fully unbox and set up the monitor. Inside, you get the monitor, a heavy power brick, a power cable, and a calibration report. Unfortunately, there are no cables included in the box.
Design
From the exterior design, the Eve Spectrum 4K 144Hz looks nothing like a gaming monitor. With most gaming monitors trending towards super-extra designs, flashy RGB, tons of branding, and weird, aggressive curves, Eve went for a super clean and minimalistic look.
The only branding visible is a small Eve logo at the back of the stand. Otherwise, it's a clean 27-inch panel with incredibly thin bezels and a power LED at the bottom, which you can also change color or completely turn it off.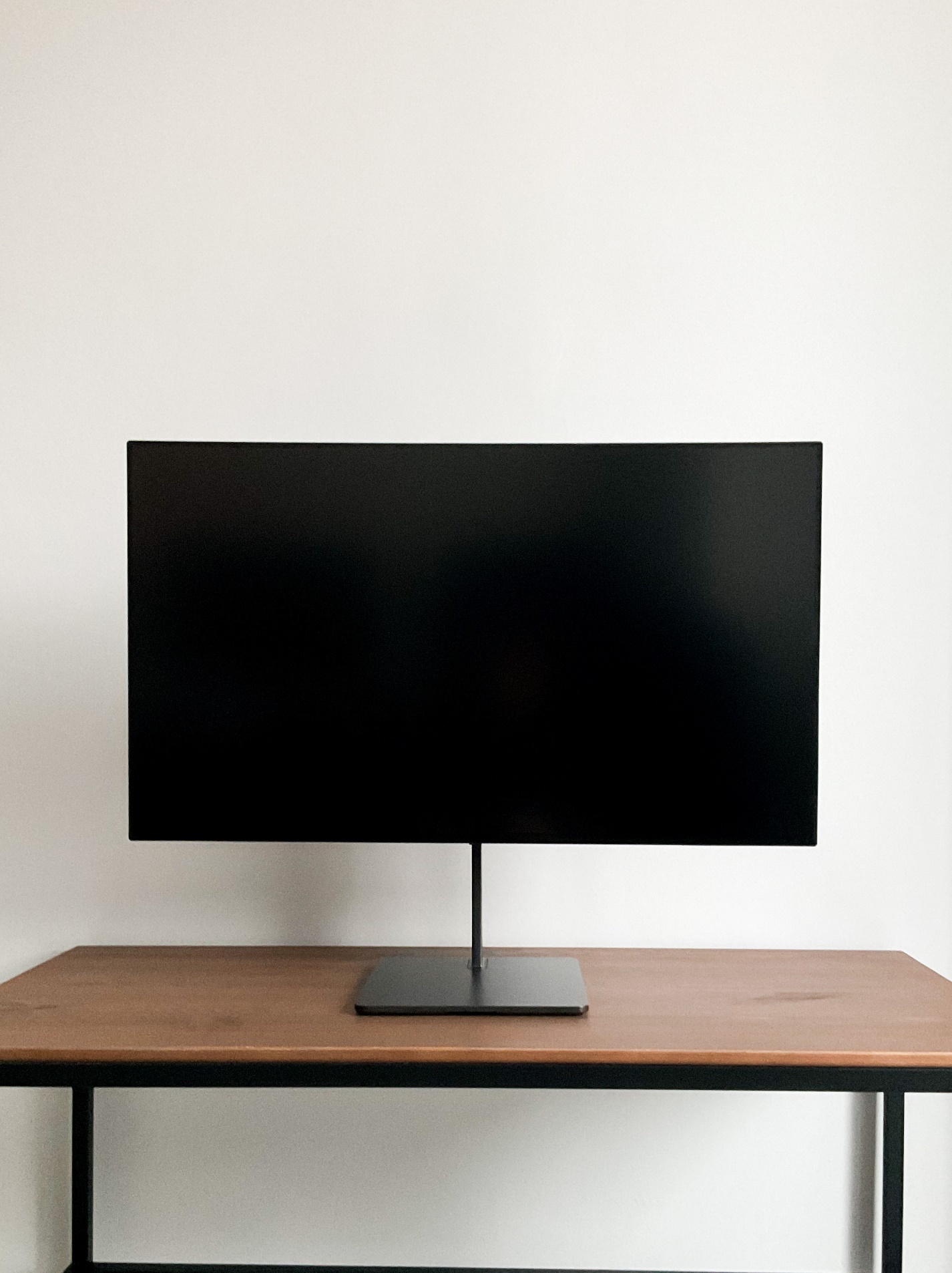 Despite being a gaming-oriented monitor, the Eve Spectrum does not look out of place in a professional environment. If you've been looking for a single monitor for gaming and productivity while at home, the Eve Spectrum is a great choice.
Let's talk about the stand.
For an additional $99, you can buy the Eve Spectrum together with the stand. It's a slim but super-strong stand made with premium materials and metal. I was impressed by its beautiful finish and small footprint. It occupies less desk space, leaving plenty of room for you to place a gaming keyboard and mouse.
There is no additional branding here, just a small logo and a cable management cutout. The stand offers a good range of height adjustment and rotation, allowing you to use the monitor in portrait mode. Unfortunately, there is no swivel adjustment. If that's something you care about, you can invest in a 100×100 VESA monitor arm.
Ports and controls
One of the selling points of the Eve Spectrum 4K 144Hz is HDMI 2.1 connectivity. There are two HDMI 2.1 inputs onboard, which support the full 48Gbps bandwidth required for 4K 120Hz gaming on modern consoles and gaming PCs. You can play games at 4K 120Hz with full RGB colors, HDR, and VRR for a smooth and responsive gaming experience.
Additionally, a DisplayPort 1.4a input supports high framerates gaming up to 144FPS at 4K using Display Stream Compression (DSC), an excellent feature for PC gamers.
Other ports include two USB Type-C ports, two USB Type-A ports, a USB Type-B upstream port, and an audio jack. Actually, you don't need to buy a USB-C hub or docking station with this monitor. One USB-C port supports an external display at 4K 60Hz and laptop charging at up to 100W.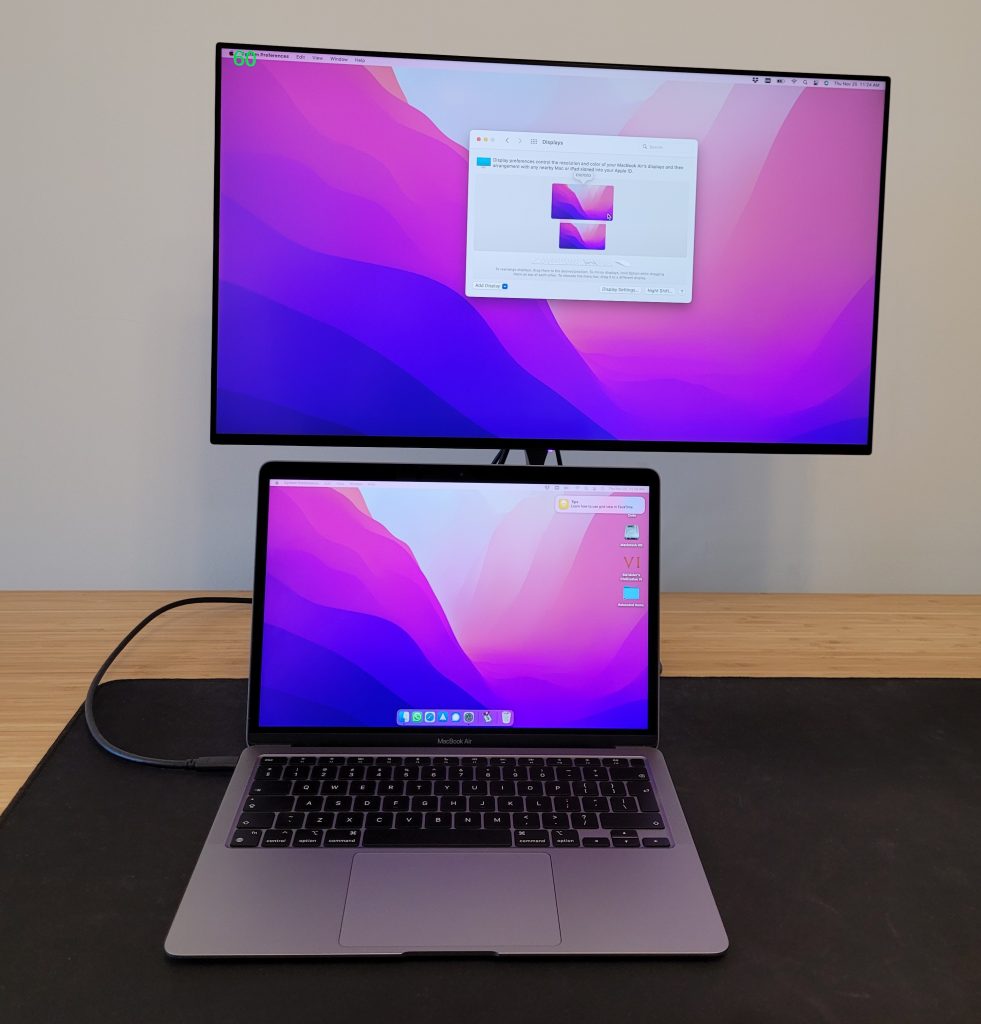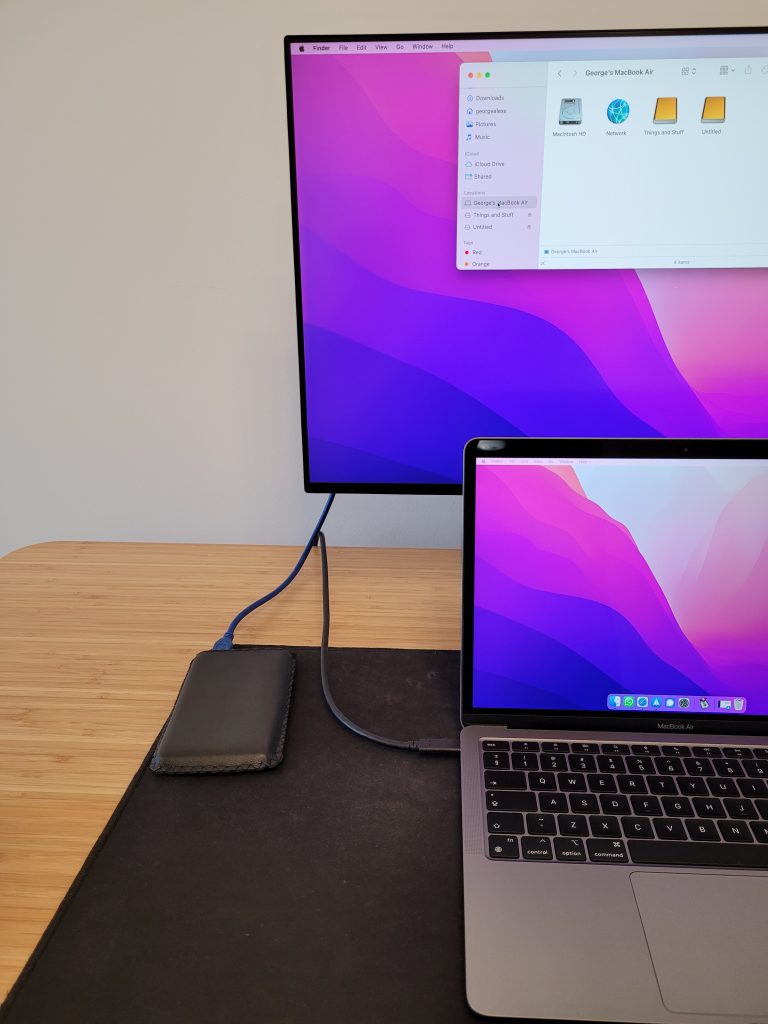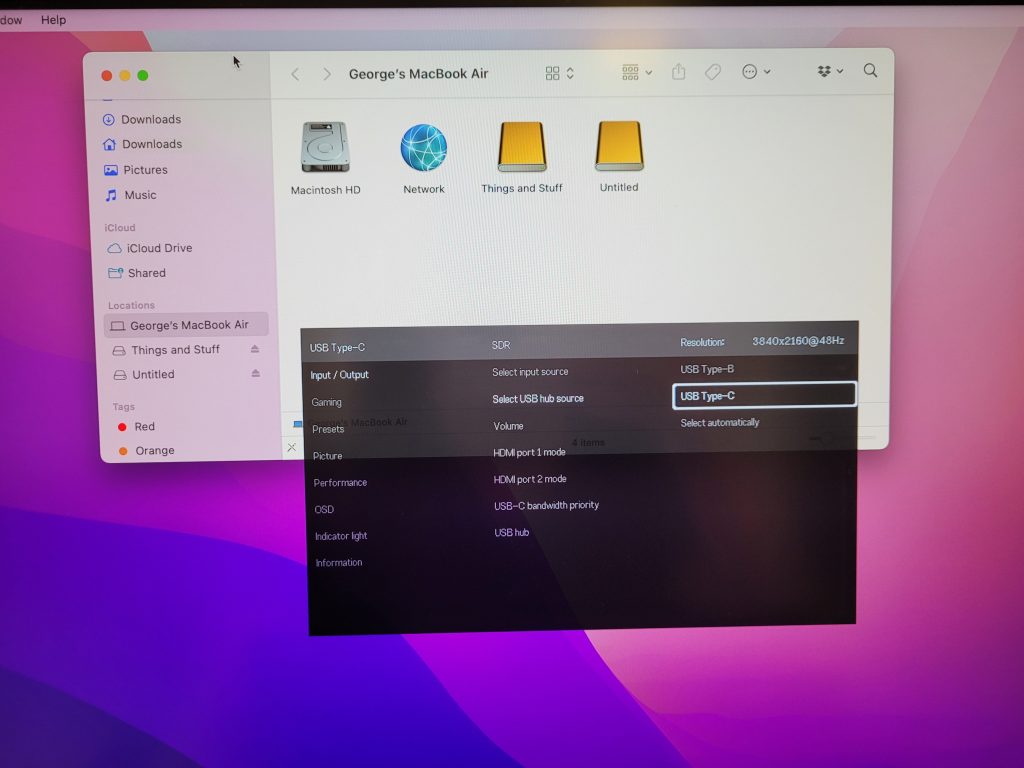 The Eve Spectrum 4K 144Hz is one of the most complete monitors in the market. And the fact that it's primarily a gaming monitor makes it even better. You can play games at night and connect your Mac during the day for productivity and office work. There isn't any other monitor in this class that can cater to the Mac/Gamer user base.
Performance
The Eve Spectrum 4K 144Hz uses the same panel as the LG Ultragear 27GP950, a premium 4K gaming monitor.
It's a 27-inch IPS panel with a 4K resolution, 144Hz refresh rate, VESA DisplayHDR600 support, 450nits typical (up to 750nits) brightness, and up to 98 percent coverage of the DCI-P3 color gamut. VRR is supported through G-Sync compatibility and FreeSync Premium Pro.

The first time I've plugged it in and connected using DP, a pop-up notified me that the monitor is G-Sync compatible.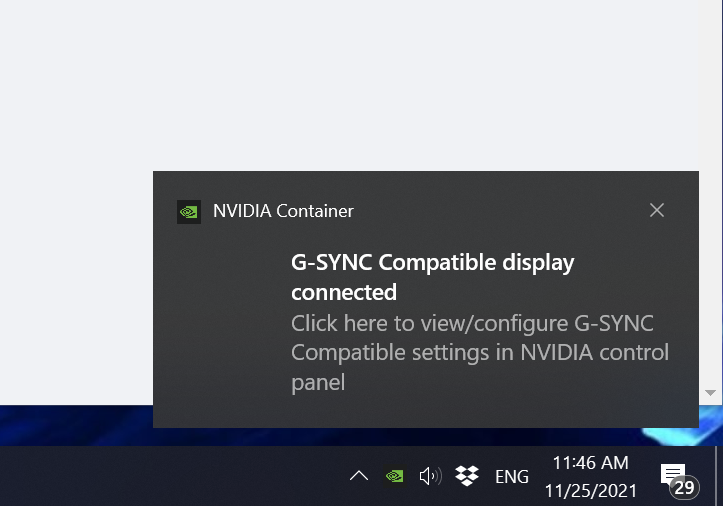 With factory color calibration in the Delta-E of 0.59, the Eve Spectrum makes an excellent option for professional content creators too.
Just by the spec sheet alone, the Eve Spectrum 4K 144Hz is everything a gamer could want from a modern 4K gaming monitor. But, is it really up to the task?
In our tests, the Eve Spectrum easily hit a 144Hz refresh rate at 4K via DisplayPort. It's smooth and responsive, and there are three pre-set overdrive modes and a user-defined overdrive mode. There are 63 steps in the user-defined mode, and we found a value of 23 offered the best balance of motion clarity with minimal overshoot and ghosting.
There are different in-game enhancements like crosshair overlays for improved aim and accuracy in shooters and FPS counter. Unfortunately, this monitor does not support any shadow boost technology.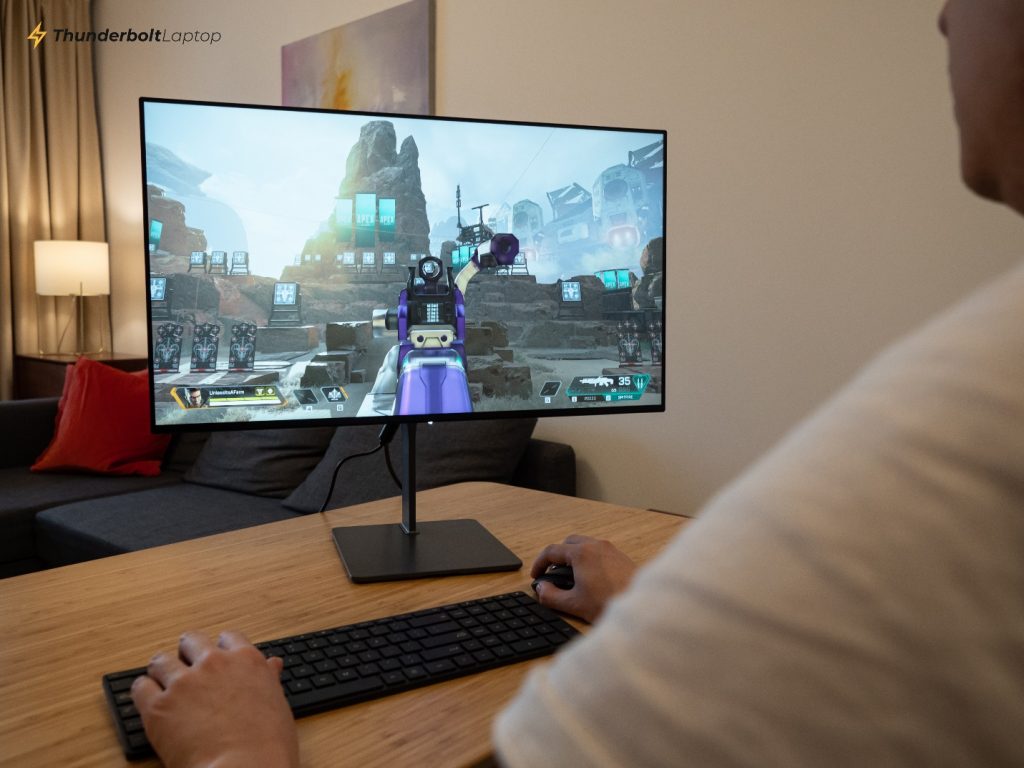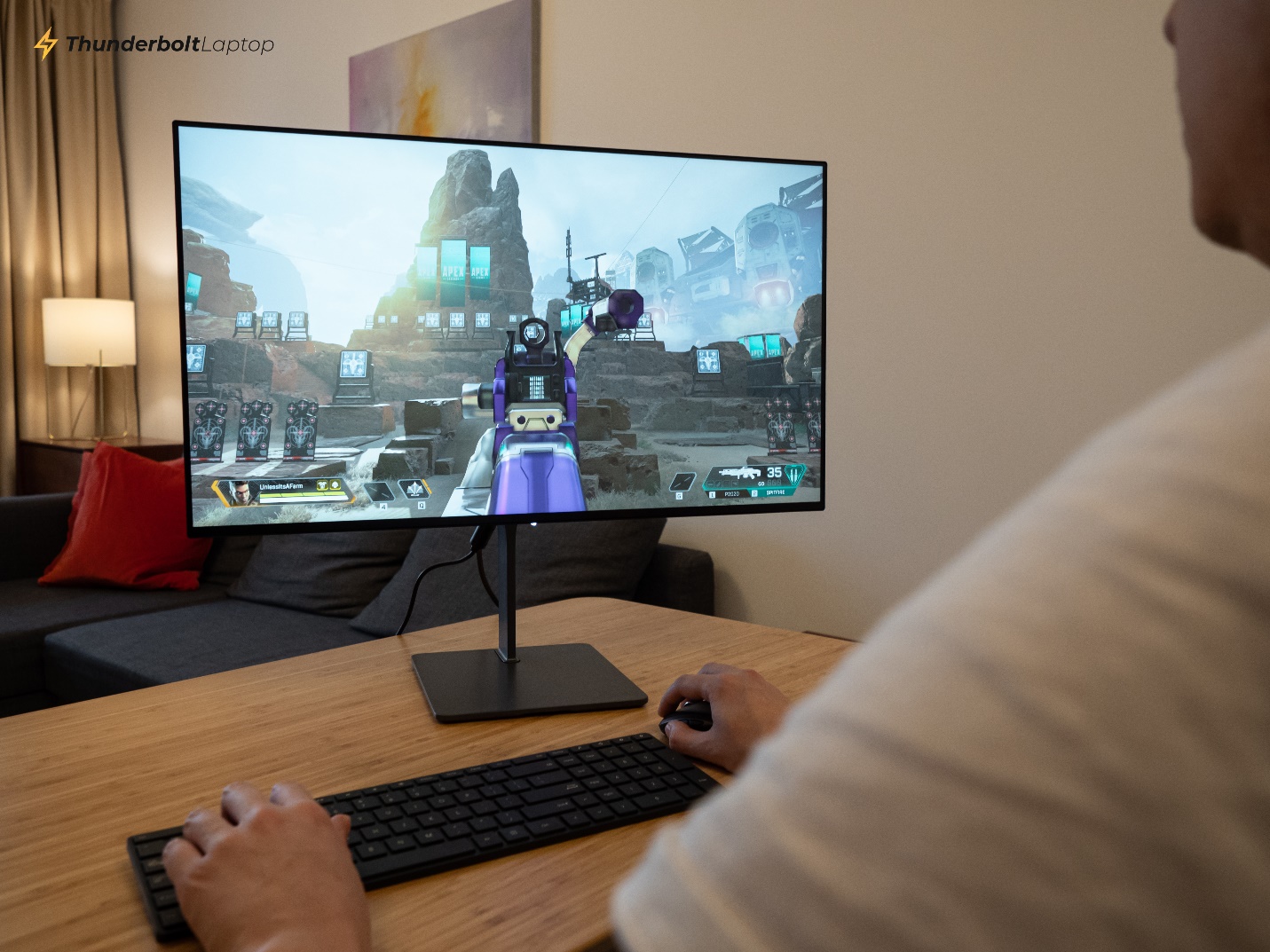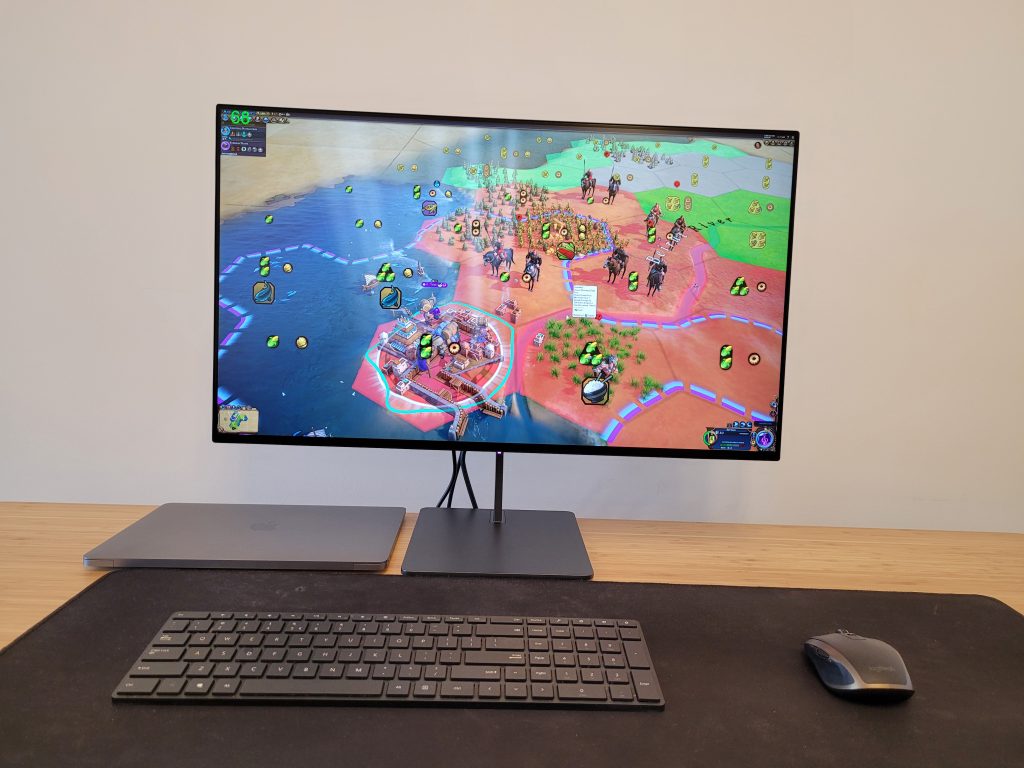 If you have an Xbox Series X or PS5, you can crank the refresh to 120Hz now at 4K resolution to enjoy super-smooth gaming. All HDMI 2.1 features, including ALLM and VRR, are fully working at 120Hz. HDR works, but it isn't the best. That is expected, though, for an IPS monitor with only 16 local dimming zones and less than 1,000 nits brightness.
Color accuracy is excellent out of the box. This is a monitor you can use both for competitive gaming and professional editing work. You can change from DCI-P3 to sRGB, depending on your workflow. If you're editing content for the web, the sRGB mode is just enough for you.