This post includes affiliate links, for which we may earn a commission at no extra cost to you should you make a purchase using our links. As an Amazon Associate, we can earn from qualifying purchases. Learn more.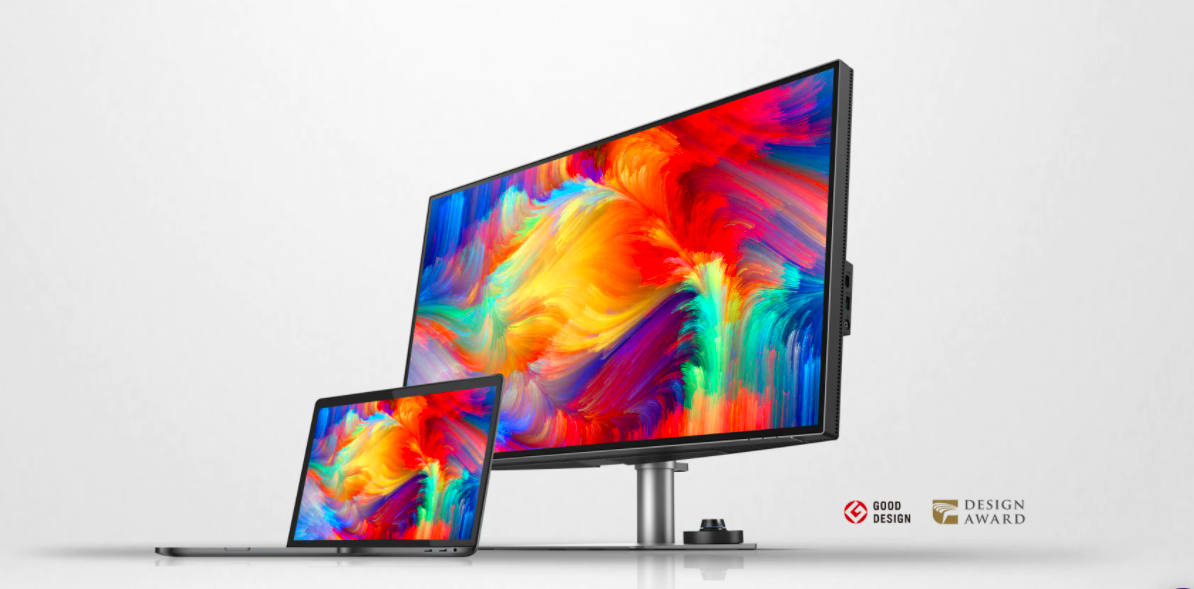 If you're looking for a well-rounded professional monitor for design and creative work that's also Mac friendly, the BenQ PD3220U DesignVue Monitor is the kind of monitor you need.
Outstanding color accuracy

Sharp and bigger screen

Clean, elegant build design

Full range ergonomics

Built-in KVM switch

Convenient Hotkey Puck G2

Dual Thunderbolt 3 ports with 85W PD and daisy-chain

MacBook picture mode

Strong feature set

No shading hood

Prominent IPS glow

BenQ targets photographers, videographers, and designers with their 32-inch PD3220U DesignVue Professional Monitor. It's an outstanding display for creatives who demand high color accuracy, more screen real estate, and excellent ergonomics. It's a great monitor that won our Editor's Choice for the best Thunderbolt 3 monitors.
The BenQ PD3220U is also designed to provide the best experience on a MacBook with a customized picture mode, Thunderbolt 3 connectivity, and a unique touch of space grey finish. So is this a monitor worth buying, especially for professional creatives? Let's find out.
Why the BenQ PD3220U DesignVue Monitor?
Being a successful graphics designer or creative professional isn't just about the skills or software know-how. The choice of display is as important. The BenQ PD3220U from the DesignVue lineup is specifically built for creative artists who demand high color accuracy and sharp image quality.
This Calman and Pantone verified 10-bit display with 4k resolution offers the best combination of color and pixel density without breaking the bank.
There is more.
BenQ PD3220U is built with the MacBook in mind. From the design to image quality and connectivity, this monitor blends well into your existing Mac ecosystem. You'll love the finish of this monitor, especially if you own the latest MacBooks, while the customized picture mode for Mac is a feature you won't find in other monitors.

Image
Product
Details
Check Price

BenQ PD3220U DesignVue Monitor
Screen:

31.5-inch, 4K UHD (3840×2160), IPS


HDR:

HDR10


Brightness:

300 nits


Color:

100% sRGB, 95% DCI-P3, 10-bit


KVM:

Yes


Thunderbolt 3 Ports:

2


TB3 Power Output:

85W



Check on Amazon
BenQ PD3220U Design
The PD3220U features a minimalist design with a tint of MacBook aesthetics to it. The chassis has a matte black finish with incredibly thin bezels and no logos at the front, giving it a business and futuristic look. Unlike other monitors that include 3-thin bezels with a large, noticeable bottom bezel, here you get a frameless design across all four edges.
No logos, no distractions.
The edge-to-edge design is great for multi-monitor setups if you need more screen real estate without the annoying bezels. With a built-in KVM switch and Thunderbolt 3 daisy-chain support, the PD3220U is duly optimized for dual-monitor setups. You can also hook multiple PCs to this monitor and control them with a single keyboard and mouse. Features like these make the PD3220U a perfect choice for productivity.

Onboard you get a space grey stand that brings MacBook vibes to your desk setup. It looks great next to your Mac, like two products of the same ecosystem. BenQ doesn't call the finish space grey per se, but it blends well with space grey MacBooks, creating a sleek, modern workspace.
The stand's build quality is excellent. It has an aluminum base and a plastic pole, which does a great job supporting the 17 pounds screen without any wobbling. There is integrated cable management at the back to hide messy cable clutter for a clean desktop. Overall, the PD3220U spots an elegant and professional design, and it gets even better with the ergonomics.
Great Ergonomics
When you buy a monitor to spend long periods editing and retouching, ergonomics play a significant role. From a comfortable viewing experience to perfect viewing angles and reducing neck pains, the PD3220U got you sorted. It is ergonomically designed for tilt, swivel, pivot, and height adjustments. You can adjust the monitor in every way you want, including rotating the screen into portrait mode, which is great for coding, web design, and browsing photo galleries.
Alternatively, you can use a 100x100mm VESA mount if you want to save on desk space. With a net weight of 17 pounds without the stand, finding a compatible VESA monitor mount should be easy.
Ports and Interface
The BenQ PD3220U is generous on ports. It comes with every port you could ever want, including three Type C Ports. Located on the side are a USB-C port, USB 3.1 downstream port, and a headphone jack. The other ports are located at the back facing down. I don't know why most monitors have this setup anyway. Downward-firing ports, especially at the back, are hard to reach.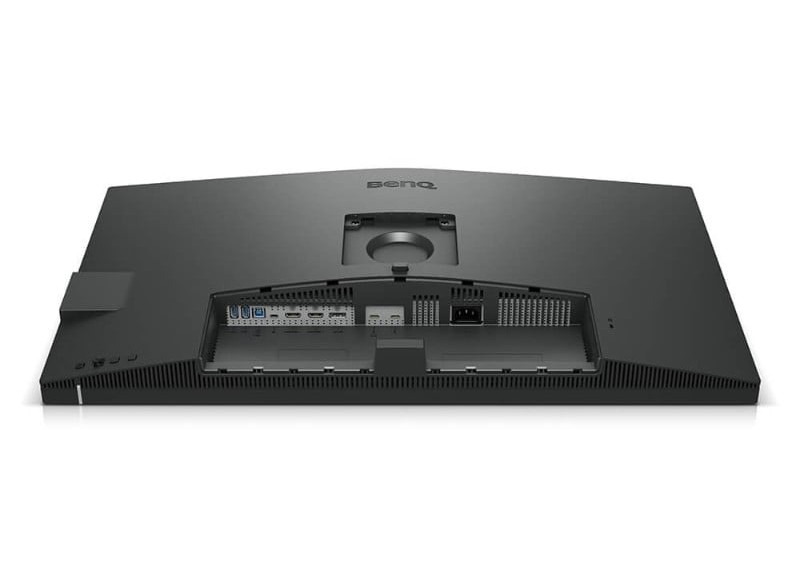 The other ports include two Thunderbolt 3 ports, two HDMI 2.0 inputs, one DisplayPort 1.4 input, two USB 3.1 downstream ports, one USB 3.1 upstream port, and a mini USB Type-B port. That's a lot of ports enough for most users and enthusiasts.
However, for a monitor designed for graphics designers and creatives, the omission of a card reader is a significant downside.
On the upsides, you get two Thunderbolt 3 ports that supply data, up to 85W for laptop charging, and daisy-chain support. With Thunderbolt 3 daisy-chaining, you can add another 4K display via the monitor's second Thunderbolt 3 port and enjoy more screen estate with less cable messy.
But most importantly, you can now connect all of your peripherals, including keyboard, mouse, external storage, and other Thunderbolt 3 peripherals, to the monitor and just run a single Thunderbolt 3 cable to your laptop. This hides the messy wires at the back of the monitor, leaving your desk setup clean and tidy.
The BenQ PD3220U offers two ways of adjusting the settings. You can use the joystick and three buttons at the back or the bundled Hotkey Puck G2. The Hotkey Puck G2 is a USB peripheral included with the monitor that lets you change quick settings like the brightness and cycle through the OnScreen Display settings.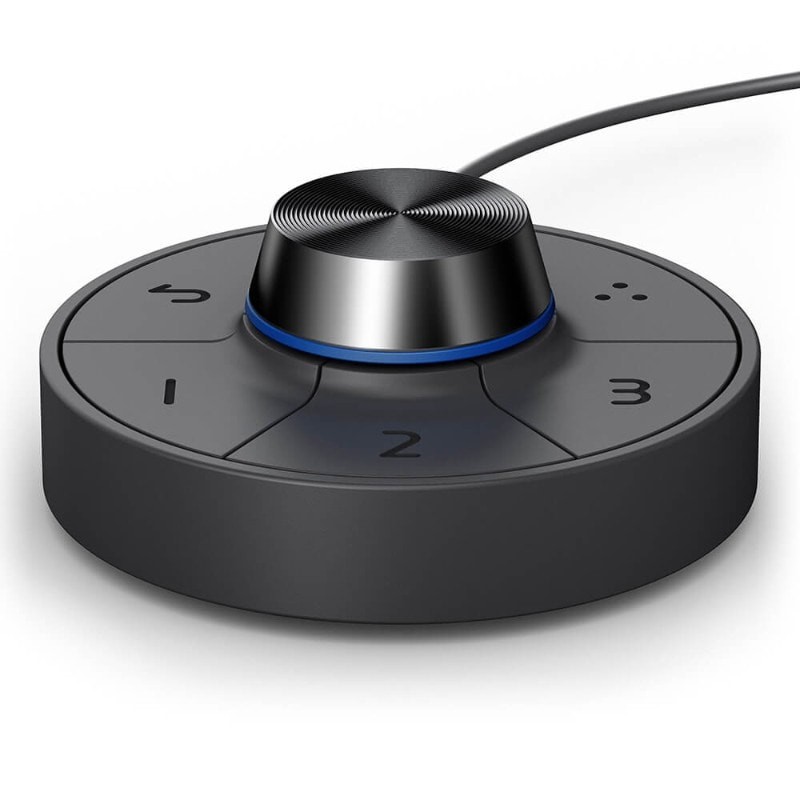 The Hotkey Puck G2 has three programable buttons, a return button, and a rotating knob, which controls the brightness by default. You can map the buttons to different settings or shortcuts, such as picture modes. There are a lot of picture modes in this monitor, but more on that later. The rotating knob is ideal for adjusting the brightness, contrast, and volume of the monitor.
The Puck G2 sits in front of the monitor, making it more convenient to use than the joystick. It's OS independent. You can also use it to control the MacOS's display settings, which is an added advantage. The BenQ PD3220U is more business and fewer distractions.
BenQ PD3220U On-Screen Display
Now that you know of a convenient way of accessing the OSD, let's run through the available settings. You can easily access the OSD by pressing the rotating knob on the Hotkey Puck G2.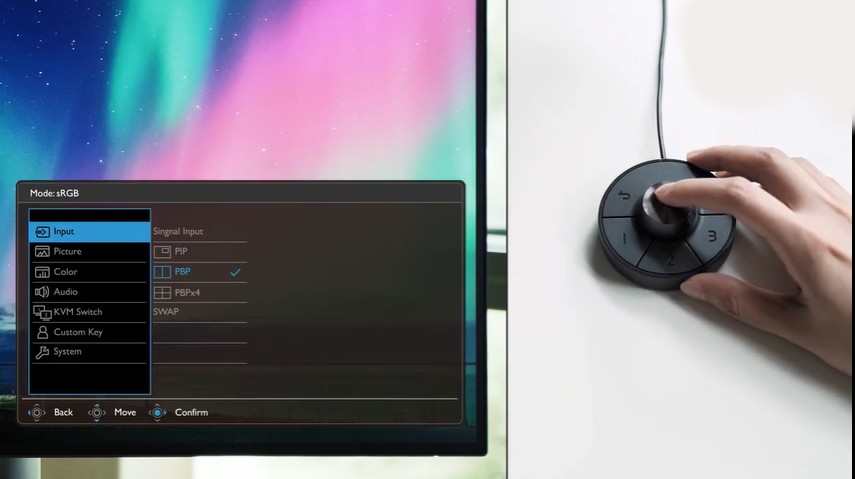 The OSD in the BenQ PD3220U offers everything you need in a monitor of this kind. It's split into seven main sections: Input, Picture, Color, Audio, KVM Switch, Custom key, and System. Inside Input, you'll find Picture-in-Picture and Picture-by-Picture settings that allow you to split the display into four parts to take advantage of the massive 31.5-inch screen for multitasking.
Selecting Picture provides display enhancement settings, including brightness, contrast, and sharpness. The Color section gives you total control over the color modes, DualView, color temperature, and advanced settings, including gamma, hue, saturation, HDMI range, and more. You can customize and calibrate the display to match the correct color settings for your project.
The monitor has many color modes to choose from, such as Display P3, DCI-P3, sRGB, animation, CAD, and more. BenQ includes a color mode for every scenario you could imagine. Whether you're a designer, videographer, or photographer, BenQ PD3220U has a perfect color mode for you. We'll talk about the DualView later in the professional features.
Nothing is interesting about the Audio section, so let's skip to the KVM switch. Here is where you manage multiple PCs connected to the monitor using the same keyboard and mouse. You can control either PC by selecting the input it uses to connect to the monitor. You can map the inputs like Thunderbolt 3 and HDMI to two of the Hotkey Puck G2 buttons for quick accessibility.
The rest is Custom Key for assigning individual settings and shortcuts to the Hotkey Puck G2 buttons and System, which provides more information about the display. It's a full-featured, easy to use OSD that gives total control over the monitor.
Performance
And now the most important part of the BenQ PD3220U. The image and color accuracy. Is it any good, and should you buy it?
The short answer is yes.
The BenQ PD3220U features a 31.5-inch display with a 10-bit IPS panel and 4K resolution. It delivers a sharp and detailed picture quality with 140 pixels per inch, making it great for creative work and text-based work like coding. While it can't compare to the 218 PPI on the Pro Display XDR, it's still great and remarkable considering it costs five times cheaper.
At 32 inches, the BenQ PD3220U has the ideal form factor for 4k resolution considering normal desktop and office viewing distances. You get excellent pixel density and more screen real estate to streamline your productivity work.
This monitor supports HDR10, but at 300nits, you shouldn't buy it solely for HDR. You won't get the best HDR experience with this monitor, but again, it's built for content creation, not consumption. It also has a 5ms response time and 60Hz refresh rate. That is the price you pay for a 10-bit IPS panel at this price.
The BenQ PD3220U is built for accuracy, not speed.
Talking of color accuracy, the PD3220U has excellent color reproduction, powered by BenQ's AQCOLOR technology. It comes factory calibrated, with a calibration report included, delivering impressive color accuracy out of the box. With Calman and Pantone validation, you can trust that this monitor's color reproduction meets the industry-standard color gamuts.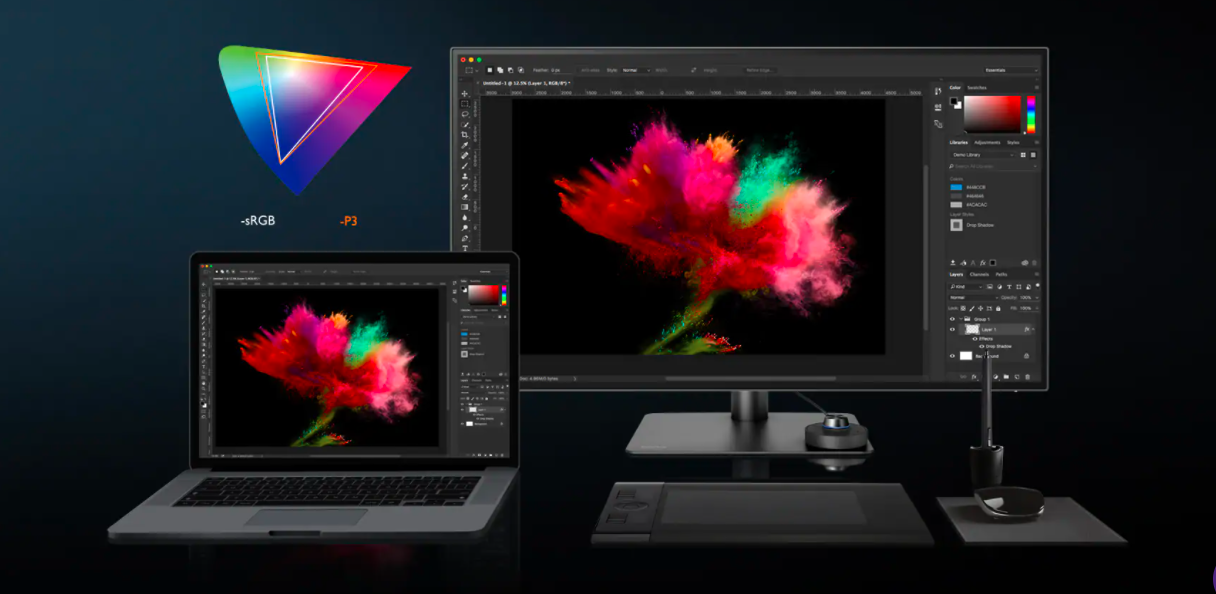 BenQ PD3220U covers 100% sRGB and 95% DCI-P3, making it excellent for just about anything. Whether you're creating content for the web, print, or high-end film industry, the PD3220U offers everything you need for your professional work. You can switch between different color modes on the OSD.
Professional Features
In addition to the elegant and ergonomic design, a plethora of ports, and outstanding color accuracy, the monitor includes handy features that you'll rarely find in other monitors. One is KVM Switch. This enables you to use two computers on the monitor with the same keyboard and mouse. It's great if you have a work and home computer.
The BenQ PD3220U provides many picture modes, including DCI-P3, Display P3, HDR, sRGB, Adobe RGB, Rec. 709, CAD/CAM, Animation, Low Blue Light, Darkroom, M-book, DICOM, and User. User provides the highest contrast ratio, while the rest will be ideal depending on the type of project you're doing. There is an eye-saver mode to protect your vision when working for long hours.
M-book is a customized picture mode for MacBook users. According to BenQ, the M-book mode allows you to get consistent colors across your MacBook and the monitor. If you're used to working on a MacBook, you won't find it hard transitioning to this monitor.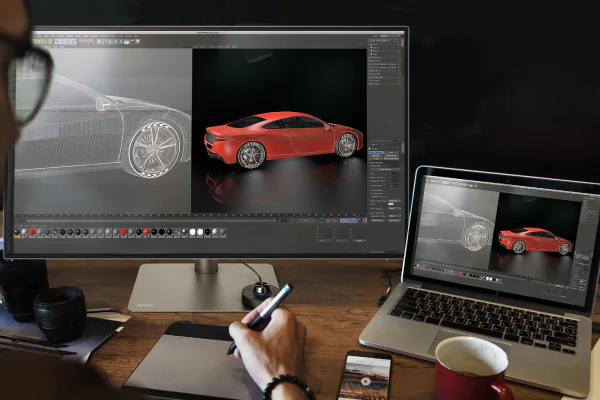 Another great feature of the BenQ PD3220U is DualView. Instead of using dual monitors to compare your images across different color gamuts, you can do the same using a single monitor using DualView. DualView allows you to view your images and designs in two color modes, like sRGB and DCI-P3, side-by-side, on the same monitor. It's a great way to see how an image might look on the client's display, amongst other benefits.
Is there a better alternative?
There are only two monitors that we would recommend over the BenQ PD3220U. Despite its ridiculous price, the Apple Pro Display XDR (Amazon Link) is still the best monitor for professional design and creative work. It also provides seamless integration with macOS. If this is a monitor you can afford, then definitely go for it over the BenQ PD3220U.
The LG UltraFine 5K Display (Amazon Link) is another great monitor that we would recommend over the BenQ PD3220U if you want macOS integration. It was co-designed by Apple and LG to provide the best user experience on Mac devices. It also has a sharper picture with a 5K display at 27 inches.
But besides macOS integration, the UltraFine 5K Display falls short on productivity and professional features compared to the BenQ PD3220U. It is also expensive.
So, why pay more if you can get both the Pro Display XDR and LG UltraFine 5K Display in one affordable monitor?
While it may have a low pixel density next to the two monitors, BenQ PD3220U offers the best combination of features and price. It's Mac ready, and it has more screen real estate, high color accuracy, and better build quality. Onboard you also find vital professional features that you won't even get in the Pro Display XDR. Considering you're also paying less for this monitor, it is the best value buy compared to the LG and Pro Display XDR.
Verdict
If you're looking for a well-rounded professional monitor for design and creative work that's also Mac friendly, the BenQ PD3220U DesignVue Monitor is the kind of monitor you need.
It has a very quality 10-bit IPS panel, high-color accuracy that's Calman verified and Pantone validated, and a wide range of professional features, including a built-in KVM switch, Thunderbolt 3 connectivity, and a picture mode for almost every scenario. It is everything a creative pro and designer wants.
On the other hand, the stunning space grey finish, Thunderbolt 3 connectivity, and a picture mode for MacBook notebooks make a compelling case for Apple users. It's not cheap, but next to the Apple Pro Display XDR, it's a deal you don't want to miss.