TL;DR verdict: significantly cheaper than established premium brands, it delivers a good typing experience, excellent for your wireless, minimalist style desk. Also, Space Gray™!
Good battery life, but if you plan on using the backlight a lot, you might want to keep it plugged in, as it lasts 18hours while lit.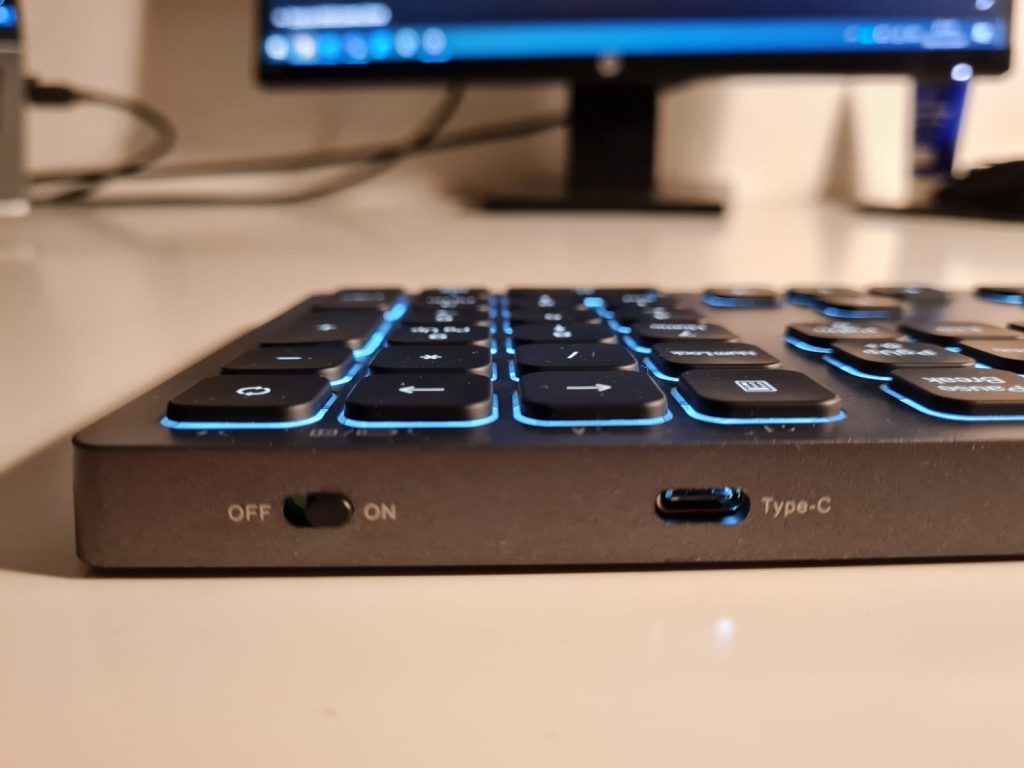 Replicating the visual aesthetic and usage feel of premium laptop keyboards is not exactly a desire of many people in the PC realm. Especially with the default meta trend in mechanical keyboards, where customization and actuation quality is king.
That being said, such an idea might actually be entertaining for people with more specific productivity task habits. Minimalism, in particular, could be the key element in completing your office setup, more than any other customization feature that any Lightspeed™ wireless Logitech keyboards could ever offer.
And this is represented in a better light by the Seenda Wireless Backlit Keyboard.
Packaging and Contents
Being wireless, the keyboard does not really have any other additional material, and the packing is very light. The box also doesn't waste much space, as it directly molds to the size of the keyboard itself. Now, whether that is a liability factor when it comes to online deliveries, we are not sure, but it shows that the product doesn't really need anything else.
Additional tools and peripherals aside, it does include a default protector, which provides pretty basic protection against the elements and certain, "tasteful" accidents. And of course, a USB cable, used for charging and wired use. Overall pretty standard for an ordinary wireless productivity input unit.
You can see here more Wireless Backlit Keyboards.
Build and Finish
As with most wireless keyboards under the Seenda brand, it sports a very minimalistic case and structure design. The plastic finish doesn't give it a cheap look (especially considering its technical inspiration), and the color scheme is pretty consistent with its "space gray" look. This makes it blend seamlessly with any equally minimalistic desk setup, especially if you are using an all-in-one as your daily office-level-tasks driver.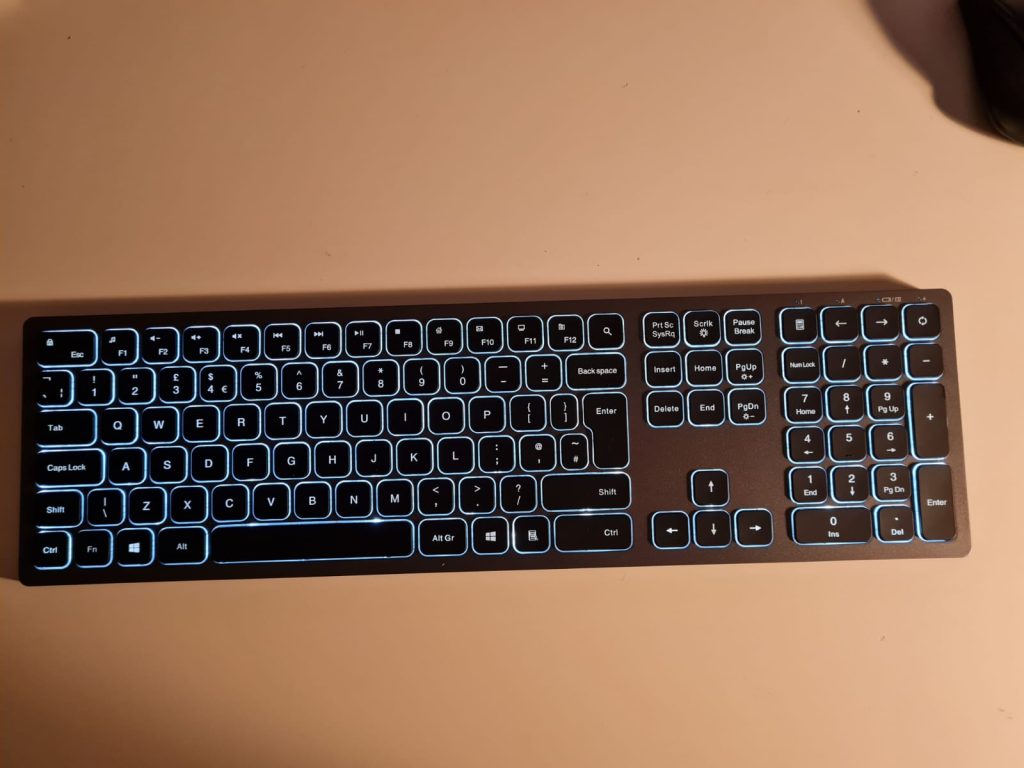 As for the plastic finish's cheap feel, you can most attribute it to the thinness of the unit. Not exactly unique (pretty much expected), nor is it something to be totally bothered with, as It definitely will bend and flex if put under the test. But otherwise, for all real-world usage scenarios, the keyboard is as stiff and solid as you type on them (more details on that later).
Unfortunately, its best asset in terms of initial appearance may be a dealbreaker for users who prefer more variety in color schemes. Yes, there's no other color but that "space gray," which includes most of Seenda's other primary lineups.
Usage and Feel
Even without directly assessing stuff like key travel and actuation levels, a casual user would be able to feel the ease of use for this keyboard's flat square keycap plus standard scissor switches. The nice, signature feel of gentle, but accurately fast key presses gives what can only be described as a soft tactile feel. Well, it's not Apply keyboard, but it sits somewhat close. As a bonus, it also helps other people around you be at peace with your productive activities.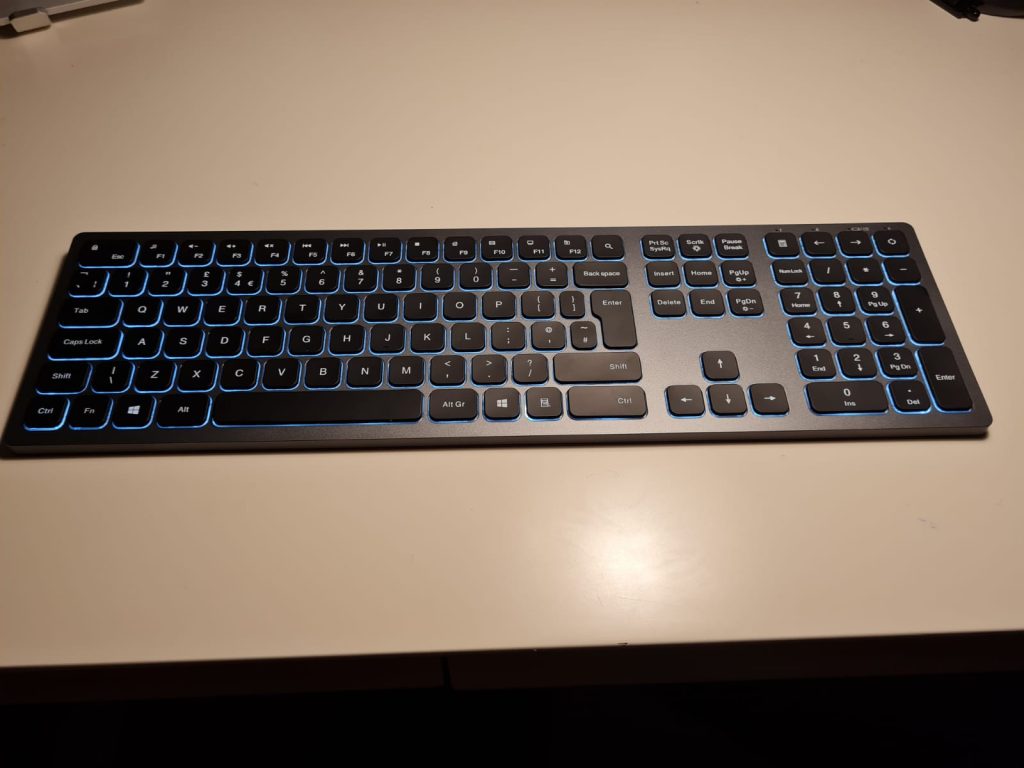 Supporting the basic typing experience on the Seenda Wireless Backlit Keyboard (for this particular model at least), are its backlighting features. Now, this is something that Apple doesn't can't emulate. If you like darker, cooler environments for your office space, then basic backlighting is definitely a convenient feature. While the light quality itself has this somewhat stiff, glassy look (as opposed to warmly diffused throughout the unit), it is certainly more than enough to function as previously mentioned.
That being said, as much as we'd like to feel bored without anything notably negative to mention, this specific model does have a few drawbacks when compared to other more robust Seenda offerings:
First, backlighting only offers brightness adjustment, unlike other models that can also toggle between pre-set colors.
And second, the three Bluetooth profile buttons are curiously missing above the numpad. Thus, you don't have the ability to switch between devices and units on the fly for this model
The textured plastic (matte?) feel of each keycap could feel somewhat different from your average Apple keyboard at the moment of being pressed. Overall though, both should be the same, since Apple keyboards also use the same laptop-esque scissor key switches.
For its battery life, it can typically last for about 12+ hours straight when the backlight is kept on (maximum brightness). So you can imagine at least 50% more to double the charge when it's kept off. Either way, you still have enough of an opening throughout the day to charge it for use with your next work session.
Conclusion
The Seenda Wireless Backlit keyboard pretty much sums up the common adage of what you pay for is what you get. It has this basic, minimalistic look, with an overall design, nice "space gray" scissor keys, all the conveniences of modern wireless keyboards, and a usage/feel that totally emulates the comfort of typing with higher-grade laptop keyboards.
While this is the part where we typically conclude that you can't really expect much from something that potentially costs half an Apple keyboard, we'd like to assert instead that this is actually the very reason that it is a product worth considering for your standard office setup.
It is a no-frills laptop-esque keyboard that checks all the essential boxes at a price point that will never feel like a technical ripoff.
Of course, as a basic keyboard, it was never meant to be a perfect product. The very same lower, entry-level cost also serves as the base for some of its harder to overlook weak points. For one thing, the signature Bluetooth "KVM switch" of other models will be sorely missed for this specific product.