The Spectrum 4K 144Hz monitor is shaping up to be a good option for gamers and content creators once it hits the market. It has some big shoes to fill; let's hope Eve can deliver what they promised.
High pixel density, beautiful IPS panel (produced by LG panel)

Excellent for gaming: 1ms, 144hz with G-sync and Freesync

USB-C

HDR

Great ergonomics

Elegant design

It's a pre-production sample. Some features (HDMI 2,1, USB-C charging, fully developed firmware) are still missing

It comes with a large external power brick

If you managed to get hold of the new gaming consoles, BigNavi or Ampere GPUs, chances are you're in the market for a gaming monitor to take advantage of the 4K 120Hz gameplay, and that brings us to this Eve Spectrum monitor review.
Eve Spectrum is one of the announced monitors with HDMI 2.1, a requirement for 4k120 gaming. It makes a good option for the PS5, Xbox Series X, and Ampere PC builds. Despite the issues behind Eve's reputation, the Eve Spectrum is happening and might as well be one of the best gaming monitors.
We managed to get early access to an engineering sample of the 4k 144Hz model, alias "Model 3", and here is everything you need to know about the Spectrum so far.
Why the Eve Spectrum Monitor?
There are several HDMI 2.1 monitors announced, but the Eve Spectrum piqued our interest. Unlike the other monitors, Eve Spectrum is community-developed. They included features and specs are based on surveys, requests, and discussions from over 4000 potential buyers, including gamers, professional creatives, and coders.
For gamers, this means you're getting exactly what you want from a gaming monitor. And it's not just gaming. With input from designers and creators, the monitor has excellent color reproduction and sharper picture quality, which will appease the creative world.
It's not every day that you get a single monitor that ticks all the boxes for gaming, content creation, media consumption, and everyday computing. Eve has made an outstanding monitor that solves the needs of most users without breaking the bank. The Spectrum is shaping up to be one of the best gaming monitors of 2021 once it actually hit the stores.
Eve Spectrum Monitor Specs
Eve Spectrum 4K 144Hz Gaming Monitor
Display: 27-inch 4K UHD (3840×2160)

Refresh Rate: 144Hz, 1ms GtG

Panel: IPS, by LG

HDR: VESA DisplayHDR600

Brightness: 450nits typical, 750nits peak

VRR: FreeSync Premium Pro, G-Sync Compatible

HDMI 2.1: Not Supported Yet

USB-C: Yes w/ DP 1.4 & 10Gbps (USB-C Charging not available yet)
Eve Spectrum Monitor: First Impressions and Assembly
The first thing I realized when I opened the box is the premium feel of the monitor. Like most monitors, the Spectrum is made of plastic; it does not feel cheap at all. It has a clean, soft-touch finish and a futuristic design with no logos on the front side or any distractions. It comes with an external power adapter, which is pretty large, but it is not a deal-breaker since you won't be traveling with it anyway.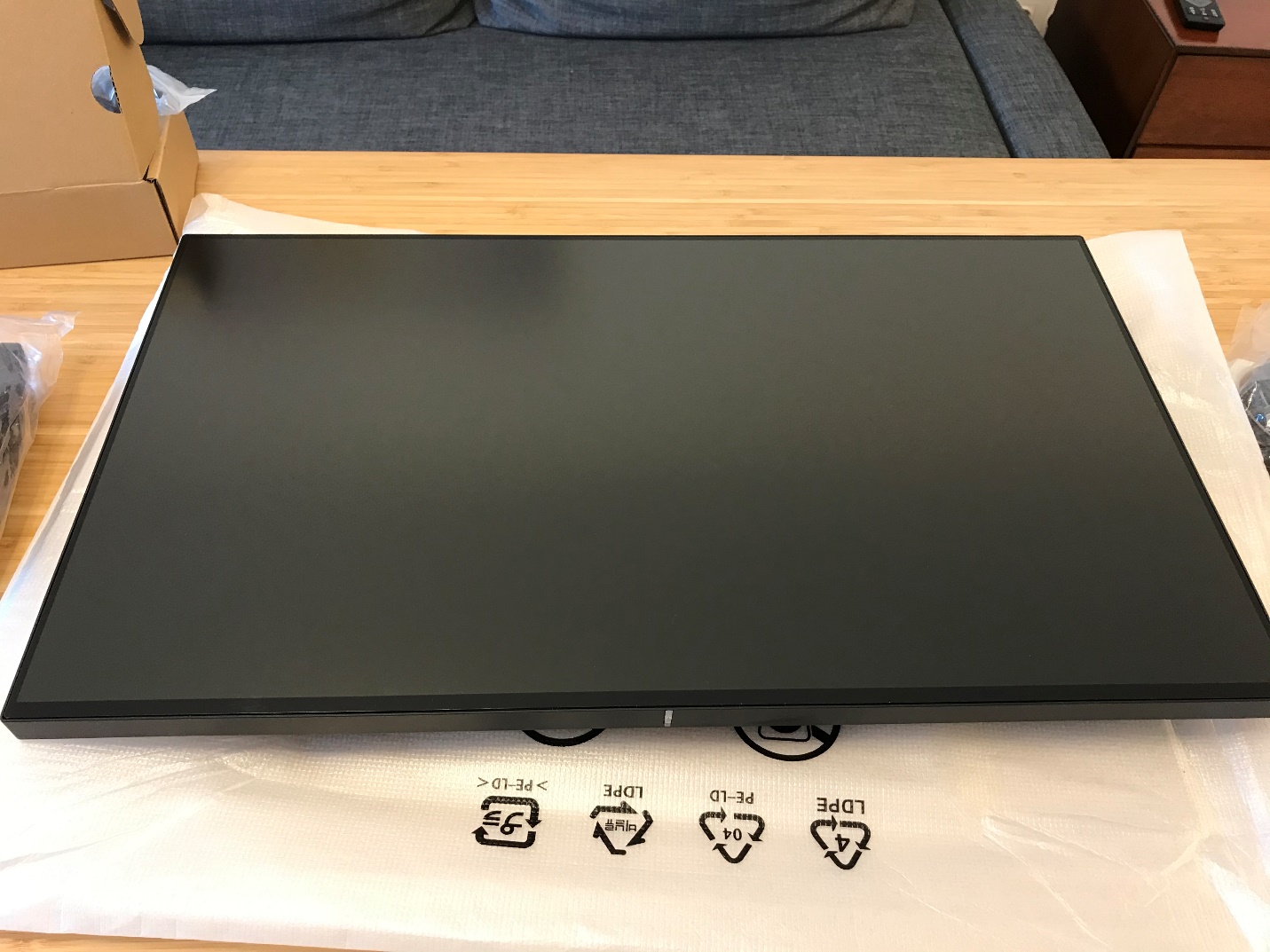 One thing to note is that the Spectrum does not come with a stand-out of the box. You have to pay extra for the stand when ordering. It is the same situation as the Pro Display XDR, but the Spectrum features a 100×100 VESA plate at no extra cost. Apparently, most of the Eve Community users don't care about the stock stand and prefer using an aftermarket VESA mount.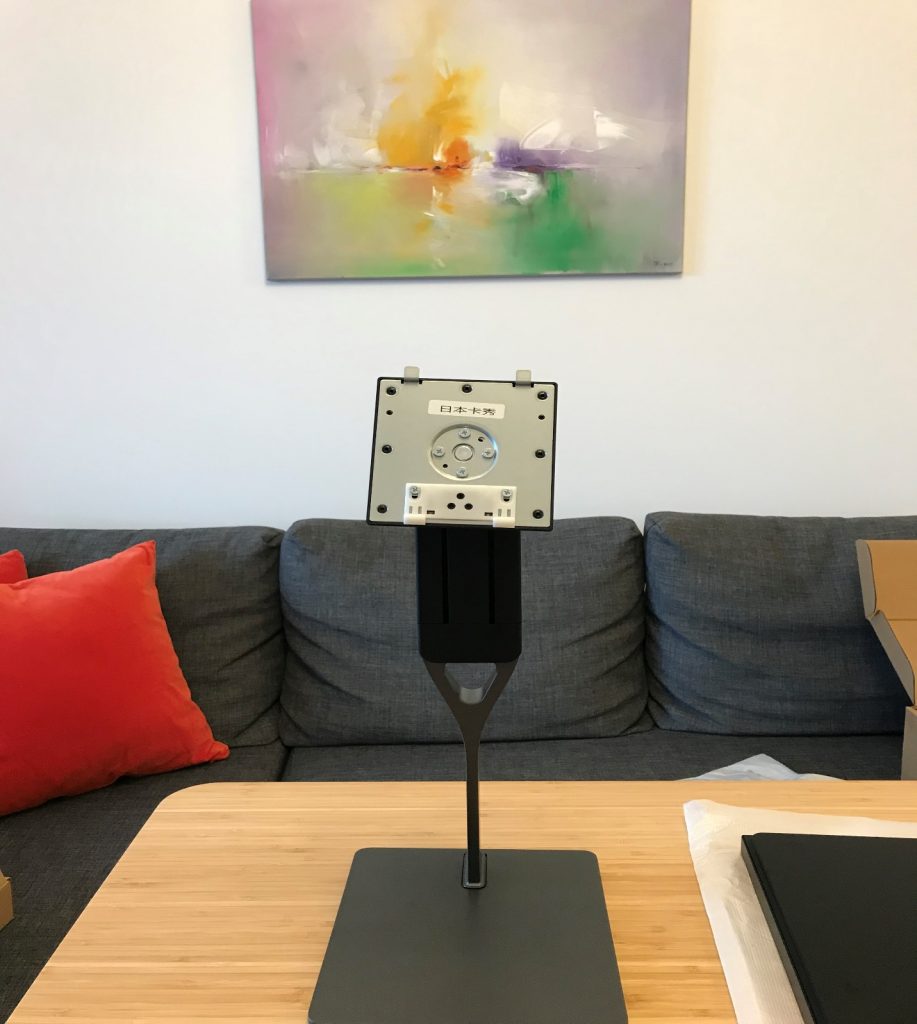 Eve sent us the Spectrum along with the stand, and the assembling is straightforward. Attach the upright to the metal base with a bolt, and the chassis simply snaps into place. The monitor is compatible with 100x100mm VESA mounts, so you can as well purchase the Spectrum without the stock stand.
Eve Spectrum Monitor Design
The Eve Spectrum features a clean and minimalist design that blends well in most environments. While it is mainly a gaming monitor, it does not look out of place in a professional setting. The chassis is made from plastic with an elegant finish giving it a premium feel. It has incredibly thin bezels though the bottom one is a little bit thicker. Eve was mindful not to include any logos or branding at the front to eliminate distractions.
At the back, you get the same clean design with minimal "eve" branding on the bottom left. There is a four-way navigation joystick to cycle through the OSD and a tactile power button. The Spectrum has downward-firing ports with a few on the sides. Sadly, there are no built-in speakers, only a headphone jack.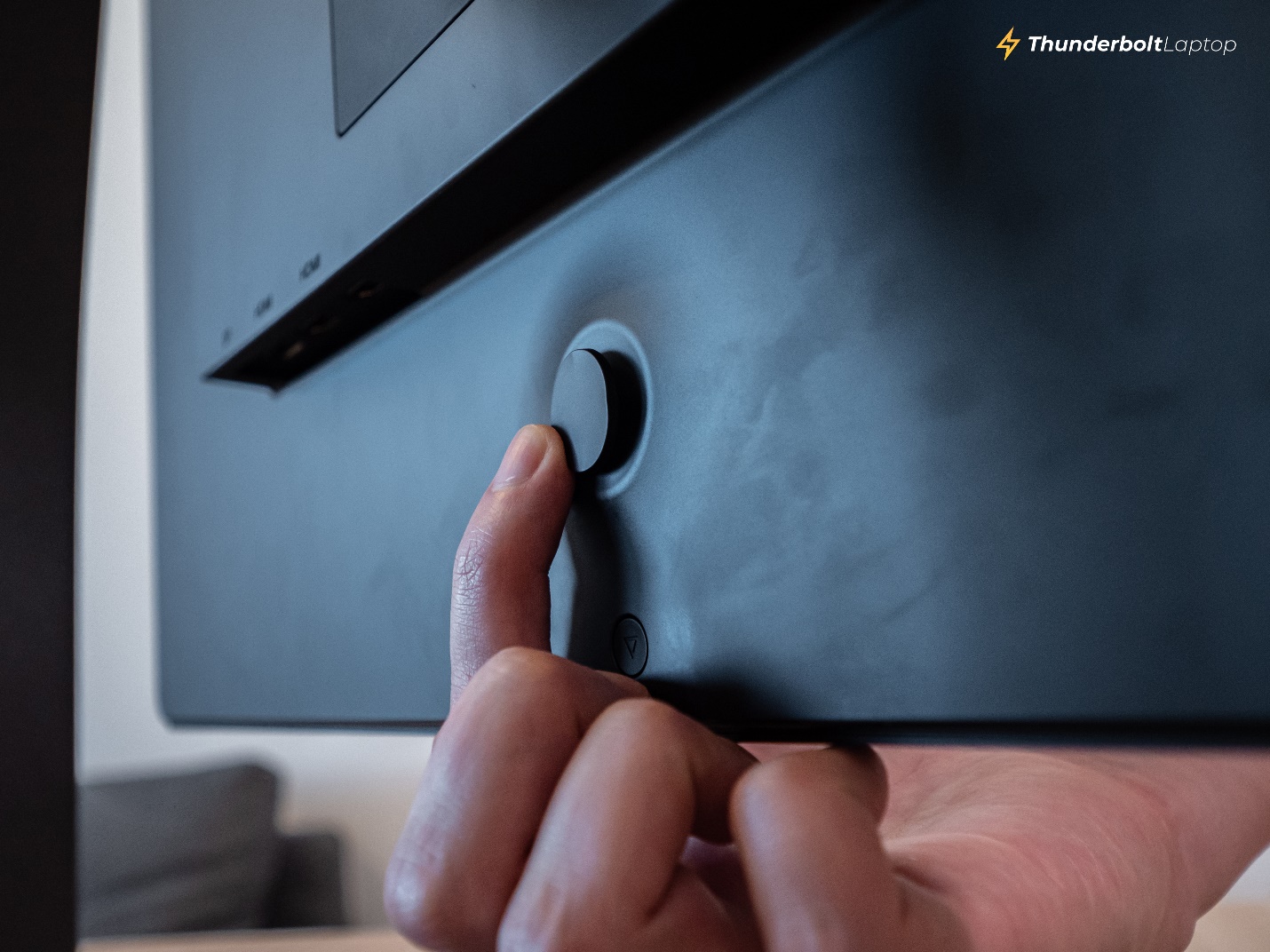 The stand is optional, but it does an outstanding job supporting the ~10.36-pound screen. There was no noticeable wobbling when using it unless when you push the monitor a little. Also, the design is exceptional, especially the slim base and the soft-touch finish. It has the Eve logo and a small cutout for cable management. The whole unit, including the stand, looks so sleek and aesthetically pleasing.
Unless you want to mount the Spectrum on the wall, the stock stand is as good as most VESA mounts.
Onboard you get outstanding ergonomics. The Spectrum offers a 7/23 degree tilt, 180-degree pivot (portrait mode), and 130mm height adjustment. The ergonomics are well thought out. You can easily adjust the monitor with one hand, which is very convenient. However, if you want swivel function, you'll have to use an external VESA mount instead.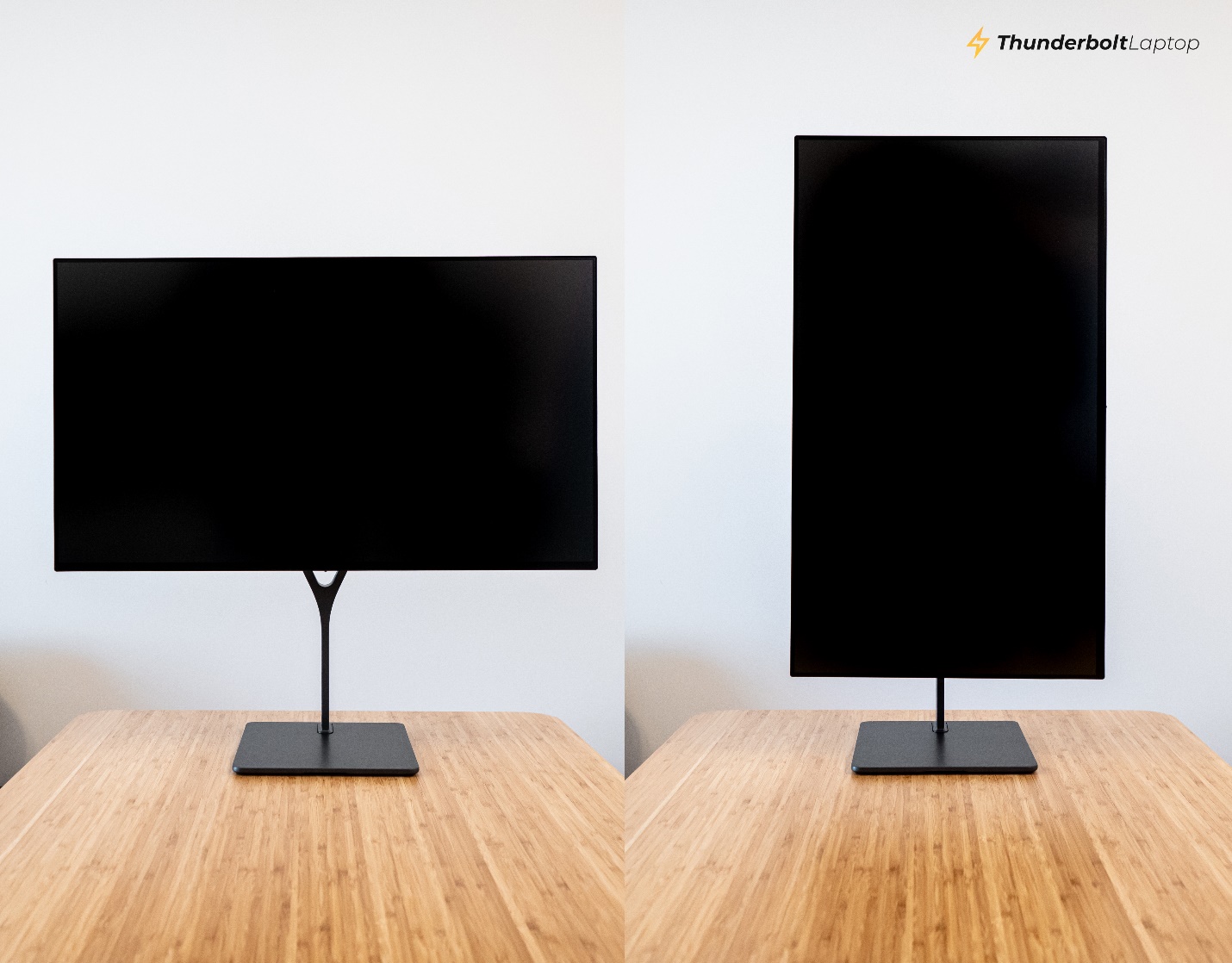 The On-screen Display gives you total control of the monitor and display. You can configure many options, including input sources, color settings, and calibration, change refresh rates, overclocking, and save some picture modes. You can also choose different Picture-by-Picture modes for efficient multitasking. However, most of the OSD features in our engineering sample don't work yet as Eve is still finalizing the firmware.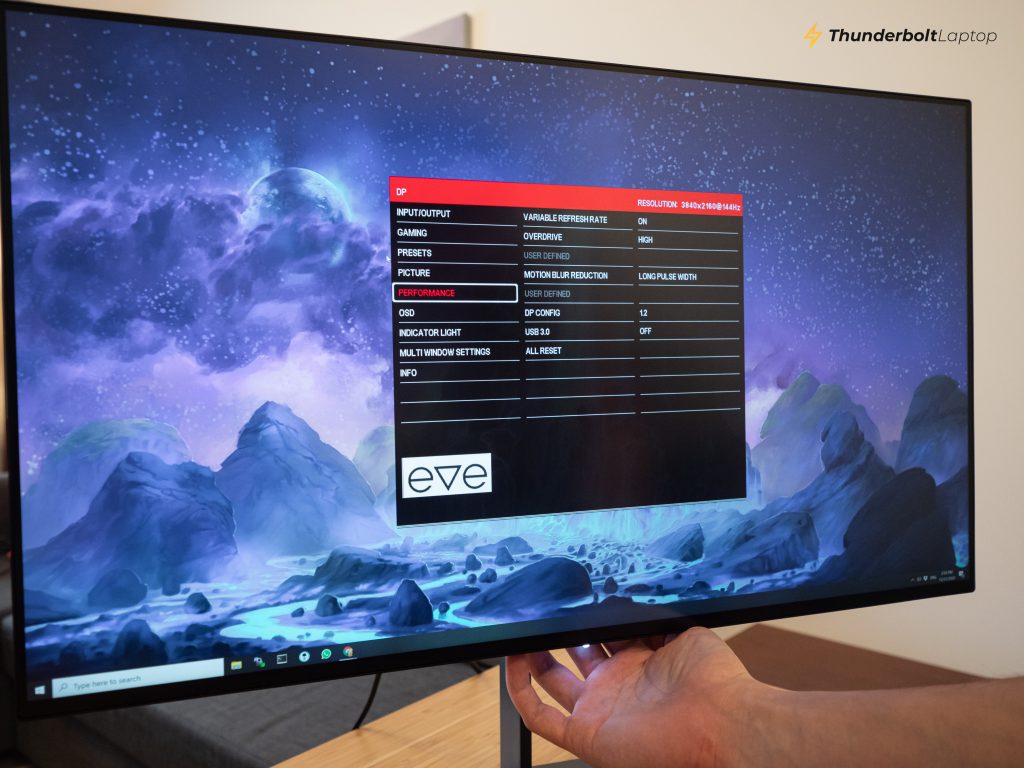 That's a lot of Ports.
Wow, that's a lot of ports. One of the advantages of crowd-sourced products is that you get almost all the more features. Tech fans can be quite vocal about their needs.
At the back, you'll find two HDMI 2.1 ports, a DisplayPort 1.4, a single USB 3.1 upstream port, DC input, and a USB-C port for PC connection. On paper, the USB-C port supports DP 1.4 Alt Mode, 10Gbps data transfer speeds, and 100W Power Delivery for laptop charging. It makes it easy to connect and charge your work laptop at the same time using a single cable.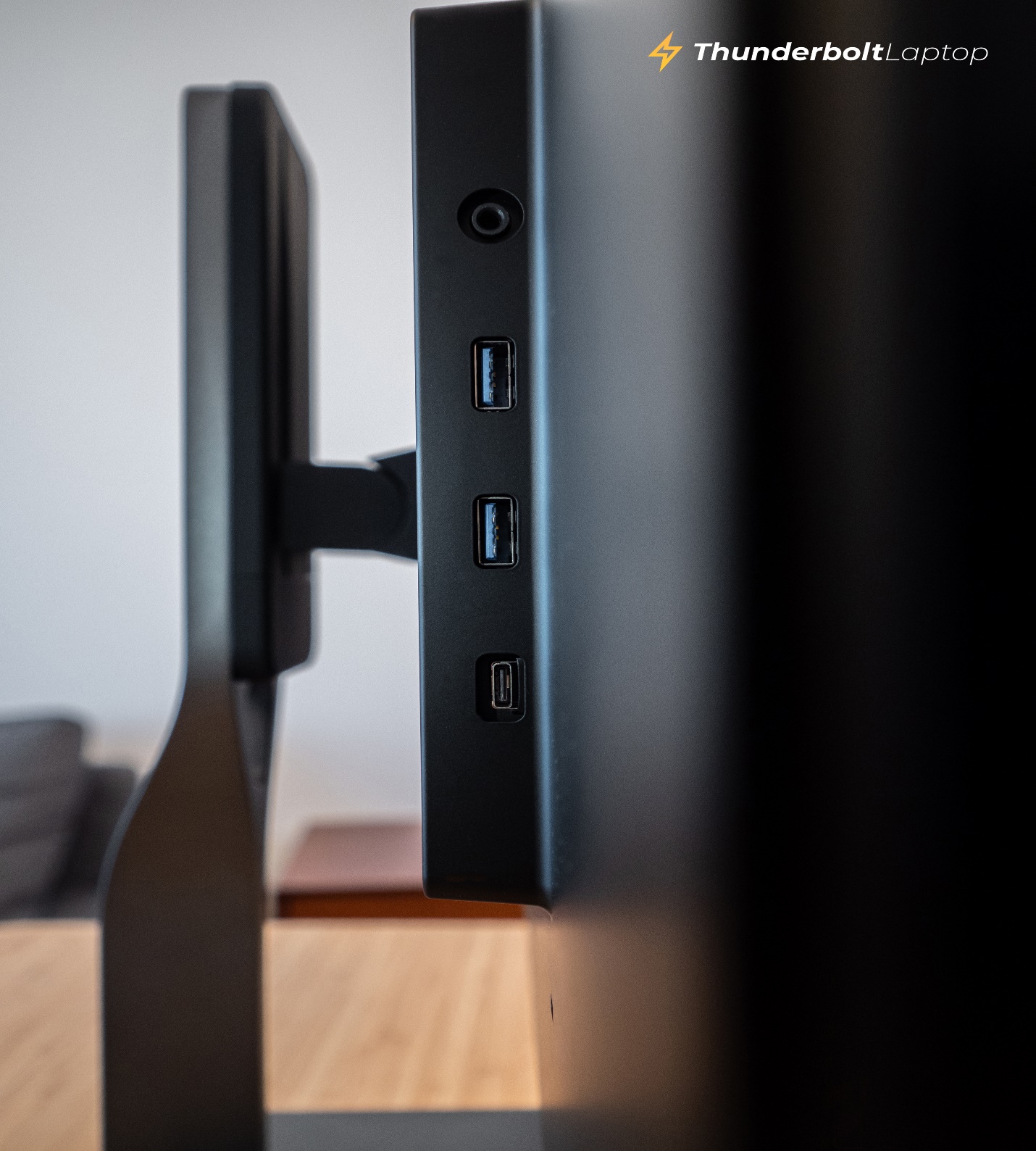 For the side-mounted ports, there are two USB 3.1 Gen2 ports and another USB-C port with 10Gbps speeds and 15W power delivery, great for charging smartphones and other small devices. I don't know why Eve indicates that this model has three USB Type-A 3.1 Gen2 ports on the spec sheet. There are clearly only two of these located on the side panel.
Additional Images of the Eve Spectrum
[Best_Wordpress_Gallery id="2″ gal_title="Eve Spectrum"]
Performance
Eve sent us the 4K 144Hz model. It's the most anticipated gaming monitor, especially if you have the next-generation gaming consoles or building a PC with the latest Nvidia 3000 series GPU. Here is my experience with the monitor.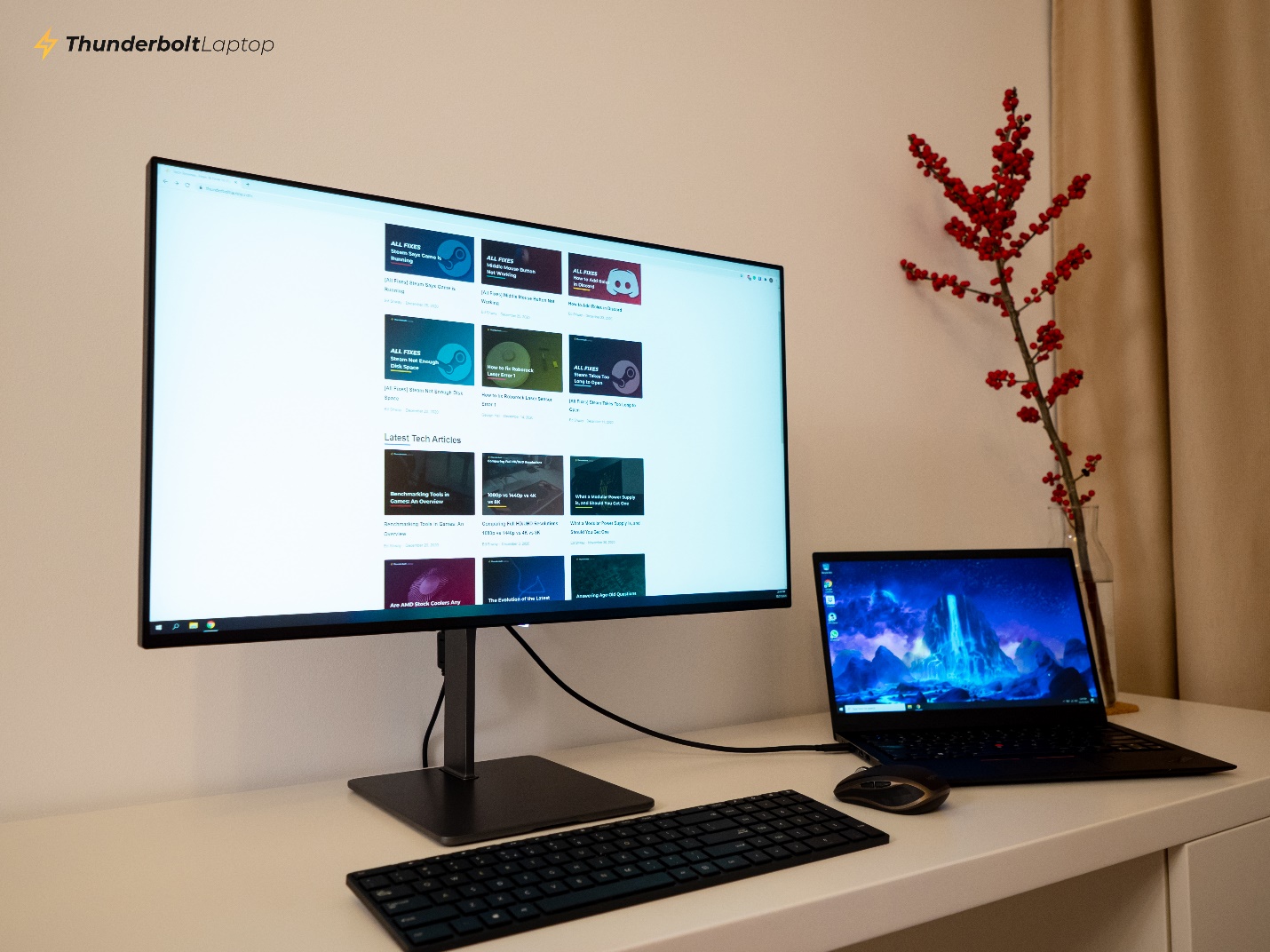 The picture quality is outstanding. With a 4k resolution at 27 inches, the pictures and text look very sharp and crisp. I didn't have any problems reading black text on white backgrounds. It also has good viewing angles and excellent color reproduction, thanks to the IPS panel produced by LG. Eve says the Spectrum covers 98% DCI-P3 and 100% sRGB, but I wasn't able to verify those claims.
Performance in bright rooms is also excellent. The Spectrum is very bright, and with the anti-glare surface, it makes a good option for bright environments like open offices. In short, for media consumption, content creation, and office productivity, the Spectrum works just fine. But what about gaming?
Here is where I got some mixed feelings about the Spectrum. For one, I managed to hit 144Hz refresh rate at 4K via DisplayPort. On the other hand, Eve told us beforehand that some features like HDMI 2.1 aren't available yet.
While 4K 144Hz gaming seems great, it's still disappointing, considering HDMI 2.1 is the main selling point of this monitor.
The HDMI ports (capped at HDMI 2.0a specification) support up to 60Hz max at 4K, so the only way I could get to 4k 144Hz was to use the DisplayPort with DSC.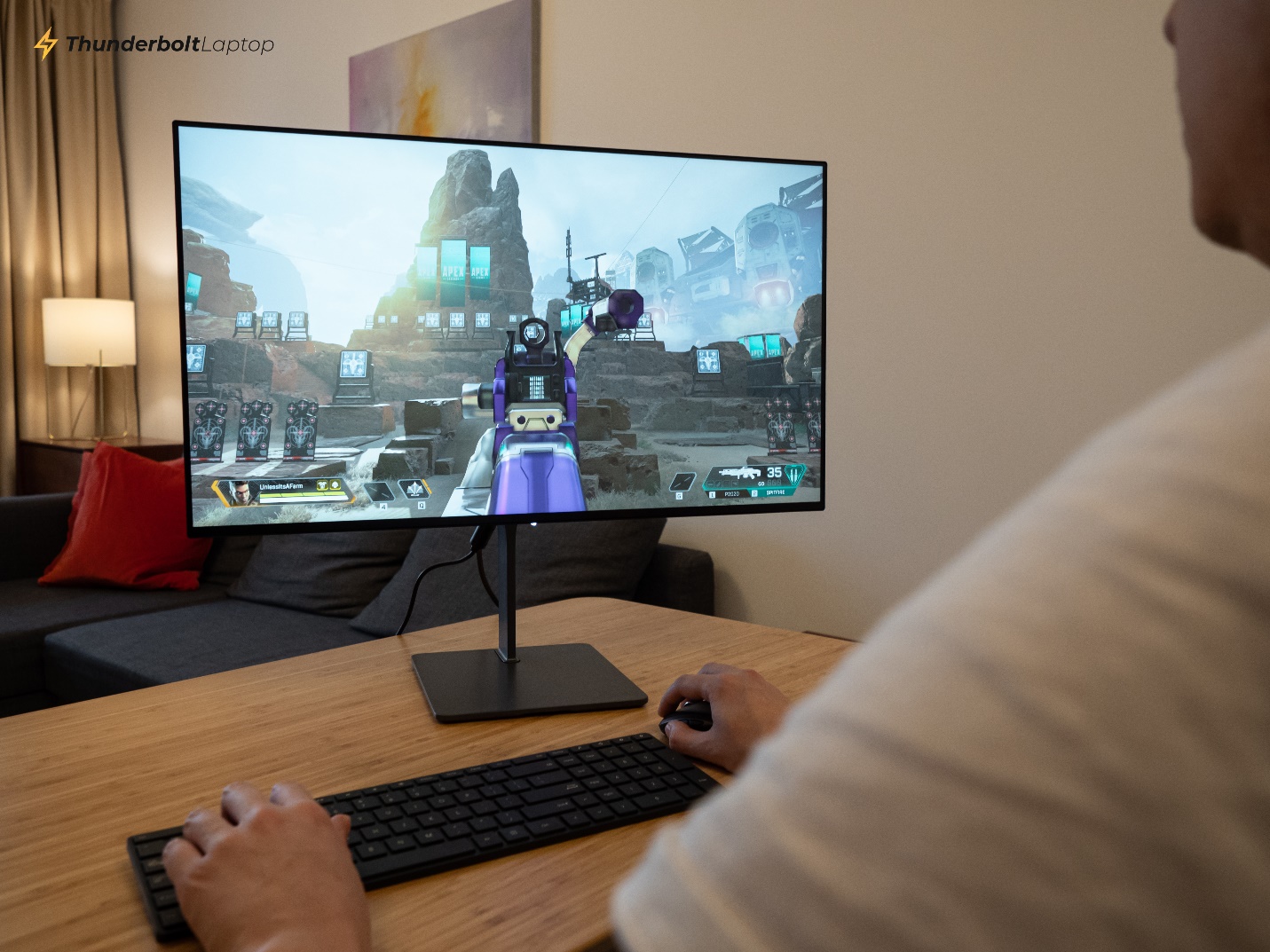 I didn't have any problems running 4K at 144Hz with DisplayPort. I enjoyed the smooth and responsive gameplay. The Spectrum has a 1ms response time and supports FreeSync Premium Pro, so there were no issues like screen tearing or ghosting. I did try some HDR gaming, which was great, but you shouldn't be buying this monitor solely for HDR. Switching to overdrive mode didn't make any difference, which I guess had to do with the beta firmware bugs that Eve informed us about.
Could it be better?
Yes.
The Spectrum still needs a lot of work. I was impressed with the early sample, including the design and the overall performance, but Eve is yet to deliver the much-awaited features. One of the reasons this monitor garnered a lot of interest from users is HDMI 2.1, and it does not support that yet.
At this stage, Spectrum has the final electronics and connectors. All spectrum units have HDMI 2.1 port. HDMI 2.1 port on Spectrum supports full bandwidth and feature set, but we still need to finish the development of HDMI 2.1 firmware as currently there are too few devices in the market supporting HDMI 2.1. As a result, compatibility testing takes extra time.

This is the main reason there are no HDMI 2.1 monitors in the market yet as both tv suppliers and hardware providers (Nvidia, AMD, etc) keep tweaking their firmware requiring monitor makers to adjust their firmware accordingly.

– Tuukka Korhonen, EVE Acting CEO
Other features like USB-C charging and overdrive are still not available, and the OSD is still buggy. With shipping set to February 26, 2021, time will tell if Eve will be able to iron out these issues within the remaining two months.
Final Verdict
The Eve Spectrum is real. I managed to spend some time with a physical pre-production unit of the 4K 144Hz model. It's a very nice monitor from the outside, bringing great aesthetics and ergonomics to the workspace. The color reproduction and picture quality are outstanding, but still, the monitor does not meet most of our expectations.
Most of the features available in this engineering sample are already in the market. There are plenty of monitors that can deliver a 144Hz gameplay at 4K resolution.
There is still no proof that these monitors will support HDMI 2.1. Eve says they are working to have all the features working before shipping, so for now, the best we can do is wait.
We hope the Spectrum project will materialize because Eve's reputation hasn't been great. There have been problems with unfulfilled orders and refund issues with the company's Eve V tablet. There are still users today who complain of not receiving their orders. You can find more information on that in this video from Unbox Therapy.
Eve addressed the problems in a long blog post and assured their users that things would be different. The Eve community provides the most answers to the previous issues and would suggest looking at them before making any commitments.
I loved the Spectrum. I had a great experience using it. Of course, it still needs some work, but Eve assured us they would solve all the bugs and problems before shipping. The Spectrum will be a good option for most users once it hits the market.
I think we all agree that the unit we tested is not ready to be shipped. It lacks some of the main selling point features like HDMI 2.1; the beta Firmware has issues.
If you're interested in ordering one, we recommend that you wait another month, until Feb 26th, for the production version to be launched and reviewed.