This post includes affiliate links, for which we may earn a commission at no extra cost to you should you make a purchase using our links. As an Amazon Associate, we can earn from qualifying purchases. Learn more.
Dell D6000 Universal Dock is an outstanding USB-C docking station to expand your Type-C or USB 3.0 laptop's versatility
Compatible with Type-C and USB 3.0 laptops

65W Power Delivery for laptop charging

Supports up to three 4k displays

11 ports available

Clean and compact design

When you buy the latest Dell XPS laptop, you'll quickly realize you've got a few options for connectivity. As the industry continues to adopt thinner and lighter Type-C laptops, sacrifices have to be made. While portable and powerful than ever, these new notebooks have stripped away the ports that you probably need, meaning that you'll need a laptop docking station to maximize productivity, and thus this Dell D6000 Universal Dock Review.
The Dell D6000 Universal Dock is the best USB-C laptop docking station that you can buy right now. It brings back the legacy ports and more to your brand new Dell XPS or MacBook Pro, with a total of 11 ports. Whether you want to connect your old USB drives or add multiple monitors to enhance your workflow, the Dell D6000 is the right laptop dock for the job.
Why the Dell D6000 Universal Dock?
There are many USB-C docking stations in the market, but the Dell D6000 Universal Dock is a standout performer for various reasons. Apart from providing more connectivity ports to your ultraportable laptop, it has extra capabilities that you won't find in other docks.
This Dell D6000 lives up to its name by supporting up to three 4k displays through USB-C and USB-A ports. So you can easily use this docking station with an old-fashioned laptop with USB 3.0 ports only. If connected to a USB-C laptop, this dock can charge your laptop at the same time, providing a truly universal cable connection.

Image
Product
Details
Check Price

Dell D6000 Universal Dock
Ports:

11


Host Connection:

USB-C, USB 3.0


Display:

Up to 3 4K, Single 5K60Hz


USB-C Ports:

1


Power Delivery:

65W


Dimensions:

6.6 x 3.1 x 1.2 inches (WxDxH)


Weight:

0.84l bs

Check on Amazon
Dell D6000 Universal Dock Design
The docking station comes with a simple design that blends well in most offices and business environments. It's black with only the Dell branding at the top. The Dell logo is also black with a much darker shade, so the whole unit remains clean and free from distractions.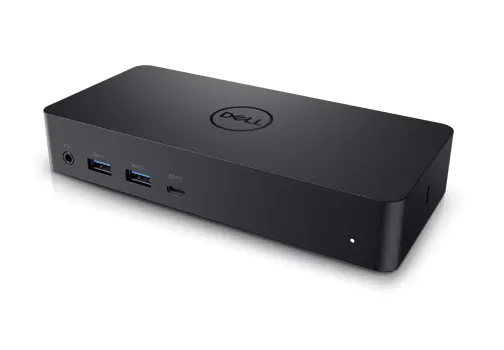 The D6000 is designed to sit horizontally on the desk. It might take up more desk space than vertical docking stations. But that is not a big deal as this dock measures only 6.6 inches long, 3.1 inches wide, and 1.2 inches taller. It's also incredibly light at 0.84 pounds if you would like to take it on a ride.
One of the downsides of this docking station is the attached host USB-C cable. If the cable gets damaged, you'll need to buy a new docking station.
Let's talk about that attached cable a bit. One of the reasons we highly recommend this docking station is the ability to drive dual 4k displays off a USB 3.0 port. That makes it three external 4k displays if you're connecting to a USB-C laptop. Not many docks can do that.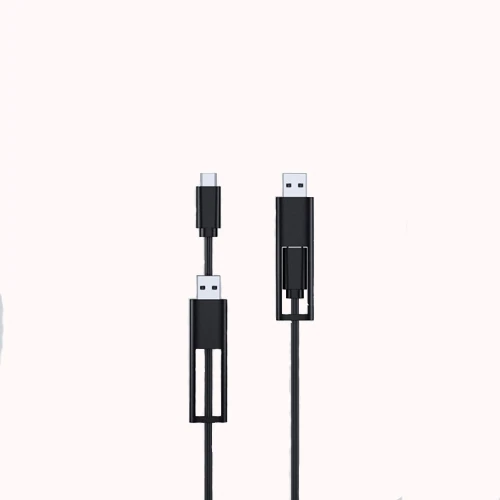 To achieve this, Dell uses a USB-C host cable with a USB 3.0 adapter that attaches to the Type-C end. So you can connect the docking station to a USB 3.0 port or slide the adapter further down to use regular Type-C laptops. It's not the best approach in terms of design, but at least you won't lose the adapter.
Dell D6000 Universal Dock Ports
Transform a single USB-C port on your laptop to a whopping 11 ports. The Dell D6000 Universal Dock solves all the problems of the new ultraportable laptops by providing multiple USB ports and extra video inputs. The front panel has a USB-C port, two USB 3.0 ports, and a Microphone/Headphone audio jack. There is an LED indicator that lights white when connected and orange when disconnected.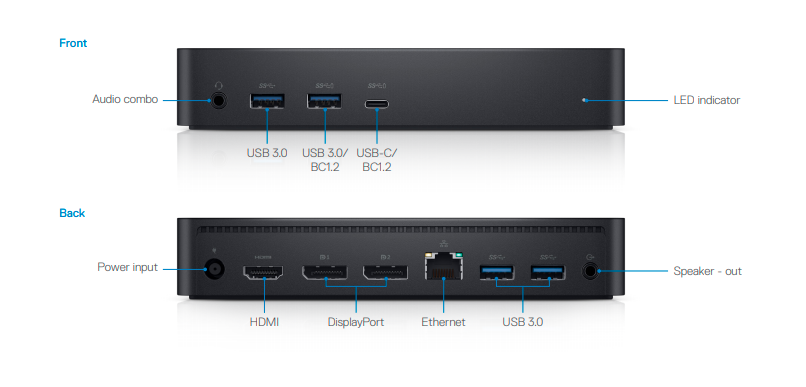 At the back, you'll find two additional USB 3.0 ports, HDMI 2.0 output, two DisplayPorts 1.2, an Ethernet jack, and speaker output. There is also the power input for the included 130W power adapter. However, it's surprising Dell didn't include a card reader on this one. If you're a photographer or graphics designer, you've to make do with the lack of an SD card or find other alternatives.
Dell D6000 Universal Dock Performance
Now the performance. Is the Dell D6000 Universal Dock worth the price?
The Dell D6000 Universal Dock is an outstanding laptop docking station that delivers everything as promised, but you've to get all the prerequisites right. This docking station uses DisplayLink technology, so you should download and install DisplayLink drivers first. It's necessary, especially if connecting to a USB 3.0 port on the laptop.
The D6000 supports a single 5K (5120 x 2880) display at 60Hz or up to three 4k displays via USB-C. You need to run two DisplayPort cables to your monitor to get 5K. Also, when connecting three 4k displays, one of the screens will be downgraded to 30Hz. Both HDMI and DisplayPort can output 4k at 60Hz on a single screen.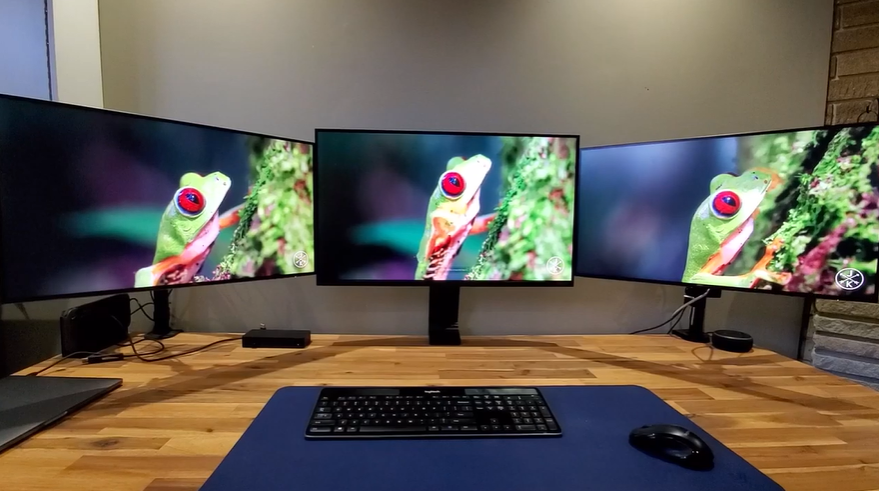 Being able to connect three external 4k monitors to an ultraportable laptop is a huge win for power users and business professionals. Not only do you get extreme portability, but you can also transform your workplace with more screen real estate to boost your productivity significantly. The D6000 lets you achieve this with a single cable to your notebook, leaving your desktop clean and clutter-free.
With 65W Power Delivery, this dock can charge your laptop at the same time, so you don't need to struggle with power cables.
It gets better. The Dell D6000 Universal Dock isn't just for USB-C or Thunderbolt 3 laptops. It works flawlessly with USB 3.0 PCs, thanks to DisplayLink. You can connect up to two 4k external monitors via USB 3.0. A reason you don't have to ditch your old-fashioned laptop yet.
What I Don't Like
There really isn't much to hate about this docking station, though there a few areas I feel Dell could have done better. First, the integrated host cable is not the best approach. I don't know why Dell went with this approach. To make sure you don't lose the USB-C cable? Maybe. But it's cost-effective to replace a lost cable than replacing a docking station.
Last is the DisplayLink implementation. While three 4k display sounds for most people, there are some limitations. DisplayLink relies solely on the CPU and iGPU to run the multiple displays. Therefore, if running demanding tasks like gaming or 3D modeling and rendering, you're actually getting the power from your CPU, leading to extreme CPU usage, which can cause problems like throttling, laptop shutting down, or games not launching.
Therefore if purchasing this docking station to take advantage of the multiple displays, ensure it is for light work and everyday office use like browsing, coding, spreadsheets, and more, but not gaming or editing.
Alternatives
Plugable USB-C 4K Triple Display Docking Station (Amazon Link) is the best alternative to the Dell D6000. It uses the same DisplayLink technology to drive up to three 4k displays through two DisplayPorts and HDMI. While this dock uses a removable USB-C cable, it loses in terms of performance. The HDMI port can only output 4k at 30Hz, even on a single monitor, and you only get 60W power delivery compared to 65W on the D6000.
Should you buy it?
Buy Dell D6000 Universal Dock if…
You want to add multiple monitors to a laptop
With support for up to three 4k external displays, Dell D6000 Universal Dock is the best laptop docking station for multitasking and productivity work. You don't have a USB-C laptop yet? Don't worry. This docking station supports dual 4k monitors through a USB 3.0 port, making it compatible with almost all laptops.
You want to add more ports to your Type-C ultrabook
If you want to extend the number of ports on your Dell XPS or MacBook Pro, the Dell D6000 offers 11 ports, including four USB 3.0 ports. It's the perfect way to deal with the sacrifices that come with the latest thin and light laptops.
Charge your laptop at the same time
The Dell D6000 can charge your laptop at the same time with 65W power delivery, creating a clean and clutter-free workspace. Ensure the USB-C port on your notebook supports power delivery.
Don't Buy if…
You want to edit photos and videos or play games
While you're getting up to three external displays with the D6000, it's not suitable for gaming, editing, or any demanding tasks. That's because DisplayLink relies on the CPU for firepower, and doing any graphical intensive work puts more stress on the CPU.
Verdict
Dell D6000 Universal Dock is an outstanding USB-C docking station to expand your Type-C or USB 3.0 laptop's versatility. Adding more ports and running multiple monitors off a single cable on my notebook is fantastic. But this docking station gets even better as it can also run through a USB 3.0 host port.
There is just no better alternative in the market at the moment. The Pluggable is tempting as it comes with a removable USB-C cable, but the fact that I can't get 60Hz at 4k from the HDMI port is a turn off for me. Plus, the D6000 has higher power delivery and a clean build that suits the business workspace.