This post includes affiliate links, for which we may earn a commission at no extra cost to you should you make a purchase using our links. As an Amazon Associate, we can earn from qualifying purchases. Learn more.
Intel announced its latest proprietary USB technology last year, and different manufacturers have been trying to catch up ever since. To a novice, not much has changed in the
Thunderbolt 4
specification, but as is always the case with the data bus market, the devil lies in the details. While Thunderbolt 4 offers the same maximum capabilities, its minimum capabilities are much higher than Thunderbolt 3.
In reality, Thunderbolt 3 is sort of a transition phase between Thunderbolt 2 and 4. While Thunderbolt 3 devices can provide up to 40 Gbps transfer rates, in reality, they are closer to the 10-15 Gbps rate. Now that Thunderbolt 3 has established itself in the market, Intel plans to develop a more strict adherence to the upper limits of data transfer through its Thunderbolt 4 specification.
There are not many Thunderbolt 4 devices on the market yet, but seasoned manufacturers have released one or two products to whet the consumer's appetite. Thunderbolt 4 also requires a more stringent compatibility spectrum, which might limit certain cards to certain motherboards. This means it's a good idea to research the top products in the market and be absolutely sure that the card you are buying is compatible with your current hardware and provides the full range of functionality that you expect from a Thunderbolt 4 device.
We've compiled a list of the best Thunderbolt 4 PCIe cards in the market right now, and we've also included a brief yet comprehensive buying guide which will help you land on a product. Be sure to check the FAQ section at the end, too, especially if you're still trying to figure out the difference between USB4 and Thunderbolt 4 (no shame in admitting it).
The Best Thunderbolt 4 PCIe Cards – Buying Guide
Before you buy a Thunderbolt 4 add-on card, you need to make sure that the card is compatible with your computer. While the minimum requirements for Thunderbolt 4 are much higher than those for Thunderbolt 3, reducing the amount of research you need, you still need to know the card's functionality and how to get the best out of it. Given below are the most important things you need to consider.
Motherboard
Thunderbolt is a proprietary technology, and it does not work with every motherboard out there. Therefore, the Thunderbolt 4 card you buy will most likely only work with a motherboard from the same manufacturer. For example, the ASUS ThunderboltEX 4 works only with a handful of ASUS motherboards. So this makes system compatibility the most crucial consideration while buying a Thunderbolt 4 add-on card.
An excellent way to understand this compatibility conundrum is by looking at the headers of a card. In addition to the PCIe slot, Thunderbolt 4 cards need two additional headers to connect to your motherboard, the Thunderbolt header, and the USB header. Manufacturers leave the exact function of these headers a mystery, but it is widely believed these headers are used to transfer integrated graphics in a daisy chain configuration of devices.
Whatever the purpose is, these headers make sure that the Thunderbolt 4 card is only used on a motherboard certified by the manufacturer and contains the connection for these headers.
So, before you buy a card, check out your motherboard and go to the manufacturer's website to see if your motherboard is compatible with the card.
Number of Thunderbolt 4 ports
The card you buy will not only have Thunderbolt 4 ports. Most cards have USB4 and HDMI ports as well, and one might mistake the USB4 ports for Thunderbolt. Check out the specifications to see how many ports are Thunderbolt and how many are USB4. USB4 ports have less data and power transfer capabilities than Thunderbolt.
PCI Express Bus
All cards on our list and most Thunderbolt cards generally use a PCIe x4 slot to connect with your motherboard. Therefore, you should make sure you have an unused PCIe slot available on your motherboard before buying the card. In addition, you'll also need physical space to mount the card, so make sure your PC isn't crammed. If space is a problem, you can use a PCIe riser to be more efficient.
Power Delivery
One of the most impressive features of Thunderbolt 4 is its sweet power transfer capability. Thunderbolt 4 can deliver up to 100 watts of power over USB-C. The exact power delivery will be mentioned in the tech specifications.
However, Thunderbolt 4 is required to deliver a minimum of 15W, so make sure you go through the power specs of the card to know what sort of power delivery you'll be getting.
Best Thunderbolt 4 PCIe cards – Comparison Table
Image
Product
Details
Check Price

ASUS ThunderboltEX 4

Thunderbolt 4 ports:

2 USB-C


Power Delivery:

Up to 100W Quickcharge


Video Output:

Up to 8k resolution monitors (2 x mini DisplayPorts)

Check on Amazon

Gigabyte GC-Maple Ridge

Thunderbolt 4 ports:

2 USB-C


Power Delivery:

Up to 97W (PD 3.0)


Video Output:

Up to 4k on every port ( 2 x mini-DisplayPort and 1x Display Port)

Check on Amazon

Asrock Thunderbolt 4 AIC

Thunderbolt 4 ports:

2


Power Delivery:

PD 2.0, 27W(9v)


Video Output:

5k individual, 4k on multiple monitors ( 2 x DisplayPort In) (60Hz)

Check on ASRock
1. ASUS ThunderboltEX 4 – The best Thunderbolt 4 card on the market
Check Price on Amazon
Asus revealed its ThunderboltEX4 at the start of this year. The market was a little surprised how quickly Asus could release a Thunderbolt EX4 considering Intel only shipped the Maple Ridge Thunderbolt 4 controllers in December. However, Asus' ThunderboltEX series was widely successful with its Thunderbolt 3 cards, and with its AMD motherboards that are compatible with Thunderbolt 4, Asus is well on its way to cornering the Thunderbolt 4 market.
Its latest card uses a JHL 8540 controller, which is most manufacturer's choice over the JHL 8340 and 8440 controllers. Both Thunderbolt 4 ports are USB4 compliant with a speed of 40Gbps. In addition, the card has the option to quick-charge. One of the ports provides up to 100W and the other up to 27W. All Thunderbolt 4 devices need to be certified by Intel; perhaps that is why the rollout is so slow.
Asus has been working with Intel for decades, and their products are easily compatible with each other. The card is compatible with all ASUS Intel 500 series and above models with a 14-1 pin Thunderbolt header.
You will need to run the hardware on Windows – 10 or higher operating systems (64-bit).
Connectivity
The card has two Thunderbolt 4 ports (100W & 27W). Both these ports are compatible with USB4 and backward compatible with previous Thunderbolt versions. You'll get a transfer speed of up to 40Gbps for all Thunderbolt 4 devices. In addition to a PCIe x4 connection, the card will connect via a 14-1 pin Thunderbolt header and a USB 2.0 header to your motherboard. Two mini DisplayPort 1.4 In's are also present.
You can get up to 8k resolution on two monitors or 4k on a single monitor. In addition, you can daisy chain five Thunderbolt devices with each port ( 3 devices and 2 monitors, 4 devices and 1 monitor).
Accessories
The pack includes the following additional accessories.
Two mini DisplayPort cables which you can use to link the links graphics output from motherboard's or discrete graphics card's DisplayPort to the card
A USB 2.0 cable for the USB header connection with the motherboard
A 14-1 pin Thunderbolt header cable
A DVD for the drivers
A User Manual
Our Take
ASUS's ThunderboltEX series has been very successful in the past, and perhaps that is why the company was the first to hit the Thunderbolt 4 expansion market. Its latest card gives you all the data and power transfer capabilities of Thunderbolt 4 and provides an easily compatible expansion card, which will compete with future products too.
Excellent Power Delivery with quick charging available

Two DisplayPorts instead of one

The ability to daisy chain up to five devices is quite impressive

Easily compatible with Intel processors

Not compatible with many ASUS motherboards

5k video unavailable on a single monitor
Check Price on Amazon
Gigabyte turned a few heads when it released its latest Thunderbolt 4 expansion card, but we can't say we were surprised. Gigabyte has been consistently productive in the motherboard market. Over the past decade, Gigabyte has established itself as a cutting-edge tech manufacturer, with many of its gaming motherboards doing extraordinarily well. With the early release of its latest Thunderbolt 4 card, there is no doubt that the Taiwanese manufacturer is aiming to increase its market share by leveraging the slow rollout of Thunderbolt 4 peripherals to its advantage. In fact, because of the lack of variety in the market, Gigabyte has seen its motherboard sales increase since the release of GC Maple Ridge.
Of course, this business strategy has nothing to do with the quality and functionality of Gigabyte's GC Maple Bridge, which is in a league of its own for more than one reason. The card makes full use of the exceptional data and power transfer capabilities of the Thunderbolt 4 technology by providing 40 Gbps and 97 Watts Power Delivery 3.0.
Connectivity
The card has two USB-C Thunderbolt 4 ports, which can deliver data up to a theoretical limit of 40Gbps. The actual data transfer rate is dependent on the connected device and the cable. You can daisy chain up to ten devices (five per port) with the card. However, one should remember that if at any moment one of the devices is directly connected to the card, the daisy-chain link is broken, and you will have only two devices working. This ensures that none of the devices is damaged.
The card is also equipped with two mini Display Ports In and one DisplayPort, which means you can connect more video devices than the Asus ThunderboltEx 4. In addition, the DisplayPort gives an excellent option to use monitors which aren't necessarily Thunderbolt compatible and still keep the Thunderbolt daisy chain intact. Along with the PCIe x4 bus connection, USB 2.0 and thunderbolt headers are also used to connect to the motherboard.
The card is compatible with many Gigabyte motherboards in the Z590 and B560 series. You can check if your Gigabyte motherboard is consistent with the card by going through the gigabyte website (always do this before you buy an expansion card).
Accessories
The package includes the following additional accessories.
2 mini-Display Port cables
Two Thunderbolt header cables ( 3-pin and 5-pin). The cable which is to be used is determined by the motherboard.
A USB 2.0 header cable
Our Take
Gigabyte's GC Maple Ridge has a wide variety of video and power options in addition to its Thunderbolt 4 capabilities, making it an excellent choice for content creators who mainly work with video. While Gigabyte might not be the first name that comes to your mind when discussing expansion cards, its Thunderbolt 4 series is sure to change that perception.
A DisplayPort in addition to mini ports.

Excellent Power Delivery compatibility

Compatible with a wide range of Gigabyte keyboards

3-pin and 6-pin headers should use less motherboard power compared to ThunderboltEx 4.

5k video not possible on a single monitor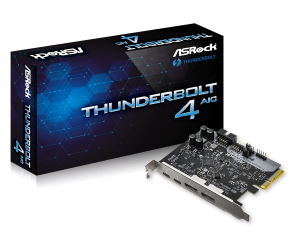 Check Product Page
Next on our list is Asrock's soon-to-be-released Thunderbolt 4 expansion card. Asrock announced in May 2021 that it was going to release its Thunderbolt 4 card. While the rollout has been slightly delayed, the manufacturer has released the specifications, giving us an idea of what to expect. Asrock started as a spin-off from Asus in 2002, with the primary objective of competing with Foxconn for the OEM market. Since then, the Taiwanese manufacturer has established itself as one of the largest motherboard producers in the world.
Currently, Asrock's AIC is the only Thunderbolt card that offers 5k video. However, that may change in the future as more companies release their expansion suites. Still, Asrock released this information before the product rollout, suggesting the company plans to target the highly competitive video content market. Nevertheless, we'll keep an eye out for the release and any new information that the company might share.
Connectivity
The card has two Thunderbolt 4 USB-C ports that can transfer 40Gbps bidirectional data. While the company website does not mention daisy-chaining devices with a Thunderbolt 4 card, it is safe to assume that users will be able to daisy-chain at least three devices per port.
In addition, the card can pass 5k video at 60Hz via its USB-C ports, which is far better than what is available on the market currently. The card can also transmit 4k video at 60Hz if you connect to more than one monitor.
Power delivery is where the card seems to lack. PD 2.0 is still sufficient for most uses. However, PD 3.0 configurations on Gigabyte and Asus cards are far better. The card can provide 27 W power at 9V. The card also needs Thunderbolt and USB headers to connect to the motherboard, in addition to the PCIe x4 bus.
Accessories
1 x Thunderbolt header (pin type unspecified at this point)
1 x USB 2.0 header
2 x DisplayPort cables
Installation guide and DVD
Our Take
Judging solely by the specs, the Asrock Thunderbolt 4 AIC appears to be an excellent choice for content creators and gamers alike. However, the card's charging capabilities can be overlooked because of its superb graphics performance.
As soon as Asrock releases more information on the product, we'll review it here. So keep on checking our website.
5k video output is more than what Asus and Gigabyte offer.

The card is not too much of a burden on the motherboard's supply, so it can be used in highly concentrated setups.

Large DisplayPorts instead of mini.

Power delivery is not as good as Asus or Gigabyte
Best Thunderbolt 4 PCIe Cards – Frequently Asked Questions
What is the difference between Thunderbolt 3 and 4?
While both Thunderbolt 3 and 4 offer the same numbers for the maximum data and power transfer, Thunderbolt 4 offers higher minimum rates. Thunderbolt 4 also doubles the minimum data and video requirements. Thunderbolt 4 will provide two 4k or one 8k video signal compared to a single 4k signal for Thunderbolt 3.
Thunderbolt 4 also requires a minimum of 32Gbps data transfer rate, double the 16Gbps rate for Thunderbolt 3. In addition, Thunderbolt 4 cables can be longer than the 0.5m maximum length for passive Thunderbolt 3 cables ( up to 2m long). You will also be able to connect more peripherals with Thunderbolt 4, which is evident because most Thunderbolt 4 docking stations have at least four ports, double the two ports for Thunderbolt 3.
If a Thunderbolt 4 laptop is connected to a Thunderbolt 4 dock, it will be able to wake up from sleep through a connected mouse/keyboard, which is possible because of the higher minimum data transfer capabilities,
Combining the better minimum rates, more diversity in peripherals, and longer cables, Thunderbolt 4 offers an experience worthy of the 40Gbps maximum transfer rate.
What is the difference between Thunderbolt 4 and USB4?
It is easy to confuse Thunderbolt 4 with USB4. They both have the same maximum speed and data transfer capabilities; they're both being introduced with Intel's Tigerlake processors, and Thunderbolt 4 is backward compatible with Thunderbolt 3 and USB4.
The difference does not lie in the maximum capability of the two specifications but rather in the minimum they must offer. USB4 comes in a slower 20GBps variant as well. Manufacturers are also not required to provide charging and wake-from-sleep capabilities for USB4. However, all these capabilities are to be guaranteed by a Thunderbolt 4 device.
A simple way of putting this is that Thunderbolt 4 guarantees the best possible version, while USB4 does not offer that guarantee. Transfer speeds for USB4 are written next to the port, while Thunderbolt 4 ports have a thunder sign with the number 4 written below or next to it.
What is a Thunderbolt header?
A thunderbolt header is a connection between the PCIe card and the motherboard. This connection is in addition to the PCIe bus and USB 2.0 header. There isn't any definitive consensus on why these header cables are needed, and manufacturers seem to be silent on the topic. Still, they are most probably used for discrete graphic interfacing. They also ensure that a card is only used with the respective manufacturer's motherboard, containing the header port required.
What does daisy chain mean?
Daisy chain means connecting different devices in a series, thus expanding their user interfaces while keeping the basic data transfer rates common. The most glaring example is connecting two monitors together, effectively using both screens as one giant screen(e.g., moving objects between the screens as they were one). Daisy chaining is recommended on data cables with higher capabilities, such as Thunderbolt 3 and 4.
What is a Thunderspy attack?
Suppose a hacker gets physical access to your device. In that case, they can use the Thunderbolt 1,2, or 3 ports to copy all of your data within five minutes, irrespective of the encryption you are using on your operating systems. These attacks were pointed out by users a few years ago and make Thunderbolt devices very susceptible to hackers. Thunderbolt 4 uses Intel's Virtualization Technology to protect against these attacks.
This basically means that hackers can not directly access your data, bypassing encryption of your OS because they will need to deal with an additional layer of I/O encryption installed by Intel.