This post includes affiliate links, for which we may earn a commission at no extra cost to you should you make a purchase using our links. As an Amazon Associate, we can earn from qualifying purchases. Learn more.
Chromebooks have been around for quite some time now and have gained substantial market share over time thanks to their ultra-portability and snappy performance. Chrome OS started out simply as a platform for Google's cloud apps like Google Chrome, Gmail, Google Photos, and Google Drive.
However, with time they became the go-to device for students thanks to their ease of use in comparison to Windows and macOS powered laptops. Although Chromebooks are lightweight devices, as most of them don't have heavy hard drives or other power-hungry components, they do offer good durability.
Android, which is the most widely used OS globally, has now been integrated with the Chrome OS, and it allows users to install their favorite smartphone apps in their Chromebooks. The Chrome OS is lightweight, and unlike Windows OS, it takes seconds to boot up and present you with the home screen.
These Chrome OS-powered light laptops have seamless connectivity options with smartphones and are incredibly nimble devices for light to moderately heavy workloads such as checking reports, creating presentations, and working with educational applications.
Did you know that according to a Geekwire survey, Chromebooks pipped MacBooks in 2020 in terms of the sheer number of units sold?
Chromebooks are now viable alternatives for professionals and students alike who look for a portable and fast computing device to stay at the forefront of the competition. However, it is not a device for heavy users such as content creators or gamers, as most of these Ultrabooks come with severely limited graphics memory and hardware support.
Today we have some of the latest Chromebooks for you that come with the latest wireless connectivity protocol, Wi-Fi 6. Wi-Fi 6 is the newest wireless broadband connectivity protocol that ensures improved speed and efficiency and reduces congestion.
This development is crucial for the current times as the current tech-heavy environment is progressing fast towards ditching wires for good. There are a lot of devices communicating with each other without cables.
Product Table
Image
Product
Details
Check Price

Samsung Galaxy Chromebook Go

Processor:

Intel Celeron N4500


Processor Base/Boost Frequency:

1.1GHz/2.8GHz


Memory:

4GB DDR4


Display:

14-Inch HD


Display Resolution:

1366 x 768


Graphics:

Intel UHD


Touchscreen:

No


Storage:

32/64GB eMMC


Wi-Fi 6:

Yes


LTE:

Yes


Optical Drive:

No


Bluetooth:

5.1


Weight:

3.2 lbs


Battery:

42.3 Wh


Ports:

2 x USB Type C, 1 x USB 3.0

Check on Amazon

Samsung Galaxy Chromebook 2

Processor:

Intel Celeron 5205U


Processor Base/Boost Frequency:

800MHz/1.9GHz


Memory:

4GB LPDDR3


Display:

13.3-Inch FHD


Display Resolution:

1920 x 1080 QLED


Graphics:

Intel UHD


Touchscreen:

Yes


Storage:

64 GB eMMC


Wi-Fi 6:

Yes


LTE:

No


Optical Drive:

Yes


Bluetooth:

5.1


Weight:

2.71 lbs


Battery:

45.5 Wh


Ports:

2 x USB Type C

Check on Amazon

Lenovo ThinkPad C13 Yoga

Processor:

Ryzen 5 Pro 3500C


Processor Base/Boost Frequency:

2.1GHz/3.7GHz


Memory:

8GB DDR4


Display:

13.3-Inch FHD


Display Resolution:

1920 x 1080


Graphics:

AMD Radeon Graphics


Touchscreen:

Yes


Storage:

128 GB SSD


Wi-Fi 6:

Yes


LTE:

No


Optical Drive:

No


Bluetooth:

5.0


Weight:

3.30 lbs


Battery:

51 Wh


Ports:

2 x USB 3.2 Gen 1 Type-A, 2 x USB 3.2 Gen 1 Type C, 1 x HDMI 2.0

Check on Amazon

Asus Chromebook Flip C436

Processor:

Intel Core i3-10110U


Processor Base/Boost Frequency:

2.1GHz/4.1GHz


Memory:

8GB LPDDR3


Display:

14-Inch FHD


Display Resolution:

1920 x 1080


Graphics:

Intel UHD


Touchscreen:

Yes


Storage:

128 GB SSD


Wi-Fi 6:

Yes


LTE:

No


Optical Drive:

No


Bluetooth:

5.0


Weight:

2.58 lbs


Battery:

42 Wh


Ports:

2 x USB 3.2 Gen 1 Type C

Check on Amazon

Samsung Galaxy Chromebook

Processor:

Intel Core i5-10210U


Processor Base/Boost Frequency:

1.6GHz/4.2GHz


Memory:

8GB DDR3


Display:

13.3-inch AMOLED


Display Resolution:

3840 x 2160 4K


Graphics:

Intel UHD


Touchscreen:

Yes


Storage:

256 GB SSD


Wi-Fi 6:

Yes


LTE:

No


Optical Drive:

No


Bluetooth:

5.0


Weight:

2.29 lbs


Battery:

49.2 Wh


Ports:

2 x USB 3.2 Gen 1 Type C, 1 x USB 3.0 UFS

Check on Amazon

Asus Chromebook Flip CX5

Processor:

Intel Core i3-1110G4


Processor Base/Boost Frequency:

2.5GHz/3.9GHz


Memory:

8GB DDR4


Display:

14-Inch FHD


Display Resolution:

1920 x 1080


Graphics:

Intel UHD


Touchscreen:

Yes


Storage:

128 GB SSD


Wi-Fi 6:

Yes


LTE:

No


Optical Drive:

No


Bluetooth:

5.0


Weight:

3.09 lbs


Battery:

57 Wh


Ports:

2 x USB Type C Thunderbolt 4, 1 x USB 3.2 Gen 1 Type A

Check on Amazon

Acer Chromebook Spin 514

Processor:

Intel Core i5-1130G7


Processor Base/Boost Frequency:

1.8GHz/4.0GHz


Memory:

8GB LPDDR4X


Display:

14-Inch FHD


Display Resolution:

1920 x 1080


Graphics:

Intel Iris Xe


Touchscreen:

Yes


Storage:

256 GB SSD


Wi-Fi 6:

Yes


LTE:

No


Optical Drive:

No


Bluetooth:

5.0


Weight:

3.02 lbs


Battery:

Upto 10 Hour


Ports:

2 x USB 3.2 Gen 1 Type C, 1 x USB 3.2 Gen 1 Type-A, 1 x HDMI 2.1

Check on Amazon

Acer Chromebook Spin 713

Processor:

Intel Core i3-10110U


Processor Base/Boost Frequency:

2.1GHz/4.1GHz


Memory:

8GB DDR4


Display:

13.5-Inch 2KIPS


Display Resolution:

2256 x 1504


Graphics:

Intel UHD


Touchscreen:

Yes


Storage:

256 GB SSD


Wi-Fi 6:

Yes


LTE:

No


Optical Drive:

No


Bluetooth:

5.0


Weight:

3.02 lbs


Battery:

Upto 10 Hour


Ports:

2 x USB 3.2 Gen 1 Type C, 1 x USB 3.0 Type A, 1 x HDMI

Check on Acer

Acer Chromebook 317

Processor:

Intel Pentium Silver N6000


Processor Base/Boost Frequency:

1.1GHz/3.3GHz


Memory:

4GB LPDDR4X


Display:

17.2-inch FHD IPS


Display Resolution:

1920 x 1080


Graphics:

Intel UHD


Touchscreen:

Yes


Storage:

128 GB Flash Memory


Wi-Fi 6:

Yes


LTE:

No


Optical Drive:

No


Bluetooth:

5.0


Weight:

5.29 lbs


Battery:

Upto 10 Hour


Ports:

2 x USB 3.2 Gen 1 Type C, 2 x USB 3.2 Gen 1 Type-A, 1 x HDMI

Check on Acer
Best Chromebooks with Wi-Fi 6 – Our Top Picks
First on the list today is the entry-level Samsung Galaxy Chromebook Go that comes in a slim, lightweight, and ultra-thin design and is built for users who are constantly on the move. The Chromebook has a sturdy build and can withstand rough use and occasional drops. Its 14-inch HD screen is adequate for attending online classes and watching educational content. The design has the reliability of Samsung and features a sturdy 180-degree hinge that allows you to view the Chromebook from multiple angles. The display, however, is not touch-supported, and you can't navigate your way around with a stylus.
However, in terms of load, although the device features one of the newer processors, it is still a light capacity Chromebook as the processor is fast enough for barely viewing multimedia content and working on light productivity applications such as an MS Office or online browsing activity. Chrome OS's lightweight footprint design and an all-day battery keep the device running smoothly despite an underwhelming processor. It can last you close to 12 hours on a single charge making it one of the most favored Chromebooks by college-going students.
The Samsung Galaxy Chromebook Go comes with 4GB of physical memory and a fast 32 or 64 GB SSD, which you can use to store study materials or other documents. It has extensive connectivity features, and besides the blazing fast speeds of Wi-Fi 6, it also features support for LTE broadband connection for when you are onsite for projects and don't have access to Wi-Fi.
Our Take
The Samsung Galaxy Chromebook Go is a decent entry-level Chromebook and barely good enough for someone new to Chrome OS. It lacks processing power, and 4GB of physical memory is not enough considering Google Chrome's resource-hungry nature. It has an average display but a sturdy built, which could work in its favor, but then again, it misses out on touch screen support on the display. Overall, it is somewhat of a value buy.
LTE Connectivity

12 Hours battery Back-up

Sturdy Build

No Stylus or Touch Supported

eMMC Storage
Next is an award-winning feisty red Chromebook from Samsung's Galaxy series that comes with an Intel Celeron 5205U processor. Galaxy Chromebook 2 comes with many modern design elements but an outdated processor. The Celeron 5205U has a base clock of just 800MHz that can rise to a maximum of 1.9GHz. It is underpowered for office productivity and could be strictly built for students who need a device fast enough for browsing.
The Galaxy Chromebook 2 has a sleek build and a 13.3-inch Full HD QLED panel that displays gorgeous colors. In terms of memory, the device has a lowly 4GB DDR3 memory that, combined with the underpowered processor, makes the device a mere reading and content watching ultrabook. Intel UHD manages the visuals and graphics-intensive workloads.
Unlike some of the costlier models, the Galaxy Chromebook 2 does not come with any built-in SSD. There is a 64GB eMMC flash memory which can at most store documents and PowerPoint presentations. The saving grace for the Chromebook could be its Amp powered speakers and a long battery that keeps you going for more than 12 hours. The Galaxy Chromebook 2 has exquisite looks, but the performance is good enough only when you sit and study.
Our Take
Although one of the latest models, we expected more power in the Galaxy Chromebook 2. The processor at play here is a two-year-old release and is thoroughly underpowered. Even smartphones have more ability in their chips today. It is again just a starting point for those new to Chromebooks. Looks and build wise it scores a lot, but with an optical drive and pretty limited connectivity options, the only utility here seems to be the inclusion of Wi-Fi 6.
Sleek and Light Weight Chassis

Full HD Display

Touch Supported

Ageing Processor

Flash Memory
The ThinkPad C13 Yoga from Lenovo puts an end to underpowered Chromebooks with a more mainstream processor in the Ryzen 5 Pro 3500C. It is a premium device that is (psst!) available on the cheap. It comes in a durable aluminum chassis and passes through quite a few military-grade requirements and about 200 quality checks to be one of the toughest Chromebooks on our list today.
Coming back to the processing power, the Ryzen 5 Pro 3500C is a multi-threading enabled quad-core processor that has a boost clock of 3.7GHz. That is a lot of power under that thin hood for a Chromebook. Using it to deal with academics is simply an overkill as the processor can easily handle heavy multitasking. It can manage rich animation-enabled MS PowerPoints and huge MS Excel datasheets, and multiple Chrome tabs, all running simultaneously on the device.
The ThinkPad Yoga comes with an extensive 12+ hour battery back-up, IPS grade 13.3-Inch touchscreen-enabled display, and 8GB of DDR4 memory, enabling it to be a viable alternative to mainstream laptops. Lenovo packs in a 128GB SSD for storage that makes the device boot up within seconds. Lenovo also takes care of entertainment with 300 nits of screen brightness, integrated AMD Radeon graphics, and dual stereo speakers with good enough clarity for enjoying occasional movies.
Our Take
At a price point of under $600, Lenovo has built a Chromebook good enough to give the Samsungs, Acers, and Dells a run for their money. It includes the stylus and offers plenty of physical connectivity options from four USB ports and an HDMI 2.0 port. The icing on the cake is a privacy cover on the front-facing HD camera and an anti-glare coating on its IPS display.
IPS Display

Military-Grade Durability and Reliability

High Value for Money

Dual Far-Field Microphones

Keyboard Performance Inadequate

Heavier than Most Chromebooks
Entering the fray now is the gorgeous-looking Flip C436 from Asus that replicates the look of a perfectly made 2-in-1 convertible laptop. The Chromebook sports a 14-Inch touch-enabled NanoEdge display that works on a 1920 x 1080 FHD resolution and comes with an almost bezel-less design allowing the Chromebook to sport a 14-inch screen on a 13-inch physical footprint. As with other convertibles, the 360-degree hinge allows you to flip the Chromebook to be used in a foldable tablet mode.
In terms of processing power, the Flip C436 has an Intel Core i3-10110U processor with a 2.1GHz base clock speed and 4.1GHz boost speed. The processor, although dated, is a hyperthreading enabled dual-core chip with updated specs that can handle medium to light loads. It is powered by Intel UHD graphics that can manage academic applications that focus on visuals. The processor is coupled with an 8GB DDR3 that handles medium-heavy multitasking.
Build-wise, the Chromebook comes in a light but precision-crafted magnesium-alloy chassis giving it a sleek and professional look. It has a slightly propped-up design that aids in typing, and the keyboard response is crisp with a 1.2mm key travel distance and backlit support. Even entertainment on the Asus device leaves a pleasurable sigh thanks to 100 percent sRGB display and Harman Kardon certified quad-speaker set up, and an upward-facing soundbar.
Our Take
The Asus Chromebook Flip C436 checks just the right boxes to be your all-weather companion with a professionally crafted design and ample processing power under the hood. It also features an all-day 12-hour battery and a fast 128GB SSD storage for lightning-fast access to locally stored files. Asus has equipped the Flip with proper cooling mechanisms through Fan Profile, and it also comes with an Energy Star rating.
IPS grade 14-Inch Display

128GB SSD Storage

Chicklet Keyboard

DDR3 RAM

Inadequate Physical Connectivity Ports
Amongst a host of Samsung's Chromebooks, the Galaxy Chromebook can easily win the race thanks to its magnificent visuals. It is our best pick in terms of display. The screen is an AMOLED 4K panel built inside an aluminum metal body that is perhaps a tad bigger than your palm. The panel features a 100 percent Adobe and sRGB color coverage, making entertainment and visuals on the Galaxy Chromebook a beauty to behold. It also features an automatic equalizer that adjusts the display specs as per the surroundings.
The Chromebook is powered by a 10th Generation Intel Core i5-10210U mobile processor with a boost clock of over 4GHz. When coupled with 8GB DDR3 RAM, the device just zooms past regular office productivity tasks. What's more, the Chromebook comes with an in-built stylus, and popular office productivity applications that you can run simultaneously thanks to the hyperthreading enabled quad cores of the Core i5 processor.
With an in-built 256GB SSD storage, the Galaxy Chromebook is a device offering the highest storage capacities of its kind. Combined with an excellent keyboard, touch-enabled 4K display, and a powerful processor, the Galaxy Chromebook is built to last and perform. The only chinks in its armor are its sub-par battery back-up and pretty limited physical connectivity options.
Our Take
We were left in awe with the 4K display and assure you that you would too, but we regretted that we could savor it for more than 8 hours. The processing power of the Chromebook could be overkill as you would not be able to flaunt it around for long durations. It has a stylish but sturdy body and is easy to carry around thanks to an aluminum frame, thin chassis, and extra lightweight build.
UHD Resolution 4K Display

Powerful Core i5 Processor

Lightweight Build

If you liked the Asus Flip C436, you would love the Flip CX5. Build around the same chassis as the Flip C436, the CX5 has much more juice under the hood that gets you through your daily office or academic 'chores.' It features an 11th gen Intel Core i3-1110G4 processor with dual hyperthreading enabled cores that has a base clock of 2.5GHz. It is built to manage medium to heavy loads and gets through almost all office productivity with ease.
The Flip CX5 features the same 14-Inch NanoEdge IPS grade display as on the C436 under the same military-grade chassis making the CX5 one of the toughest Chromebooks you may come across. It is versatile thanks to its 360-degree hinge that allows it to be used in tablet mode. The device features a snappy keyboard that is accurate and keeps the fingers comfortable if you need to take extended notes.
Usually, Chromebooks are not good at gaming but the Flip CX5, thanks to the latest gen processor and 8GB DDR4 memory, features support for Google Stadia and NVIDIA GeForce NOW. The front runners of cloud gaming to enable mainstream gaming on the laptop. With the Flip CX5, you also get access to 1 year of 100GB Google Cloud storage for free that you can use if you run out of space in the factory-fitted 128GB SSD.
Our Take
The Asus Flip CX5 is a full-fledged entertainment cum productivity device that performs as well as it looks thanks to a top-of-the-line processor and 8GB of physical memory. However, the downside of all this power is its 10-hour battery back-up, which is a tad lower than what most Chromebooks in the sub-$700 price segment return. Gaming over cloud gaming apps, Thunderbolt 4 support with Power Delivery, and Harman Kardon-powered speakers make the Asus Chromebook Flip CX5 an absolute no-brainer for Chrome OS lovers.
Thunderbolt 4 Powered USB-C Ports

Gaming Enabled

Included Stylus

11th Gen Intel Processor

Low Battery Back up

Low in-built Storage for the Price
If you are looking for a fast and powerful Chromebook with some stylish looks, the Acer Spin 514 is an excellent combination of processing power and a 2-in-1 convertible design. The laptop has a 14-Inch Full HD touch-enabled IPS display with Gorilla Glass protection and a 100 percent sRGB color coverage making the panel produce some life-like and vibrant colors. Its narrow bezels give it an 84 percent screen-to-body ratio on a stylish and reinforced metal chassis with military-grade durability.
The Spin 514 features a powerful 11th Gen Intel Core i5-1130G7 quad-core, multi-thread processor that handles heavy workloads in a jiggy. It comes with Intel Iris Xe graphics that even allows you to game on it a bit and hence doubles up a powerful entertainment device. The laptop has 8GB of LPDDR4X memory, enabling it to execute multiple tasks simultaneously. For storage, there is ample room in the 256GB in-built SSD where you can install a couple of games, heavy business, and productivity applications.
Priced handsomely, the Acer Chromebook Spin 514 features a Full HD webcam and DTS audio that allows you to tune the bass and treble of the device for a customized audio experience. Even in terms of connectivity, the Chromebook does not disappoint with two USB Type C, a single USB Type-A, and an HDMI 2.1 port for extending the display when needed during presenting from the Chromebook in a tablet mode.
Our Take
Acer Chromebook Spin 514 is a pricy device and does have the power you need to meet most of your business requirements. It scores many points on the battery front with a 10-hour battery back-up, considering the processing power it comes with. Iris Graphics allows you to create light to medium content and, to a large extent, is the ultimate device you can think to ditch your mainstream laptop for.
Gorilla Glass Protected Display

Powerful 11th Gen Intel Processor

Intel Iris Xe Graphics

Fast Charging Enabled

Low Value for Money

Display Resolution Limited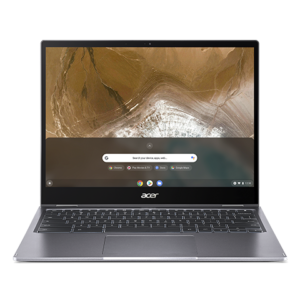 Check Price on Acer
If you are an Acer fan and looking for a more moderately powered device for light academic and professional use, the Chromebook 713 comes with an Intel Core i3-10110U processor with two cores and four threads. The processor is decently powered to take you through regular browsing and can run typical productivity applications. It has Intel UHD graphics that is good enough for browser-based games and light image editing.
Acer promised military-grade durability on an all-metal chassis that houses a 13.5-inch IPS LCD panel on a 2K resolution in terms of build quality. Thanks to CineCrystal technology, an anti-glare coating makes the Chromebook suitable for outdoor use. The display is touch-enabled and comes with a 3:2 aspect ratio for a bit more space to view more content on the screen.
The Chromebook has 8GB DDR4 memory which might seem a bit of an overkill considering the limited capabilities of the processor. It also ensures you do not face lag when you have multiple Chrome tabs open and working on a presentation simultaneously. There is abundant space thanks to a 256GB SSD and you are free to connect external storage using the USB 3.0 and USB Type-C ports.
Our Take
Priced at around the $700 mark, the Acer Chromebook 713 has a lower value for money quotient when compared to a few others on the list. Its battery life is not that impressive considering the low-end processor it houses, and it is also one of the heavier Chromebooks weighing at over 3 pounds. Its only saving grace is its 2K display on an IPS panel, ample physical memory, and a hefty 256GB SSD.
2K Display

256GB SSD

8GB Physical Memory

Less Than Average Battery Life

Pricy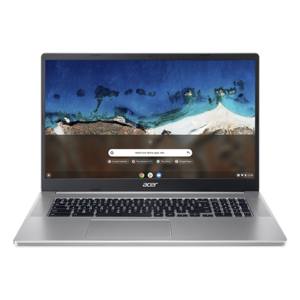 Check Price on Acer
We finish off our picks for you today with the third Acer on our list, the Chromebook 317. The device comes with a non-hyperthreading enabled quad-core processor, the Intel Pentium Silver N6000 processor that has decent boost speed and is a more recent release. For graphics, we have Intel UHD powering it through regular non-stressful endeavors such as browsing the internet, accessing academic content, and light business work.
Of all of our picks today, the Asus Chromebook 317 features the biggest display. Its 17.3-Inch ComfyView IPS LCD panel is the only one so big in Chromebooks right now, and it displays content in Full HD resolution. There is 4GB LPDDR4X RAM to get you through light entertainment and productivity smoothly. The 317 has an all-metal build, but its durability lacks other Acers' military-grade strength in the list feature.
Accessing stored files is smooth thanks to a 128GB SSD in-built with support for more space through an SD Card slot. Keyboard performance is decent enough, but battery back-up is a massive turn-off considering the low 6W TDP of the Pentium Silver N6000 processor. Overall, the 317 qualifies only as an entry point device for users looking to try their hands on the Chrome OS.
Our Take
Underwhelming is all that we could muster up about the Asus Chromebook 317. It does not have a strong build like the other Acers, and even the processing power is severely limited. You might just enjoy its big 17.3-inch touch-enabled display and enjoy the abundance of physical connectivity options the Chromebook offers. At around 5 pounds, it is the heaviest Chromebooks with Wi-Fi 6 in our picks today.
17.3-Inch IPS Display

High Number of USB Ports

Cheapest Chromebook with an SSD

Underwhelming Battery Performance
Choosing a Wi-Fi 6 Enabled Chromebook- What You Should Remember While Buying One
A Chromebook is a laptop that works on Google's Chrome OS operating system and conforms to some specifications set out by its OS maker Google. They are designed to keep portability, utility, battery life, and simplicity of use, all with a small footprint. Although Chromebooks started off as less costly alternatives to Windows and macOS-based laptops, some of the latest models come with beefed-up specs and are priced competitively.
The Chrome OS in itself goes light on resources and is made free from Google using the open-source Chromium OS. There is a vast scope to work offline with conventional laptops, but with Chrome OS, a lot depends on online Google services such as Google Docs, Google Drive, and Google Photos. Hence with a Chromebook, you have limited scope to stay relevant offline.
The Chrome OS is a user-friendly, low maintenance, virus-resistant, and versatile operating system in terms of Android connectivity. With massive developments and the increased scope of their use, let us consider what you should keep in mind while buying your first Chromebook.
Got a Google Account?
Chrome OS is free to use OS of Google, and hence if you are one of those privacy concerning types, you need to look elsewhere because, with a Chromebook, nothing will work if you have shunned Google all your life. A google account is the life force of Chromebook. You will need it to log in to the device, access the applications, check emails, and what not.
Chromebooks Don't Run Windows Apps Out of the Box.
They might look like Windows laptops, but they aren't. Unless you have the Chrome or Android equivalent of the popular Windows applications like MS Office, you will land in trouble with a Chromebook. You can't install the programs you have run on your desktop earlier. You should be OK, thanks to the widespread availability of Google Office applications like Google Sheets, Google Docs, or Google Slides and Android versions of MS Office and WPS office.
Next, you have Gmail for emails and popular Android clients for other emails for a webmail-like experience. There are workarounds for this Windows incompatibility, though (there always is). You can use Windows applications in emulators like Crossover or the Chrome Remote Desktop application to connect to a Windows computer.
Build Matters
Coming to hardware specifications, when buying a Chromebook, you need to keep in mind that who would be using it. A stylish brushed finished magnesium alloy chassis looks great as long it doesn't drop. Adults would ensure that but if it is your kid you plan to present to on his birthday, it's best you accept that it will be dropped. Hence, a military-grade build with proper certification would ensure that the Chromebook survives the fall.
Convertible, Detachable, or Neither?
Most Chromebooks support Android, at least the latest ones do, and if you get a convertible device, you can enjoy a double bite of the cherry. A laptop when you work and a tablet when you rest. Convertibles, however, need a robust hinge, and it would be advised to go for premium brands with extensive warranty coverage. Convertibles don't come cheap, and if the hinge starts giving trouble within a few months, all that extra money goes down the drain.
Similarly, in the case of detachable, we might not have any of those in our picks today, but they come with a premium price considering the utility they serve. There is no hinge to be careful about while flipping the screen, and it does look fabulous when you detach the screen and use it as an actual tablet. Our advice would be to avoid detachable and convertibles with kids. Their Chromebooks should be academic-focused than 'flip' around.
Display Size, Resolution, and Protection
As with most display-based devices, the panel almost always becomes the showstopper. A standard size now amongst these Chrome OS-based laptops is a 13.3-inch screen on which, if you have HD resolution, you are at the edge already. There are plenty of models with an 11.6-inch screen, and a 1366 x 768 screen would do just fine for them. If you plan to go for a bigger screen, a 1080p screen is the least you need.
A few models have 17-inch screens. For them, 2K display becomes the bare minimum, but we would like to think that such big-sized screens take away the very essence behind which Chromebooks were born—lightweight, portable, and ease of use. You need to consider the aspect ratio too, as a 16:9 wide aspect ratio suits most while 3:2 is a bit squarish and offers a bit more view area primarily suitable if you are a professional or a student.
Finally, if your kid is getting a Chromebook this birthday, consider getting your gift with a bit of protection on the display. Some screen protector glass like Corning's Gorilla Glass or Dragon Tail glass protected screen would ensure the display continues to see daylight till their next birthday.
Touch Screen is a No Brainer
Thankfully it would be difficult getting models today with no touch support (although we have included one. gags!). Most devices have multi-touch support, and with Android being a big part of Chromebooks, you would be left wanting if you can't swipe the runner to the left or right with your fingers when the train comes. Touch screen ensures a better experience than what you already had on your smartphone. Aside from simple navigation, two-finger zooming, scrolling with fingers, and an on-screen keyboard, take your Chromebook experience higher.
Purpose of Use and Panel Quality
Now we all know about displays and their panels; TN panels are the worst when it comes to displaying accurate colors, and the IPS ones could burn a hole in your pocket. Hence, you could choose your device based on the purpose you would be using the Chromebook for. If the laptop would just do calculations, work on datasheets, and write notes, colors wouldn't matter, and a TN panel would suffice.
However, if you are a movie buff or regularly keep track of what's going on in some of the soaps or planning to binge-watch Squid Games this weekend, you better save yourself of the misery and get the one with an IPS panel.
Processor, Cores, Threads, and Graphics
Chromebooks are mostly light to medium powered devices, and you can't expect mainstream gaming or content creation on them primarily because desktop games and content creating applications won't run, and there aren't similarly powerful android applications yet. Hence most Chrome OS laptops come with light to medium powered processors. Your sweet spot could be an 11th Gen Intel two-core processor or a slightly older quad-core chip of either AMD or Intel with double the number of threads.
Hyperthreading, as Intel, calls it would allow multitasking by allowing each core to work on two tasks separately. While that would not increase the device's processing power, you would have more mileage in working simultaneously on multiple tasks. The pricy models should have Intel Iris to manage graphics, while Intel UHD would be enough for the less costly ones. You need to rely on cloud gaming services like Google Stadia or Facebook Gaming or browser-based games for light gaming.
Physical Memory and Storage
A minimum of 4GB DDR4 or 8GB DDR4 is recommended here if your Chromebook is going to be your daily driver at work. Anything less would struggle to cope up with even just multiple tab browsing. RAM frequency doesn't have a big say here, unlike Windows-powered laptops or MacBooks.
The latest devices now ship with an internal SSD, and for smooth access to local files, we recommend sticking to an SSD no matter how small the capacity is. eMMC memory is fast but not as prompt as SSD storage options. Almost all the models come with an SD card slot and USB slots if you need to connect a sdcard for more fixed storage or a removable hard drive.
Aftermarket Accessories Cost More
Only toddlers draw with their fingers, and they don't use Chromebooks. Your kid needs to take notes, and at times writing or drawing the human digestive system is just not possible with fingers. You need a stylus, and many manufacturers supply them with their devices, but few don't. It would be worthwhile researching beforehand and not spending more on a stylus at the aftermarket.
At times you might have to scramble for a mouse, and hence it would be worthwhile getting a wireless mini mouse just in case. Here is a couple we suggest you buy beforehand. Amazon Basic Wireless Mouse (Amazon Link). A rough and rugged mouse that lasts long. Ticket Pro Wireless Mouse (Amazon Link). Two-year battery and adjustable DPI for the Chromebook gamers.
Wi-Fi 6 Chromebooks – Frequently Asked Questions
Do Chromebooks work on 5GHz Wi-Fi?
Chromebooks need the internet almost constantly, and with Wi-Fi 6 on a Chromebook, you are assured of dual banding and can connect your device to a 5GHz network. However, at home, workplace, or school, you need to make sure the router is Wi-Fi 6 compatible and the 5GHz network is enabled. Like most pieces of technology, the results are best when the supply is there to satisfy the support.
Do Chromebooks support mobile broadband?
Many Chromebooks have support for LTE connectivity, and you need a 4G enabled sim card with a data plan to connect to the LTE network if there is no Wi-Fi. However, this feature would increase the cost of the Chromebook and is found in only a handful of models.
What do I do if I have no Wi-Fi in my area and there is no LTE support in my Chromebook?
Chromebooks are user-friendly devices but work well when connected to the internet. There is always a scope for USB or Bluetooth tethering if there is no Wi-Fi or LTE support. You can use your smartphone's hotspot feature to create your own password-enabled wireless network and connect your device to it. Alternatively, you can connect your phone's USB cable to the Chromebook and turn on USB tethering from your phone to instantly connect to your smartphone's internet. You can also pair your smartphone to your device using Bluetooth and tether internet, but internet over Bluetooth is considerably slower than USB tethering.
How do I ensure military-grade durability for my Chromebook?
Durable Chromebooks last long, and such durability certifications can be found on the packaging itself. 810G or 810H ensures the Chromebook has military-grade durability and has undergone extensive tests to ensure they survive heavy usage, bumps, and minor drops.
Can I upgrade my storage if I run out of space in my Chromebook?
Chromebooks may look like laptops, but they are usually not user upgradable. While it can be agreed that they come with pretty limited storage capacity, it is also a fact that Chromebook users are expected to rely heavily on the internet to get their work done. There are plenty of cloud storage options available, and you also get free access to about 100GB of cloud storage from Google when you purchase a Chromebook. A capacity that is unlikely to run out too soon.