FunLife, a Japan-based sports, and fitness technology solutions company, develops Fitris.
This is a Tetris spin-off game app that, apart from being a "VS Fit" online competitive fitness service, is played entirely using your whole body.
You can check their website and download the app here
https://fitris.vsfit.app/
Important Note:
At this time the app and website seem to be entirely in Japanese.
Exercise Using Blocks, Tetris Blocks!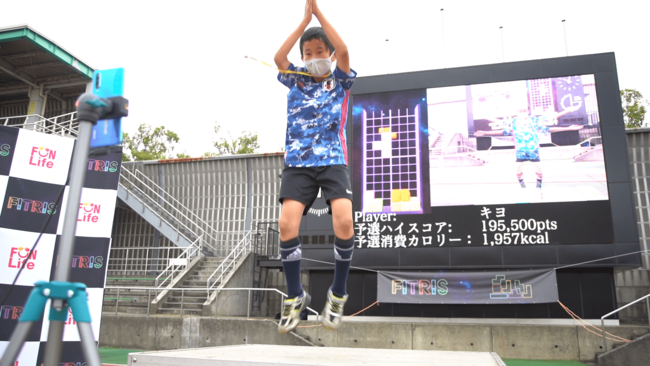 As the set of images shown in this article tells you, Fitris kind of turns the body into a physical controller. No, you don't bend your hips or do anything too gaudy to move or twist individual blocks. Instead, there are a couple of specific actions that you can do to replace the standard controls of a Tetris game, which FunLife officially lists as the following:
Left or right punch moves the block left or right
Doing squats rotates the block
Jumping jacks drives the block straight down
All movements are registered using a smartphone, which detects each of these movements and puts them in a kind of limited command stack. Don't worry; it won't register a long list of commands if you just keep in inputting them. It will mostly just base its input on the last few combos you made. Kind of like a fighting game, but is instead both mechanically simple and physically complex.
Of course, the basic rules of Tetris apply to all of these movements, so if you want to optimize your game, you'll have to learn to balance all of these movements for aspiring players to compete well in Fitris. Unfortunately, professional Tetris players might want to switch up the meta from the familiar input devices of keyboards and controllers. You probably won't have an easier time executing a T spin if it's your whole body that does the stacking work.
After a game session ends, you will be presented with a result board, which indicates the last score shown, as well as a mean value of the calories burned for that session. This is intended as a motivator of sorts, and for playing Fitris with fitness milestone reasons, of course.
Fitris has three known game modes, which are the follows:
Marathon – this is the high-score challenge type mode, and there are no time limits. Stack till you drop from exhaustion it's game over!
Time Attack – achieve the target score within a set amount of time. Probably the safer mode to play.
Practice Mode – mainly for those still etching the controls into their (bodily) muscle memory
Good Ol' Online Competitive Action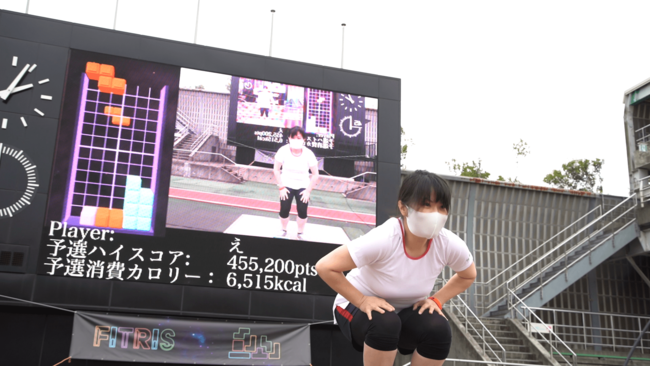 Because Fitris is essentially part of the VS Fit competitive online fitness service, it is well intended to allow players to fight against each other in the realm of the internet. You know, like actual present-day Tetris. As such, while sharing high scores and duking it out within matching sessions is one thing, competing within specific fitness goals is yet another category by which players can pit themselves against each other.
In fact, just last month, a sort of official-ish tournament was held at Ichihara city, Chiba Prefecture, participated by a group of local young residents. This was technically a proof-of-concept event, both to test the technology of Fitris at larger scales and test the event's reception. About 800 participants joined, separated into categories of Elementary, Middle-School, High-School, and Adults.
The competitive event stretched out for three entire weeks, updating the participants' online ranking scores and calorie counts each time. After one winner was decided for each category, the rest went on a Fitris battle royale at the Chiba Sports Concierge until the ultimate winner finally arose.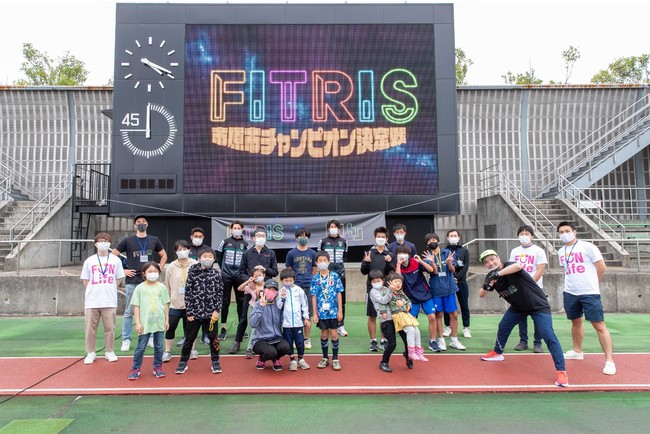 Here are two opinions shared by the participants during the event:
Body training feels mechanically simple, but gamifying it like this made me eager to do it.
Quite useful since I can just whip up the app right away and start playing.
After finishing its proof-of-concept tests, FunLife plans to introduce Fitris to a couple of other fitness-related services as a part of an entertainment exercise suite. The company is also considering normalizing and regulating online events that use the app, though that proposal also requires it to be offered to another third-party entity as a service.
You can download the app
here
. (screen inadequacy warning)
Sources: